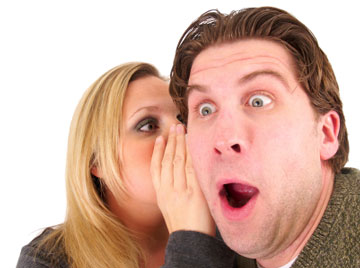 An important element of marketing is communication…internally and externally. There are many choices of media through which to communicate with your B-to-B or B-to-C customers and different companies often choose different paths for this critical communication.
But do you know how your customers would prefer you communicate with them? New research tells you the customers' preferred media…by age range.
See the data on how your customers want you to communicate with them…
Marketing Sherpa regularly conducts surveys on various marketing topics including trends and preferences. In a new report released this week, survey respondents revealed how they prefer to be contacted by marketers – and some of the results may surprise you.
Not only did Marketing Sherpa determine the preferred mode of communication…but they also broke results down by age groups. And in this breakdown, we some significant differences in how the groups prefer to receive your message.
Media preferences by age range…
The survey was conducted in January 2015 with 2,057 adults responding. The responses were then broken down by age range in the following groups: 18-34, 35-44, 45-54, 55-64, 65+.
The question was simple – In which of the following ways, if any, would you prefer companies to communicate with you? Please select all that apply.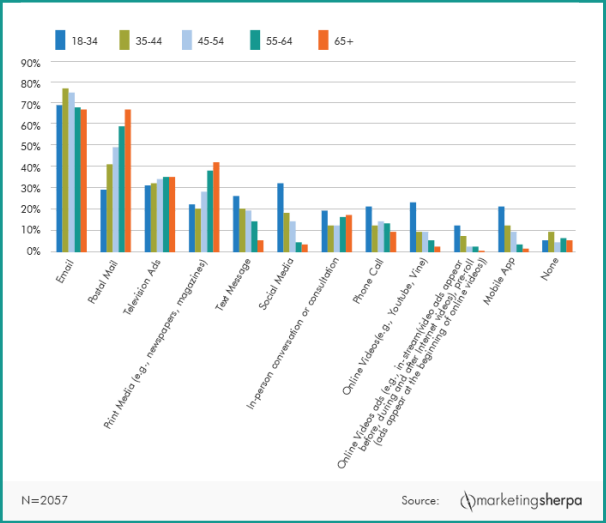 Email is #1…
Perhaps not surprisingly, Email was the avenue of choice for all of the age ranges, but less so for the 65+ crowd who ranked it equal with Postal Mail (68%). And Postal Mail, by the way, was the second most preferred method by most of the age groups. We were surprised at how resilient Postal Mail was as a strong second preference for most of the age groups.
Although this was not the case for the 18-34 age group – they prefer Social Media as their second favorite channel of choice. So if you market a product primarily for this 18-34 age range, you'll want to stick with Email and Social Media.
Old media rises again…

Old media struck again at third place, with Television Ads carrying the spot for most age ranges. Although here as well, we see the 55-64 and 65+ groups actually prefer another old media options – Print Media (newspapers, magazines) in the overall number four slot.
Finally, at number five and six, we return to digital with Text Messages and Social Media. These actually came in slightly lower than we had expected…an important lesson for all of us to not give up on traditional media too soon.
Don't call or come to see me…
Also interesting to us was how low In-Person Conversations and Phone Calls were. Video, as well, was very lowly rated by all but the youngest 18-34 age group.
The general lesson we learned is that results were more consistent than we expected. On the other hand, the differences were somewhat predictable. Clearly, if you want to try to reach all age ranges, you need to use a mix of media…and don't forget traditional media in your overall marketing mix.
What do you think?…
Did you see any result that surprised you? Leave a comment below and let us know…
See more about Marketing Sherpa here: www.marketingsherpa.com.