BREAKING NEWS

Despite Crestron's announcement earlier this year that they will exit the CEDIA show, Strata-gee has confirmed with CEDIA that Crestron Electronics, Inc. will in fact be exhibiting at this year's CEDIA 2016 next week in Dallas, TX. Crestron will be exhibiting in booth 2510, a booth that they are sharing with Amazon Alexa.
See more on this surprising development, where Crestron reversed their decision to exit…
It has been a strange saga with Crestron, for years one of the most supportive exhibitors at CEDIA, suddenly announcing earlier this year that they were pulling out of CEDIA's show. At the time, no reason was given. Later, at an international trade show, CEO Randy Klein offered the media a bit more of an explanation that essentially suggested that the two organizations were heading down separate paths.
Then, in July, we discovered that Crestron had found an indirect way to be back in the show, by working with various "integration partners" who would display and show their systems in their booths. One of those integration partners, Sonos, was likely to have a fairly significant display of its various integration partners, including Crestron. It seemed a clever way to have a presence, without officially participating directly.
Completing the Circle


And now, finally completing the circle, we learn that Crestron has changed its mind and will be officially in a booth at the CEDIA show. Although its presence this year will be substantially less grand than in past years – this booth is substantially more petite as compared to their old former monster-sized location that has now been gobbled up by Core Brands.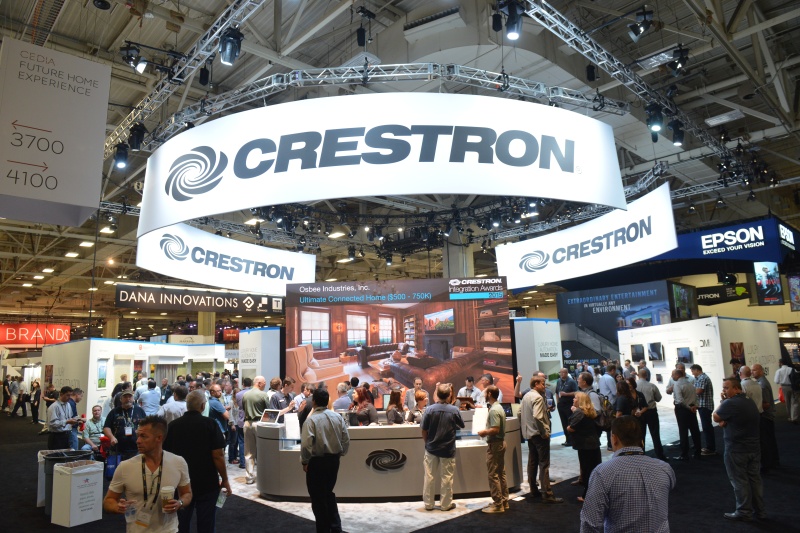 Crestron is a Contracted Exhibitor
"Yes, they have contracted to exhibit at our show and I couldn't be more pleased," said CEDIA CEO Vin Bruno. "They have contracted to share a booth with Amazon Alexa."
Bruno told us that while he can't verify the nature of the relationship between Crestron and Amazon Alexa. "I suppose we'll find out at the show," he said with a smile in his voice.
Isn't This the 'Integration Partners' Strategy Crestron Previously Discussed
But, we asked Bruno, isn't that the nature of this action – Creston had told us in July they'd be at the show with integration partners. Is there a distinction between what we have here, and Crestron as an independent exhibitor?
"Any exhibiting manufacturer, they can have any guest that they wish in their booth," Bruno explained to us. "So if Sonos if they wish to have Crestron and Control4 in their booth, they could. In this particular contract, it allows Crestron to be listed as an exhibitor and it gives them exhibitor privileges."
Crestron Gains Certain Privileges
Bruno went on to explain that since Crestron has more "points" than any other exhibitor, they'll get to pick ahead of them in selecting their booth for the next show in 2017. However, even with all of their points, if they hadn't exhibited, they would lose the right to pick ahead of everyone else for the event next year.
"Other privileges that Crestron has now by being a contracted exhibitor is that it allows them to promote themselves at the show," Bruno added. "So if there's a speaking opportunity with Amazon, then Crestron can get up and make a presentation. Whereas without being a contracted exhibitor, you don't have that privilege – you cannot promote yourself in any way."
Feelin' Groovy
Bruno was obviously feeling pretty happy about the situation, expressing satisfaction with getting this deal done. It also puts an ugly situation – Crestron publicly exiting the event – behind him. There were several rumors – always denied by both sides – of personal animus between principal players at the companies. Now those questions are moot.
"I couldn't be more pleased about this," said a clearly beaming Bruno.
Based on a tip, we happened to look over the official map showing the location of various exhibitors. And there it was – booth #2510 listed to Amazon, Nucleus, and Crestron.
See It For Yourself
We reached out to Crestron for comment, but didn't get a response prior to this post being published.
You can see it for yourself by visiting CEDIA.net and navigating to the show floor map to find booth #2510. Click on it and you will see Crestron listed as exhibitor. In most cases with their integration partners, the partner is listed as the booth space owner. In this case, Crestron is listed along with the others.
"I couldn't be more pleased," Bruno repeated himself. "We're looking forward to seeing the innovations that Crestron brings to the show."