Crestron Electronics announced today that it is returning to the CEDIA Expo show for the first time since Strata-gee broke the news of their surprising exit from the event four years ago in 2016. This announcement marks a triumphant return for a company that has seen its residential business soar over the last few years, particularly with the launch of their Crestron Home software solution.
See more on Crestron's return to CEDIA Expo
Crestron notes in an announcement to dealers that they have been "…proud CEDIA members for decades…" and that they have "…continued to lead by supporting the organization, the industry, and specifically our residential dealers." The company goes on to add that premium smart home solutions offered by Crestron integrators are "in such high demand" that the CEDIA Expo is the perfect showcase for the new Crestron Home system.
This is a stunning turn of events, given the fact that the company exited the show back in 2016, with company CEO Randy Klein explaining that the two organizations were on diverging paths. While there was no added explanation for the departure, knowledgeable sources told Strata-gee that at that time the residential segment was not as significant to the company as their commercial segment – and the company chose to focus on its main business.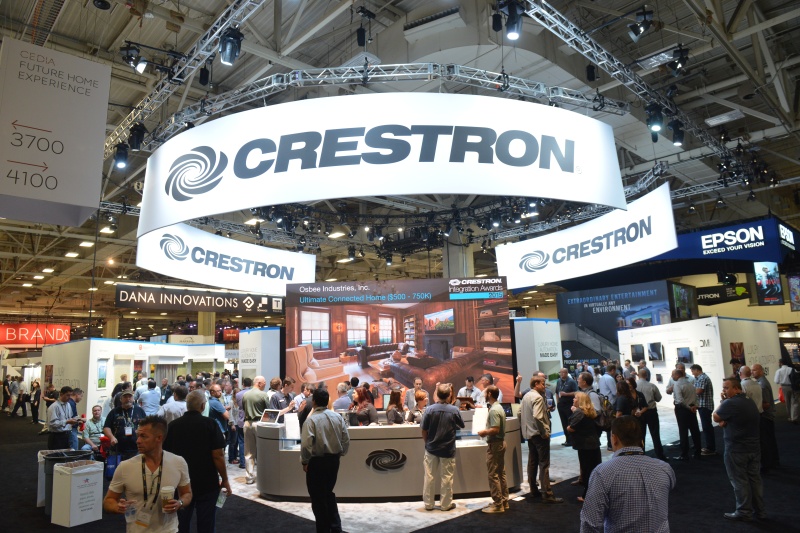 Crestron Has Changed Since Exiting Expo in 2016
But much has changed since that time. First, John Clancy joined Crestron as Vice President of Residential. Clancy had extensive experience at top New York integrator Audio Command Systems. Clancy's role at Crestron was 100% dedicated to building its residential business, targeting products, programs and sales initiatives that were specifically optimized for this segment.
Perhaps his most significant achievement was the complete overhaul of the Crestron software for use in residential installations, ultimately coming to be known as Crestron Home. This new system took an all-new approach with simple, intuitive programming interface featuring drag-and-drop simplicity. The clean, approachable screens also facilitated usability for clients.
A Clear Expression of Commitment to Residential
This return to the CEDIA Expo caps their efforts in this initiative and demonstrates clearly to integrators that the company has a solid and enthusiastic commitment to the residential segment.
Of course, whether or not CEDIA Expo actually takes place this year is another question altogether. In March, Emerald Expositions canceled all of their events scheduled for the first six months of the year. As of this writing, they have not yet canceled the CEDIA Expo and say they are still actively planning to hold the event. But many in the industry are questioning whether it makes sense to hold this event with COVID-19 still spreading.
If There is a CEDIA Expo, Crestron Will be There
However, if Emerald does go forward with CEDIA Expo, Crestron will be there, building on the momentum they've established with Crestron Home.
To learn more about Crestron Home, follow this link…