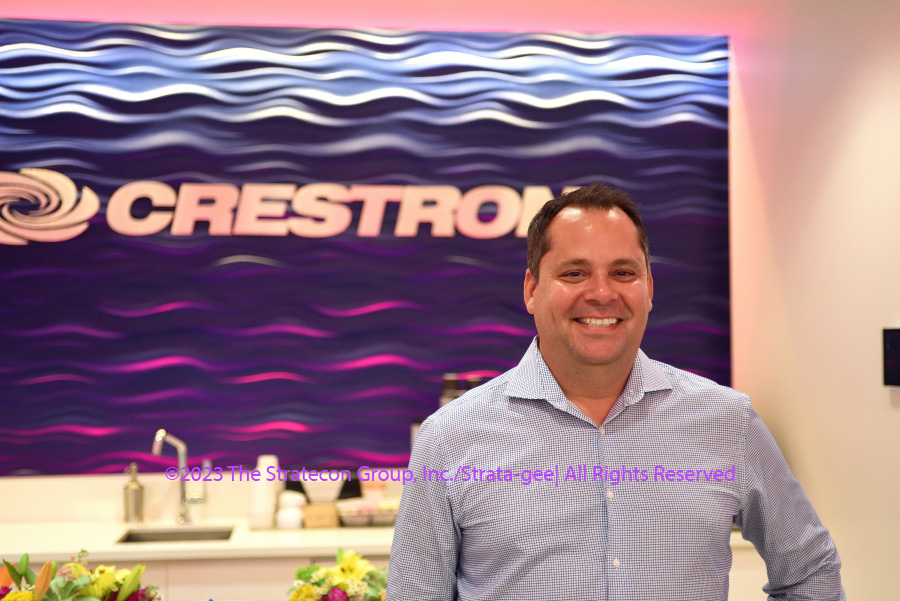 Crestron Electronics announced today that John Clancy, the current Executive Vice President of Residential, is being elevated to Chief Sales Officer, effective immediately. As the company's top sales executive, the company says that Clancy "will lead and unify the global Crestron sales organization to drive market growth and enhance customer satisfaction."
Learn more about the new role for John Clancy at Crestron
The company says that Clancy will report directly to Dan Feldstein, CEO & President. He will also continue to be based at the corporate headquarters in Rockleigh, NJ.
It is a remarkable development for someone who, not that long ago, was a working integrator in the New York Metro market. He worked for the renowned Audio Command Systems for 22 years as their Executive Vice President & Chief Technology Officer. Audio Command was one of those companies that was instrumental in the growth of the custom integration business overall and one of the most respected integration businesses in New York.
Compelled to Get Involved
Clancy tells the story of when, as a local integrator, he was shocked when in 2016 it was announced that Crestron pulled out of the CEDIA Expo – as Strata-gee was the first to report. He was so surprised by this news, that he travelled to Rockleigh, NJ to speak with Crestron's CEO at the time, Randy Klein.
The upshot of that conversation was that Klein brought Clancy into the company to run its residential division. And that is the role he held, even through the transition to new CEO Dan Feldstein, who took over after Klein retired.
Instrumental in Launching Crestron HOME
Clancy was instrumental in the creation and ascension of Crestron Home, a wholesale overall rework of their approach to the residential integration business, with new control software and hardware. Since its introduction, Crestron Home has continued to grow, even through the tough days of COVID, supply chain shortages, and economic upheaval.
We are thrilled to announce John's promotion to Chief Sales Officer. His leadership has been instrumental in driving growth and integration across our global residential sales teams, and we are confident that he will bring the same energy and expertise to this new role. John's experience in the industry, coupled with his strategic vision will strengthen Crestron's market position and industry leadership in the years to come.

Dan Feldstein, Crestron Electronics CEO & President
Head of All Sales Operations
In this new role, Clancy will take over all of Crestron's entire sales operations, a signficant venture in both the commercial and residential realms, as well as operational offices around the globe. His goal, the company says, is to "…unif[y] teams across global regions and channel categories to drive strong collaboration and cross-functional engagement between business units.
Clancy will provide "strategic sales leadership and revenue delivery across the entire Crestron portfolio including residential, hospitality, commercial, government, education, commercial lighting, and enterprise businesses."
I am honored to take on this new role and excited to lead our global sales organization. By opening up new paths to revenue and building the solutions that take us there, we can unlock new opportunities and drive exceptional results for our customers and stakeholders. With the full support of our talented sales team, I am confident that we will continue to push the boundaries of what's possible and excel in the huge market opportunity ahead.

John Clancy, Crestron Electronics Chief Sales Officer
Crestron Hospitality
Recently, Clancy created a new Crestron Hospitality division, bringing an all-new revenue-generating operation into the fold. This is but one of many examples of Clancy's strategy thinking that drives growth at the company.
I strongly believe that by fostering a culture of innovation and collaboration, we can leverage our deep expertise and unmatched resources to drive sustainable growth for Crestron. Our sales focus will be on delivering exceptional customer experiences, building long-term partnerships, and creating value that extends far beyond our products and services.

John Clancy
Learn more about Crestron by visiting www.crestron.com.