The TV Set is Losing Its Position as Top Entertainment Device

In an amazingly swift, one-year shift in consumer preferences, a new survey says that most consumers would rather watch TV programming on a computer than on a TV. Just one year ago, the same survey produced the exact opposite result. Although the number of consumers watching TV content on computers has been increasing over  the years, this is the first time that computers were picked by a substantial majority.
See more on this new and surprising consumer data…
In a report by eMarketer, this new survey from Accenture, a large management consulting company, was said to be conducted with a worldwide sample of 26,000 internet users. Accenture notes that this result tracks a four-year trend that they have previously identified. But with a dramatic 55% one-year drop in the percentage of respondents who prefer to watch TV content on a TV, it is clear that the pace of change is accelerating.
As recently as 2014, this same survey showed that almost a full two-thirds of respondents (65%) preferred a TV set to a computer. In 2016, 52% of respondents said they preferred to watch TV content on a TV. But this number dropped dramatically – by 55% –  to only 23% picking TVs over computers in the 2017 survey.
A Dramatic Shift in Consumer Preference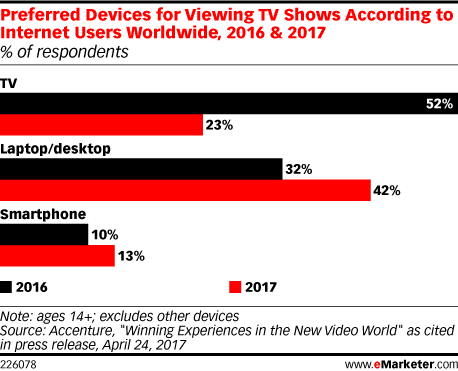 At the same time, more than 4 in 10 (42%) said they preferred to watch TV content on a laptop or desktop computer in the 2017 survey, up almost 20% over the 23% who said this in 2016.
"The dominance of the TV set as the undisputed go-to entertainment device is ending," said Gavin Mann, global managing director for Accenture's broadcast business. "While a great number of people still watch plenty of TV shows on TV sets, our research uncovers a rapid acceleration in their preference for viewing on other digital devices – especially laptops, desktops and smartphones."
Accenture has released a report drawn from their research titled Winning Experiences in the New Video World, which it says shows several other interesting trends. For example, while consumers are increasingly choosing to consume TV content on their computers, at the same time, they prefer to watch video clips on their smartphone. This is also a shift away from watching video clips on their computers or on their TV sets.
A 'New Video World'
"Driving this rapid shift in consumer preferences is the growing convenience, availability and quality of more personalized and compelling content on laptop and desktop personal computers and smartphones," Mann added. "The massive and accelerating push by communications and media companies to provide ubiquitous content – TV everywhere including over-the-top – has empowered consumers to access high-quality content across multiple devices."
To learn more about this and other research, visit: www.accenture.com.