Looking for more "green shoots" of economic recovery? The Conference Board released the latest data from their Consumer Confidence Index showing another monthly increase (it increased in September as well) in the overall level of confidence that consumers have in the economy. The Index's reading for October was 72.2, a significant uptick from September's level of 68.4, which was up over August.
Still not sure this is a positive indicator? See more below…
Still not sure? How about if I told you that this was the most positive reading on consumer confidence since September 2008. Clearly, consumers – at least for the moment – appear to be exuding more confidence as reflected both in the Conference Board's  Expectation Index (view of the future) and – even more so – in the Present Situation Index (view of current situation).
In the opinion of strata-GEEcom, consumer confidence is one of the more significant economic indicators driving the technology industry. Plainly put, a confident consumer is more likely to splurge on the (tech) toys that most of us sell. A pessimistic consumer holds on to his cash.
"The Consumer Confidence Index increased again in October and is now at its highest level this year," Lynn Franco, Director of Economic Indicators at the Conference Board said in a prepared statement. "Consumers were considerably more positive in their assessment of current conditions, with improvements in the job market as the major driver. Consumers were modestly more upbeat about their financial situation and the short-term economic outlook, and appear to be in better spirits approaching the holiday season."
Remarkable results…
Some of the numbers were really quite remarkable. For example, the reading of consumers who were anticipating an improvement in business conditions over the next six months jumped to 21.4 percent from last month's 17.9 percent – a statistically significant step up. However, those who suggested that business conditions will worsen over the next six months also increased, albeit a more modest 15.1 percent vs. 14.5 percent last month.
Overall, the Expectations Index increased to a reading of 82.9 as compared to September's 81.5. However, the Present Situation Index rose from 48.7 to an impressive 56.2.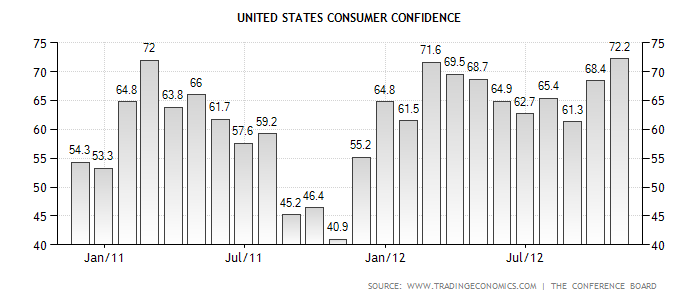 Caution is still called for…
The Consumer Confidence Index is based on a probability-design random sample and is conducted for the Conference Board by Nielsen. While the results for October are pretty positive, it is wise to be cautious in assessing any suggested trend.
Why assess this positive new cautiously? First of all, readings are subject to revision. September, for example, was actually revised downward from its original reading. It was originally reported as a reading of 70.3.
Secondly, as positive as this reading appears to be – it is still well below either the reference year (1985=100)…or the historical high back in the early 2000s. Still, should the survey continue to trend upwards, it would suggest a more positive environment for our industry down the road.