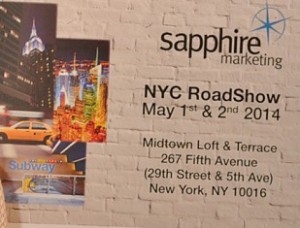 Sapphire Marketing, a well-known manufacturer's sales representative company focusing on the commercial and residential integration channels in the Northeast, held their sixth dealer "RoadShow" in mid-town Manhattan on Thursday and Friday of last week. We had the good fortune of being invited to attend the event courtesy of our friend Dawn Allcot of Crestron's PR department…and we're glad we went.
See more on this event, including some impressive presentations by major integration brands…
Sapphire Marketing's NYC RoadShow was held at the Midtown Loft & Terrace on Fifth Avenue in Manhattan, an upscale event facility. The show took up an entire floor and a part of the roof of the building with booths and displays of many of the brands that Sapphire represents. Major booths in the show represented Crestron, Vaddio, Digital Projection, InFocus, RevoLabs (now part of Yamaha), and many more.
We attended the first day of the two-day event, arriving late morning and staying into the mid-afternoon. There was a good crowd already in attendance when we arrived, and most manufacturers had national level executives representing their brands. Sapphire Marketing addresses both the commercial and residential integration channels, so attendance was helped by this market double dip.
Consistently busy…
The show was consistently busy and at times during the day, it was literally shoulder-to-shoulder in parts of the hall. It was not uncommon to have to wait several minutes to speak with company representatives at many of the booths.
Immediately to the left of the entrance was a very large Crestron booth, one of Sapphire Marketing's largest lines. Crestron had a multifaceted booth showing many of the solutions for the multitude of market segments the brand covers.
But the hottest topic for Crestron that seemed to interest most integrators, was their 4K Ultra HD capability. With a large section of the booth devoted to 4K and high-resolution systems, there was a constant stream of integrators asking for more details on the Crestron approach.
Just about every booth had something interesting for integrators, but a couple of presentations in particular caught our interest.
Digital Projection – Michael Bridwell, Director of Marketing for Digital Projection, showed us a new projector for the company that projected an image quality that knocked our socks off. Called HIGHlite Laser, it is the world's first production solid-state, hybrid illumination, laser projector. While the room and the lighting were hardly perfect – the color depth and contrast was incredibly impressive. The HIGHlite Laser features: 20,000 hours "lamp" [laser] life, 10,000 lumens brightness, 3-chip DLP processor, and important to integrators – set it and forget it usability. The HIGHlite projector will ship in June or July and sells for $49,995* MSRP (includes a precision lens of the purchaser's choice). Look for the HIGHlite projector at the upcoming InfoComm.

Digital Projection's Michael Bridwell showing us the HIGHlite Laser Projector.

Leon Speakers – Leon Speakers was showing a couple of interesting products for integrators. The one that initially drew us to the booth was Leon's Edge Media Frame. Michael Fencil, Commercial Sales Director for Leon Speakers, told us that end-users really appreciate the Edge Media Frame which is a special fine-finished wood housing that holds both a flat-panel TV and the appropriate Leon soundbar. It is surprising at how much the EMF cleans up the look from the front and the side. It even includes cable management to eliminate that unsightly cable clutter. Fencil told us that the EMF is available in an almost unlimited number of finishes and options and is built to TV makers specification. Pricing varies but roughly run from an MSRP of $2495 and up.

Leon Speakers Edge Media Frame

Leon Speakers – Leon Speakers also showed an interesting unit called the Horizon Interactive, which is sort of like a soundbar that is optimized for video conferencing use. The unit shown at the event [see below] sat on top of a flat-panel TV and had speakers on either end covered by a speaker grill cloth. In the middle of the unit is a large video camera. According to Leon, the speakers are optimized for voice reproduction. We'll have to take their word for it, because the show was too loud for us to really make any judgments about the sound. But the unit definitely looks like an elegant solution for video conferencing installations. The Horizon Interactive hasMSRPs of $2995-3995.

Leon Speakers Horizon Interactive for video conferencing.

TrippLite – At the RoadShow, we ran into our old friend John Wills, TrippLite's National Sales Manager for ProAV SI & CEDIA CI Channels. TrippLite was showing a wide-range of solutions and we were surprised to see the breadth of the line. Our past experience with TrippLite had been mostly involved with power protection, battery back-up systems, UPS, etc. The company has expanded into many additional areas such as cables, extenders, wall plates, adapters, splitters, etc. But probably the coolest thing we saw at the RoadShow was at TrippLite – a system rack or equipment closet or equipment room full-blown air conditioner (cool, get it?). This looked to us like a very clever solution for anyone with substantial installations generating a lot of heat. The air conditioner can be hooked directly to a rack, or just set in the area. And we can attest, as the show heated up, the TrippLite booth stayed cool! The unit is the model SRCOOL12K and it sells for $650 delivered. There is also an optional network card, the ERP, which sells for $275.

TrippLite's system rack and equipment closet air conditioner
There was much, much more including some really cool video processing gear from Vaddio, a really interesting touch display from InFocus called the Mondopod (kind of like the biggest tablet you've ever seen) to name just a couple more.
A huge success…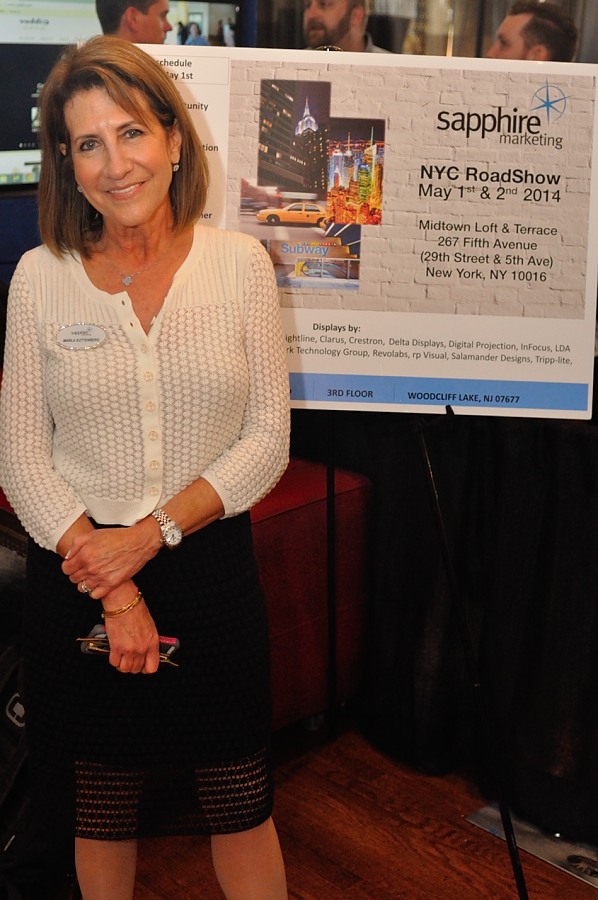 To us, the show looked like a huge success. We sat down with Sapphire Marketing principal Marla Suttenberg who told us that this year's NYC RoadShow was the biggest ever for the rep firm. Suttenberg told us that prior to the opening day, Sapphire had received a record 650 RSVPs from dealers. This was about 100 more than the RSVPs for the same event a year earlier.
Suttenberg told us that she felt that this big increase in attendance might reflect the fact that the market is experiencing more substantial growth. Although she didn't have any hard data to prove it, she says that anecdotally they've seen increased activity recently.
One of the trends driving this increased activity is the integration of AV with IT. "IT guys are really interested in AV," Suttenberg told us. And that is opening up some new business for the channel.
Sapphire Marketing has a total 12-employees (10 on the road) and covers a large geography from Pennsylvania to New England. They hold two RoadShows a year, one in New York and one in Boston. The company is headquartered in Woodcliff Lake, NJ.
For more information on Sapphire Marketing, see: www.sapphiremarketing.com.
*UPDATE:
5/8/2014 – 12:03PM: HIGHlite price updated to correct typo. Sorry about that!