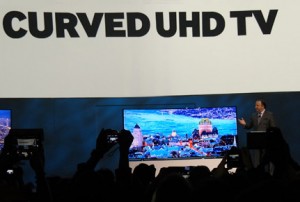 Samsung's press day conference was the most unusual we've seen with everything from a product that caused an audible gasp of amazement from the crowd…to one of their celebrity presenters running from the stage in mid-presentation. But we believe we detected a subtle but significant shift with their TV business being less prominent and more in balance with the company's other products such as their appliance, computer, and mobile businesses.
See more on our initial impressions of Samsung below…
Samsung's press conference was launched by Samsung Electronics President and CEO B.K. Yoon. The Samsung executive wasted no time in telling the press that the "world is undergoing dramatic changes." And these are "consumer-led changes" that are truly changing the world of electronics.
Yoon said that there were four key factors he's identified that are driving this change:
Connectivity – Primarily the Internet, which seems to have an increasing impact on how consumers connect, consume, and communicate.
Urbanization – Yoon noted that statistics show that over 50% of the world's population lives in urban areas…and this trend is expected to continue.
Population aging – As the population continues to get older, how they interact with technology and consumer content changes as well.
Newly emerging risks – And here he is primarily referring to environmental risks such as hurricanes, tsunamis, earthquakes, tornadoes and so on…
The need for a Smart Home…
According to Samsung's philosophy, these changes dictate a changing demand for the home. Today's home, he said, must protect, must be flexible, and must be responsive. This is in fact, a bit of a long introduction into Samsung's concept of the Smart Home.
Yoon went on to give some examples of how today's home will interact in new ways with the homeowners. Some of these examples seemed silly ("Imagine taking a call from your refrigerator.") But then again, some thought Wilbur and Orville Wright were silly to be trying to fly.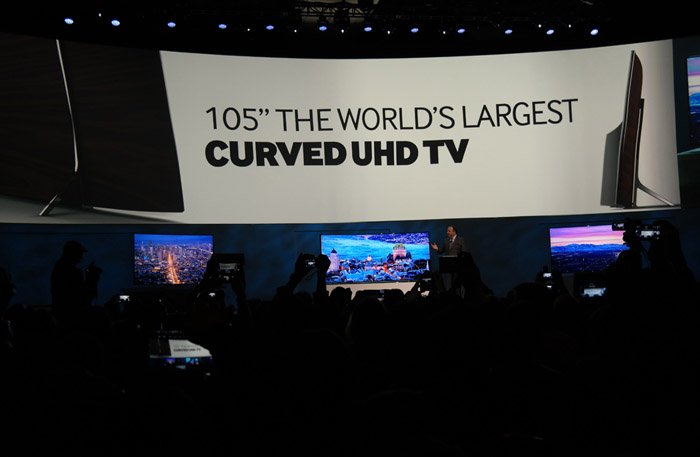 More and Smarter devices than ever before…
In fact, Samsung has developed a whole new roster of Smart TVs, Smart Appliances, Smart Tablets and more. The company envisions these devices communicating with each other…and with consumers in new ways that will come to delight them.
At this point, Samsung's Tim Baxter took over the presentation where he referred also the many profound changes taking place, including a reference to the Internet of Things (IoT). A new level of communication is opening up and Samsung is launching something called the Smart Home Service…a cloud based service that will facilitate content access and sharing.
New content partners…
Baxter announced a series of new content partners moving beyond the previously announced Major League Baseball and UFC partnerships to now include the NBA and – no doubt to the delight of many – the PGA.
Guests including Pete Bevacqua (PGA), Mark Cuban (UHD sports), Michael Bay (UHD movies) were introduced. Michael Bay was to play a key role later in the presentation.
Following Baxter was executive vice president Joe Stinziano who delved deeper into the company's TV offerings. Samsung, Stinziano told us, is #1 in Ultra HD TVs. He went on to announce the company's new 105-inch and 78-inch curved Ultra HD sets. I have to say, they are huge and were clearly visible from the back of the very large hall in which this presentation took place.
An unexpected, and unscripted, moment of reality…
Stinziano told us that these new sets offer twice the contrast ratio of previous designs, greater depth, and…yes, he said it…offer a 3D effect without the glasses! That was the one and only reference to 3D, by the way.
Then, unfortunately for Stinziano, one of the key moments of the conference happened. As we described more completely in a separate post, Stinziano brought up Hollywood director Michael Bay for a scripted chat. Let's just say…thanks to the teleprompter failing…it didn't go well and a slightly panicky Bay stormed off the stage mid-presentation! In these tightly scripted presentations, you just don't see things like that – reality TV at its best!
"It's a live show, folks," Stinziano ad-libbed, trying to get back on track with the presentation.
New split-screen capability…
Stinziano went on to give a lot of quick-paced details including again, more content partnerships, quad-core plus processors, a new mult-link screen feature (split-screen for smart content display alongside live TV), and more. But, just as my writing fingers were wearing out trying to capture all of this – Stinziano showed a product that was a bit of a show stopper.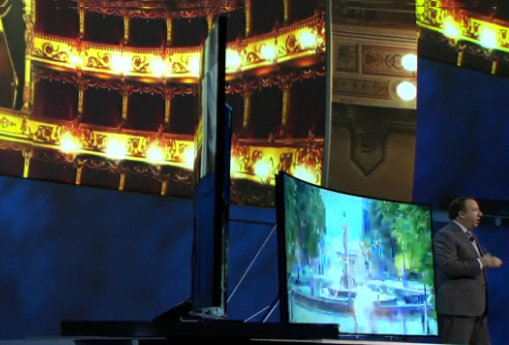 Drawing the attention of the media to a large flat-screen TV showing on stage, all of a sudden a close up image of one of the top corners showed up on the big video screens around the stage. Ladies and gentlemen…meet bendable TV. That's right! Can't decide if you want a flat screen or a curved screen? With a push of a button, the sides of the flat panel screen were pushed forward to create a curve through a motorized system.
The crowd audibly gasped…
Not expecting that, the crowd audibly gasped…than applauded. To us, this seemed a little gimmicky. If you believe in the benefits of a curved screen (we're skeptical)…then it seems you would just buy a curved screen and be happy with it. And for those skeptics who aren't buying the extra cost for a curved screen…well they buy a flat-panel and no doubt be very happy with it.
Still…it looked kind of cool and as we mentioned in our overview, most of the press didn't expect any surprises based on all the product leaks prior to the show.
Hey! What are you doing!…
Following the TV discussion, the presentation turned to their appliance division. Much like with the Smart TV discussion, we know heard about Smart Appliances. According to the company we will soon be able to interact with – talk to really – our appliances.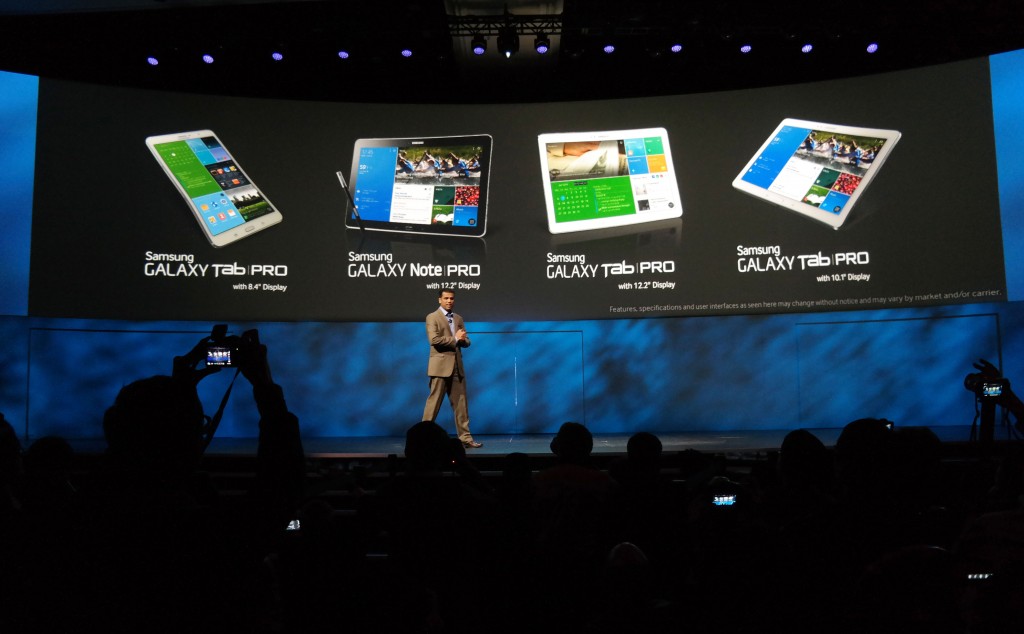 For example, you will be able to text your washing machine in plain language, such as "What are you doing?" And almost instantaneously it will text you back to tell you where it's at in the cleaning cycle. This is apparently much better than waiting for the "wash is done" signal my non-Smart (Stupid Appliances) gives me.
From here we moved on to tablets and "emerging businesses." In tablets, the company showed a new model they believe will be the next big thing in tablets – a 12.2-inch model with WQXGA resolution and an all-new interface they call Magazine UX which gives you the opportunity to view various programs and apps in different windows (eerily similar to Windows 8).