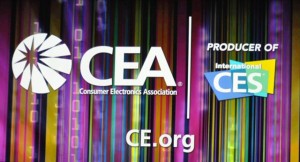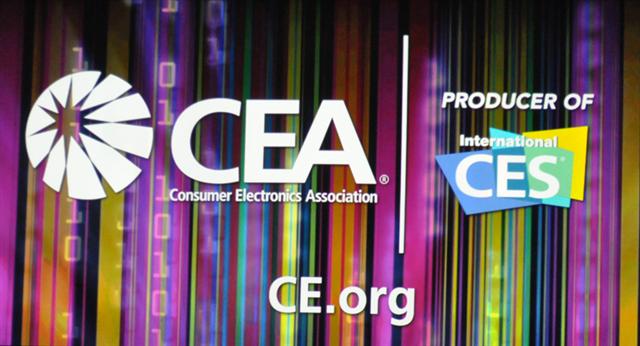 Press Day at CES is – to put it mildly – a bit of a grind. A seemingly never-ending series of scheduled press presentations that are scheduled one hour apart so the press can run from one supposedly 45-minute (of course they all run long) event to the next. The hallways often look more like a mosh pit as reporters, bloggers, and editors push, shove, and elbow their way to the next presentation hoping to get a seat close enough that the presenters don't look like ants.
It's easy to become jaded, as one sits through slickly produced, Hollywood-style presentation after another. Rarely, do we get surprised.
But this time…we got a couple of surprises…
But first, let's start at the beginning. There are precious few surprises in our industry these days. Carefully planned leaks from various manufacturing camps are designed to gauge reaction to new concepts or directions. Companies also preview new technologies, products, and features to their larger retailers to gauge the potential level of acceptance.
Our savvy media continually works their leads to uncover these on-the-record plans…or off-the-record leaks. Thanks to our interconnected world, we are always on…always seeking and often finding more information.
No secrets…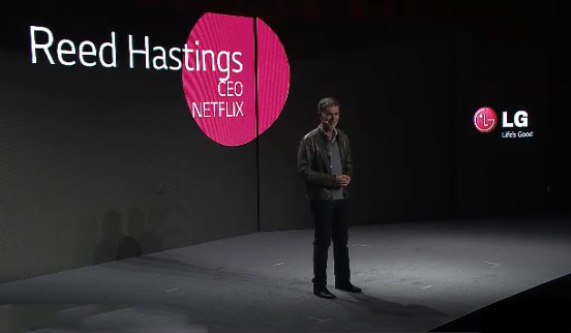 So leading up to this show, it was pretty well-known that the top items being launched – or re-launched in some cases – were pretty well-known. The usual suspects were all there: Ultra HDTV, the Internet of Things (IoT), wearables…especially with health-related apps, curved TVs, OLED, and automotive technologies.
But we can honestly say there were some interesting developments this year…at least as far as we're concerned. First, it seemed quite obvious to us that the TV makers…while still the kings of hyperbole…were slightly more restrained than they've been in past years. Second, the ratio of celebrity endorsers seemed to have diminished substantially. Oh celebrities were there, but fewer and farther between.
Recycled celebrity…
Samsung had Mark Cuban…LG had Netflix's Reed Hastings. Wait a minute…didn't Sony have Reed Hastings? Yes it's true…at CES 2014, we recycle our celebrity guests. Reed Hastings was the special invited guest for BOTH LG and Sony.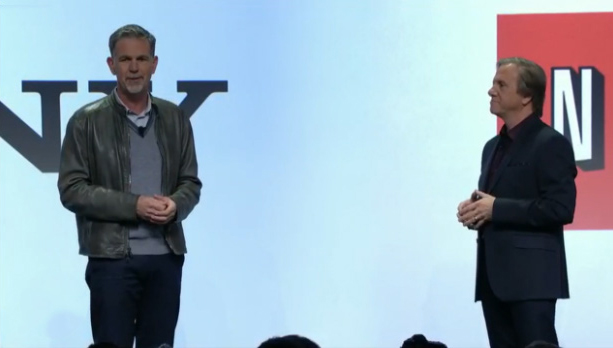 By the way, Reed does a pretty believable suck-up job to whomever has him on stage. But mostly, the invited guests were just as likely to be the head of a division from within the company…as they were to be some outside superstar.
Not smart TVs, smarter TVs…
There was a lot of focus on smart TVs. Actually, to be more accurate, from the presentations it looks like they were suggesting that we were being offered smarter TVs (and appliances).
This is hardly news…two years ago, we reported on the move to "smart TVs." That launch has not gained nearly as much traction as many in the industry had expected.
According to a report in the New York Times, some market analysts are bullish on smart TV, quoting Benjamin Arnold from the NPD Group as saying that in the market research firms' surveys, "Consumers are telling us they're more interested in connected" televisions.
Gaining traction, or spinning wheels?…
According to NPD, smart TVs are gaining traction, saying that 22% of all TVs sold this year had the feature as compared to only 11% the year before. But it is unclear how many of those sets were purchased specifically because they were smart TVs.
In fact, to further their argument that smart TVs are gaining ground, NPD told the Times that 38% of people who own smart TVs say that its Internet connectivity and apps availability were important features. Two years ago, according to NPD, only 33% of smart TV owners made a similar statement.
Turn it around…
But if you turn that statistic around, that means that 62% of smart TV owners do not find those features important. Hardly sounds like a ringing endorsement to us.
It is also hard to gauge consumer enthusiasm for the other big magilla in TVs these days – Ultra HDTV. After a couple of years of serious marketing, UHDTV seems to be off to a very slow start. According to the article in the Times, Ultra HDTV sets accounted for less than 1% of the sales of  TVs 40-inches or larger this year.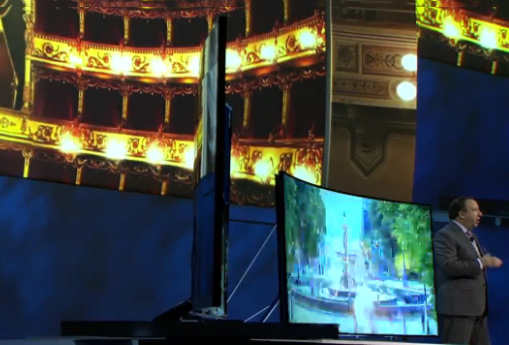 Ultra HDTV…again…
Nevertheless – the industry is clearly charging forward into the Ultra HD unknown…with most of the manufacturers making it the centerpiece of their presentations.
Secondary to this, curved sets are getting a lot of focus as well. Although the arguments for curved sets seem unconvincing to us – that it reduces room-light reflections and creates a more immersive viewing experience. Both Samsung and LG especially spent a significant share of their conferences discussing their new curved sets – including their 110+ inch models.
An audible gasp…
And Samsung actually elicited the day's only real gasp from the crowd with an interesting – if to us gimmicky – twist. You'll have to read our Samsung coverage to learn what that was.
Sales of TVs in the U.S., while still big, continue to decline and manufacturers are clearly searching for a way to stop the decline. (NPD says sales were off 4% in the U.S. and 3.6% globally.) And there still are wisps coming out of Cupertino that the consumer powerhouse Apple will soon roll out the real answer to smart, consumer-friendly TVs.
Two big surprises…
There were two fairly significant surprises on press day, however. First, Panasonic very visibly…and continually…downplayed their TV business. In fact, they started their press conference with a major presentation on government, security, and commercial applications (Hello! This is the CONSUMER Electronics Show).
But my favorite moment of the day was one that took place during the normally carefully choreographed Samsung presentation. Hollywood movie director Michael Bay (he directed Transformers) was to come on and do one of those moments that is supposed to look off-the-cuff but is actually tightly scripted – an onstage "conversation" with Samsung's executive vice president for home entertainment, Joe Stinziano.
Samsung celebrity storms off the stage mid-presentation…
Bay walked out, looking slightly nervous but not too out of control. At first, it looked just like any other scripted speech, after a set up by Stinziano, Bay talked about his job in Hollywood, to create unique experiences. But almost immediately his pace slowed and he began to verbally stumble and grasp for words.
Suddenly, he started to turn red and literally turning his back to the audience in almost a child's temper-tantrum way. "I'm sorry, the type is all off," Bay turned back and said in an apparent reference to a problem with the teleprompter.
Tried to save it…
Trying to save the moment, Stinziano piped up and invited Bay to improvise, "Tell us what you think." Bay started again, saying, "I try to take people on an emotional ride." Then he stopped…looked away from the audience to the set. "The curve," Stinziano started to say, "…how do you thinks it's going to impact the way viewers experience your movies?"
Bay was dancing in place, clearly nervous and troubled. Turning his body and looking away from Stinziano he simply said "Excuse me" and walked right off the stage. After a stunned second or two, Stinziano turned to the crowd and said, "OK, ladies and gentlemen, let's thank Michael Bay for joining us."
It was an ignominious end to one of the key sections of the presentation. And clearly, one of the more surprising moments of the day.