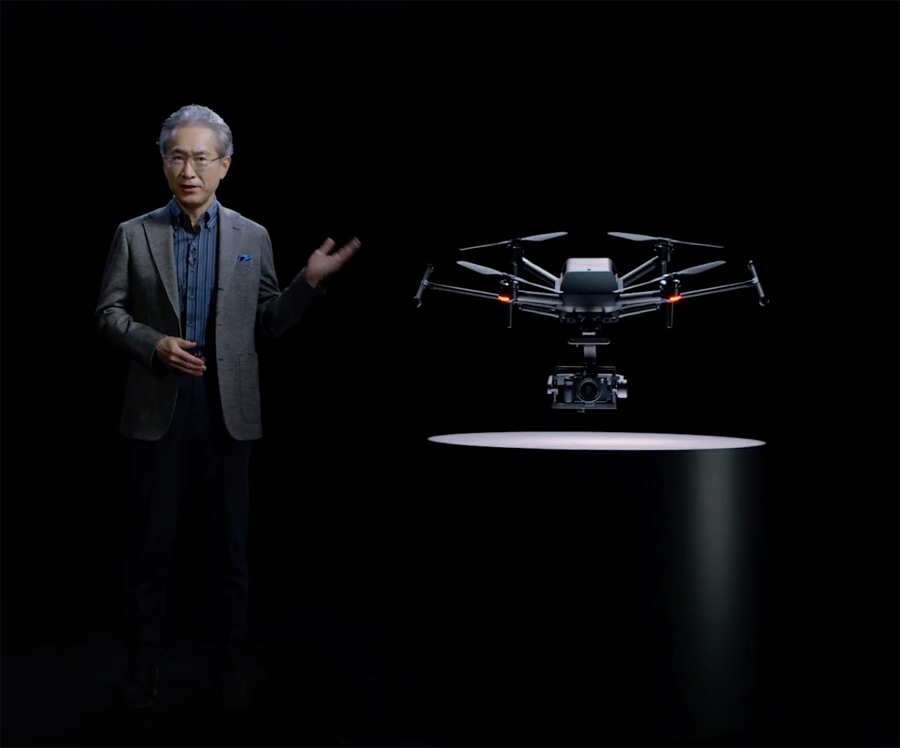 "Please join us in looking forward as we continue to evolve as a 'creative entertainment company,'" said Kenichiro Yoshida, Sony Chairman, CEO and President to kick off Sony's presentation to the media on CES 2021's press day this past Monday. It was a carefully crafted opening, with words of particular significance that contrasts strongly with previous company characterizations. Sony is changing.
Has the train jumped the tracks? Or has Sony hit the hyper-drive taking us to a new and exciting unexplored planet?
See more from Sony's press presentation…
Strata-gee first told you in September 2020 about a new corporate direction for the company, one that might look like typical corporate-speak on paper (or on screen) but I believe represents a true major repositioning of the company. Then, after identifying this new strategy, I revealed in December a major step the company was making to begin to implement this new direction by shutting down two major audio factories.
For those interested in understanding this new direction for one of the cornerstone companies of the industry, I suggest you read both of my previous posts at the links above. But in a nutshell, Sony is deemphasizing the role of A/V electronics as its main business, and shifting to a heavier content and services orientation.
Mischaracterization of My Reporting; Sony has a New Superpower
Some have mischaracterized my reporting, suggesting that I was accusing Sony of getting out of the audio/visual business. That mischaracterization is most assuredly NOT what I have reported. Sony remains engaged in consumer and commercial hardware technologies, but it HAS shifted their role and the priority of their future innovation more towards content and services development…rather than hardware. Hardware is still a part of the solution, but is considered to be more in a supportive role in the creation and performance of creative services and solutions.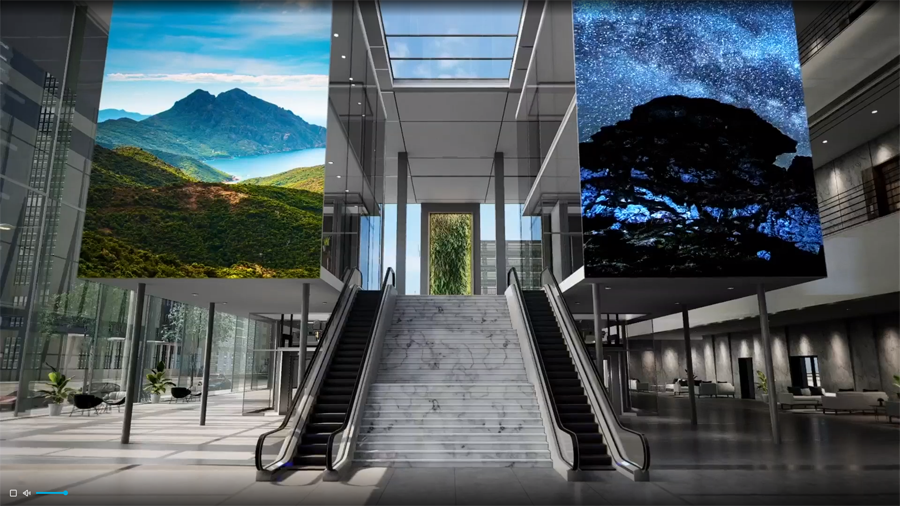 Let me now go one step further – Sony appears to believe that their superpower, or brand advantage, lies in their ability to have control over the full cycle of: 1) Content creation (with Sony cameras, sensors, drones and other technologies); 2) The content itself (Sony Innovation Studios, Sony Motion Pictures); and, 3) The performance of that content (on stage, in theater, in home). Very few, if any, other companies have the ability to control the entire content ecosystem as Sony does.
At CES 2021, Sony Gave Us More Clues to Their New Corporate Direction & Strategy
At CES 2021, I believe we saw more clues as to this new direction from Sony. For starters, refer back to that first statement from the CEO – "Please join us in looking forward as we continue to evolve as a 'creative entertainment company.'" In this statement, I draw your attention to three elements that I believe carry particular meaning.
"…join us in looking forward…"

– My translation – What you see today is not the full implementation of our new vision. It is more of the now, rather than of the future. Bear with us and stay tuned as we work on this new vision. Look to the future to see where we're headed.

"…as we continue to evolve…"

– My translation – We are changing – making a dramatic shift from a "thing" maker to an "experience" creator.

"…as a 'creative entertainment company'..

. – My translation – We are no longer about "things" but about "creative entertainment" and exciting or soothing "experiences." For example, we will soon have creative new subscription offerings, such as live streaming entertainment events and more to offer consumers.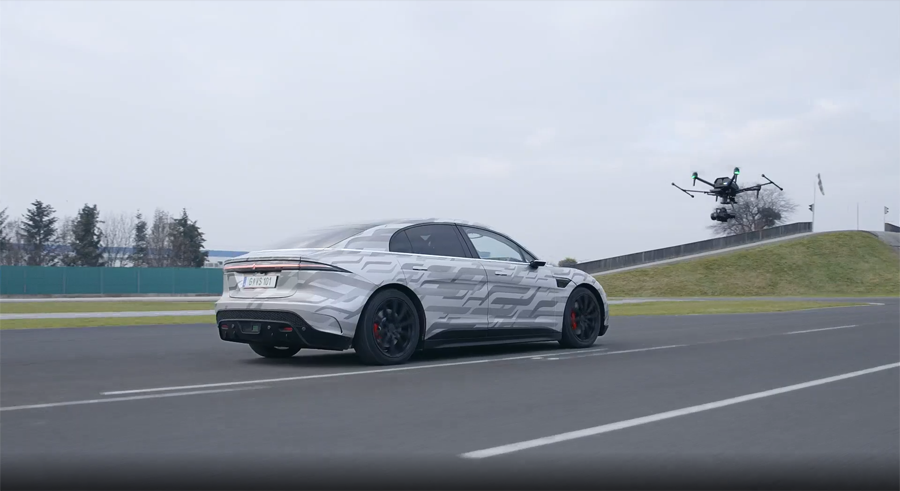 'Make. Believe'
Now I would be remiss if I didn't also note that the company starts with the new slogan – A Creative Entertainment Company – mostly offered freestanding, but occasionally with an added line a few seconds later, "With a Solid Foundation of Technology" perhaps as a nod to the continued involvement with Sony hardware, albeit on reduced priority basis. However, even with this added modification, it does not seem to be as strongly hardware supportive as past slogans, such as the most recent "Make. Believe." In this case, I think that "Make" refers to hardware innovation and manufacturing…and "Believe" refers to the more creative elements, such as music and movie creation.
I may be splitting hairs, or reading the tea leaves, but I'm confident I detect a real and fundamental strategic shift in the company. And if I am right, you will continue to see major tactical shifts over the next couple of years. Sony recently closing a couple of audio manufacturing plants, may be just the beginning.
Beyond the new corporate strategy, for CES 2021 company executives also announced a new show catchphrase of "Real time…Reality…Remote" to govern their new introductions. "These themes are the driving force behind our 2021 announcements," said Mike Fasulo, President and COO of Sony North America.
My Biggest Shock at CES 2021 Came from Sony
Probably the biggest surprise – shock even – at CES came from Sony. After participating in Press Day and watching company after company struggle to get all of their product introductions and marketing messaging conveyed in what must have been a show-mandated 30 minute window, I settled down to attend the Sony press briefing, expecting the same issue. The shock was that they ended their briefing at less than 17 minutes! I couldn't believe it.
My initial reaction was…Is that all there is? Turns out that Sony broke down their product introductions in multiple videos, which makes total sense. And while I still maintain there were in the aggregate fewer introductions from Sony than normal, they had some interesting things to talk about.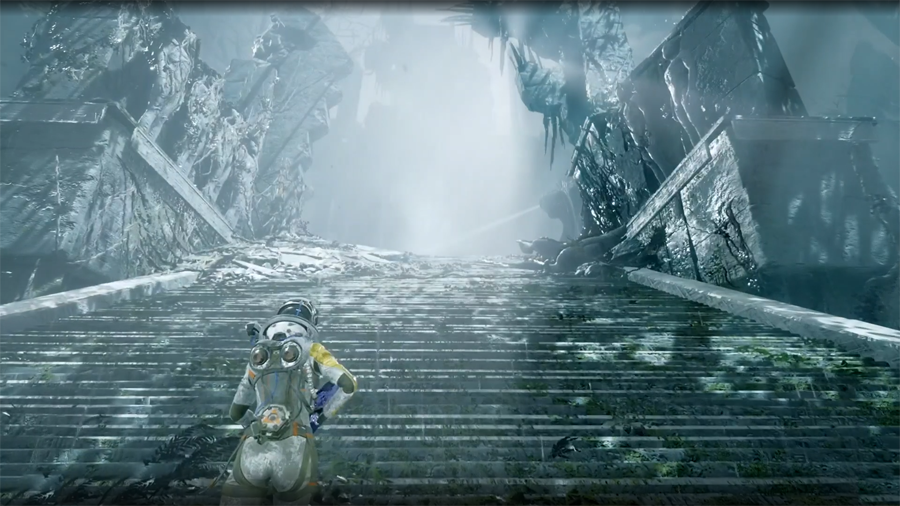 Of Three Highlighted Intros, All Were Previously Announced
The priority of how these items were presented, usually a highly (and often hotly) internally-debated, pre-show plan was interesting indeed. Sony's Chairman started the presentation going over three product launches: PlayStation 5; Vision S, a semi-autonomous driving car; and Airpeak, a drone. Of these three focus launches, all had been previously announced – PlayStation 5 in November, Vision S at CES 2020, and the Airpeak in November.
Most of the media did what I am about to do – focus on the Airpeak, which is a pretty slick looking drone designed for moviemakers that Yoshida says combines AI with robotics for superlative image stabilization. It is also designed to effortlessly carry the company's DSLR cameras, which are big and heavy – especially heavy depending on your lens choice.
It was interesting to watch footage of their drone flying around and taking video of the Vision S vehicle racing down a winding road. But I couldn't help but wonder, why the late entry into such a competitive drone category? One competitive drone maker, DJI, is said to own fully 70% of the entire market for drones.
An Alchemy of Cross Marketing Amongst Sony Divisions
The presentation then turned to an executive with Sony Innovation Studios and Sony Pictures Entertainment who talked about some of their commercial technologies. "Today we're pioneering production technologies to bring you state of the art experiences," said Bill Baggelaar, who is EVP & GM of Sony Innovation Studios, and EVP & CTO, Technology Development at Sony Pictures Entertainment.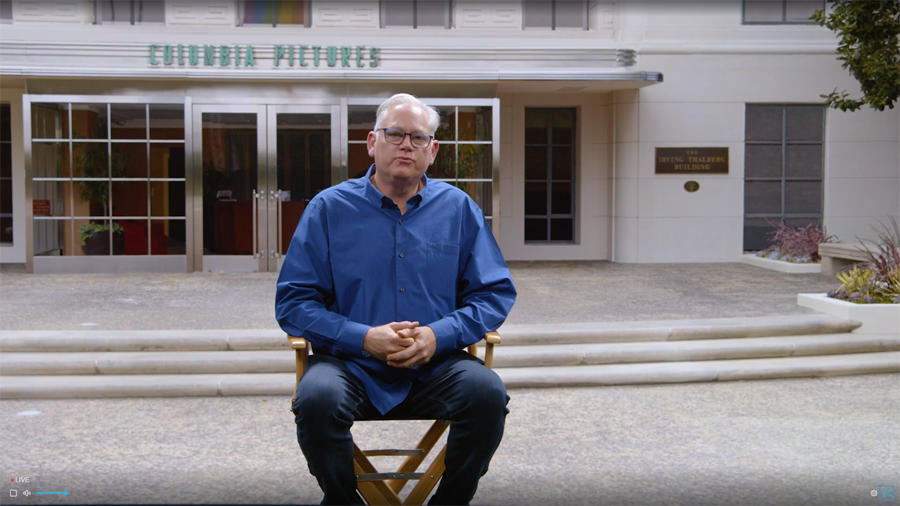 Mostly, Baggelaar talked about Atom View and other technologies which allows the company to capture and create electronic backdrops – either for a video wall or green screen – that are more realistic and 3D looking than typical projections. These save production companies from having to build sophisticated sets. He sat in front of an image of a building that you learn is actually a volumetric asset (i.e. projected image).
Sony Technology Used to Make Sony Movies
They often use, of course, Sony Crystal LED to display the image – "And the next generation [of Crystal LED technology] is going to take it to a whole new level," he added.
Also mentioned was Sony's new 360 Virtual Mixing Environment in which one can replicate the sound of an actual mixing stage in a set of headphones. Intended also for home users, there is a 5.1, 7.1, and various Atmos sound modes.
Sony Movies Offered to Purchasers of Sony TVs
From here, finally, we moved on to a main consumer product – Bravia XR TVs. Based on the new XR processor, Baggelaar says you'll get better color, contrast, clarity and motion. And with new Bravia XR TVs, consumers will get Bravia Core which gives them access to a library of great content from Sony Pictures, including the largest library of IMAX enhanced titles.
From here, the presentation goes to a deeper dive on PlayStation 5, where a lot of emphasis is put on combining the latest game console technology with the greatest roster of popular games – are you sensing a theme here? And of course, you can play movies on PlayStation 5 as well, in case you forgot.
Sony Music Artists in 'Integrations' with PlayStation 5 Games, Sony Movies Offered over PlayStation Network
Next up was Sony Music Entertainment, where division President Dennis Kooker tells us they introduce their artists to Sony technology to "help them better connect with their fans (i.e. cameras and audio gear for creating podcasts or YouTube production). The division also is working with Sony Interactive Entertainment to help in the rollout of PlayStation 5, "including creative brand integrations with top artists."
So it's clear to see that Sony has mastered the art of cross promoting all of their divisions to the hypothetical benefit of all. Or at least that's the theory. What is not entirely clear is how much of the benefit will flow to Sony hardware divisions versus the content divisions?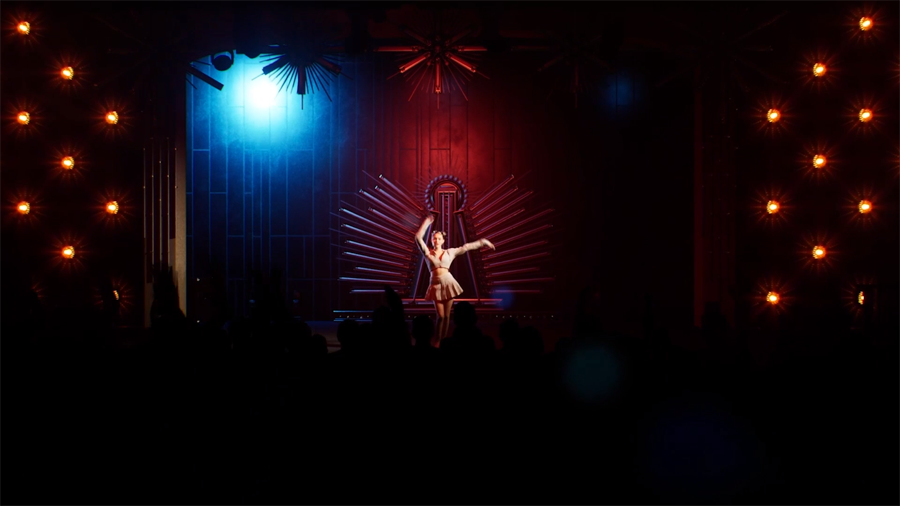 This Strategy Could Emerge as a Major Competitive Advantage
Nonetheless, this level of cross integration could emerge as a major competitive advantage for the company, as very few competitors can match their broad set of capabilities.
See more on Sony by visiting: sony.com.