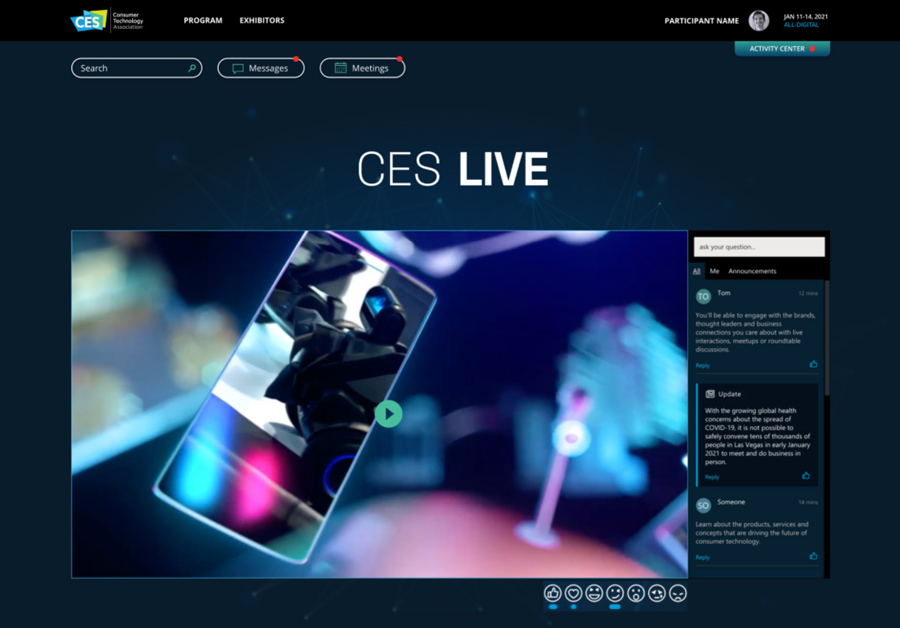 See What Tech Exhibitors are Talking About
The Consumer Electronics Show – CES 2021 – opened this week with great fanfare, but no long taxi lines, no crowded booths, and no glitzy hands-on displays. That's because this year, CES is virtual – or as the CTA (Consumer Technology Association) likes to put it, it is "all digital."
Can they pull it off?
See more on CES 2021…
By now, we've all gotten used to online events of one sort or another. So I had no illusions about this event which, like all the others, would reconceptualize the presentation of what is a trade show.
And much like others, so far, CES has largely consisted in me sitting in front of my computer and watching pre-recorded videos from various brands on various topics. However, I can say that the digital "venue" or dashboard for this event is nicely designed, graphically rich, and fairly easy to navigate…once you get your bearings.
Exhibitor Presentations are Like Hollywood Blockbusters
Also, the videos produced by major technology brands are practically Hollywood-grade blockbuster movies unto themselves. Presenters are on genuine soundstages with wild graphics, content, titles, and video content shown live or virtually swirling around them. TCL had a dramatic presentation with 3D graphics enveloping the presenter. I'm not going to lie, it was impressive.
CTA partnered with Microsoft as their technology provider for the event and the platform feels pretty solid and reliable. Other than a couple of minor video hiccups from time to time, for the most part, videos play smoothly and the image colors are rich and detailed. I have had no out-and-out failures as I did a couple of times at CEDIA Virtual Expo 2020.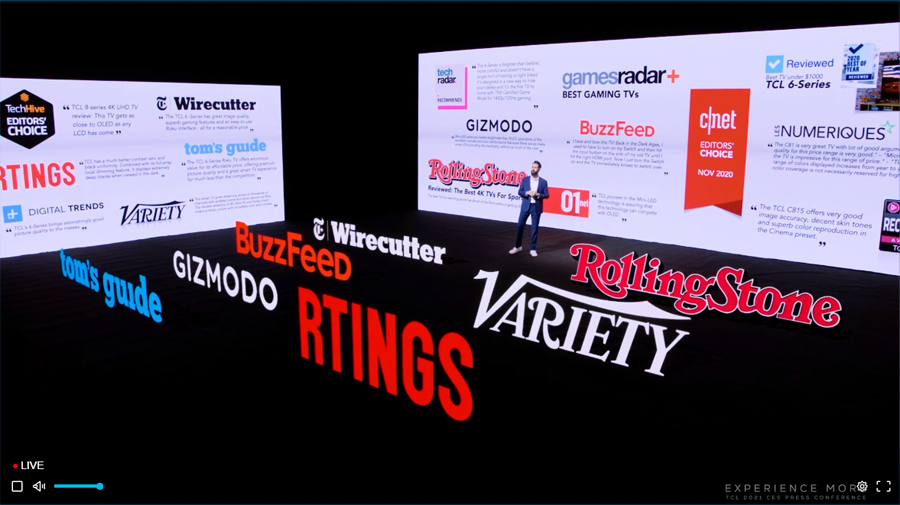 Microsoft Technology Used Throughout 'All Digital' CES
While most of the presentations to this point have been pre-recorded, there have been a few that appeared to be live, including a couple of panels and a few Q&A sessions. In these instances, the attendee is transferred to a Microsoft Teams screen, and the quality here suffers some as compared to the main videos. I would compare the quality as similar to the ubiquitously familiar Zoom, perhaps slightly better, but fairly comparable.
Other than keynote presentations, most of the conferences or other presentations have been holding pretty tightly to schedule at 30-minutes long each. The pace keeps moving and most sessions – at least on Press Day – were back-to-back.
The Hot Tech This Year? 5G, AI, 8K, Robots and More
So what are the key Tech stories of the show? Well, I'm afraid there is not much new. Most of the themes I've heard this year are those that our industry has been talking about for years. Mostly, exhibitors are talking about: large panel TVs (which continue to get larger), more TV makers are flying the 8K resolution banner, 5G is a key topic (and the subject of Verizon's keynote presentation), artificial intelligence or AI, robots, smart homes, smart cities, and autonomous vehicles. Have you heard of any of these? Yeah, me too.
There is a bit of a new buzz about digital health solutions in this new age of COVID. Products tend to be what I'd call crossover solutions…i.e. robots that conduct commercial grade IR sanitation, mobile phone chargers that also sanitize your phone, and the like.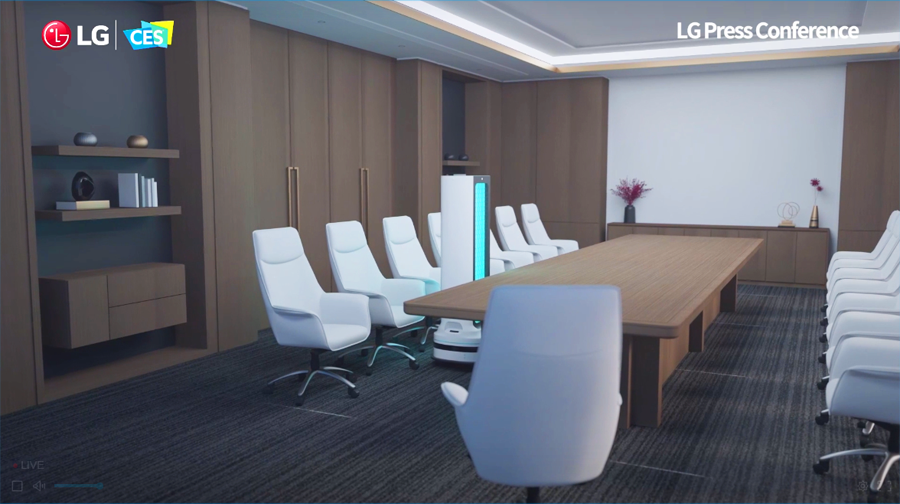 COVID-19 Has Compressed Tech Adoption Cycles
In fact, one interesting story line is that COVID-19 has turbo-charged adoption of trends that have been slowly evolving over the last few years. So in a way, innovation in areas like streaming services, or say, work-from-home or learn-from-home technology solutions, have seen a compression or speeding up of their rates of adoption.
However, major technology areas seem to move quite slowly, as I have complained about for years. But this year I can say this about certain major technology areas (5G, AI, robots, vehicle technology) – they have demonstrated perceptible and tangible progress in further approaching market viability, based on the presentations I saw at CES. This could also be due to the previously mentioned COVID-19 Tech compression cycle. But for whatever reason, they are clearly beginning to demonstrate forward progress…and the promise of a dramatically different future.
So there's that at least…
You can register to attend CES 2021 by following this link… Be advised, there is a registration fee of $499 (a discount fee of $149 expired on January 4th).