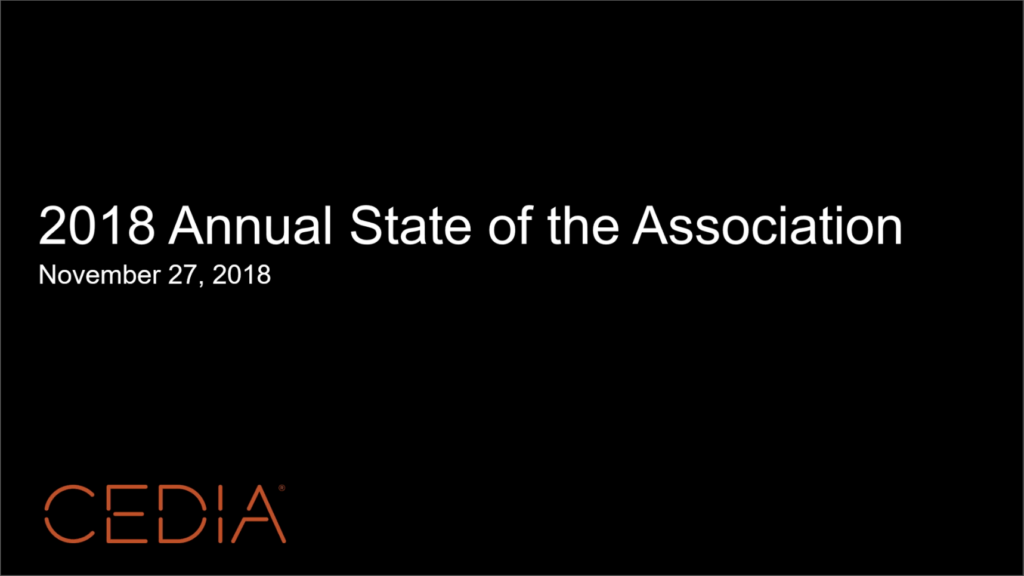 The Custom Electronic Design & Installation Association (CEDIA), held their annual member's webinar where association staff and board representatives review the "State of the Association" for those members tuning in to the webcast. The polished, prepared presentation offered an upbeat assessment on the organization's accomplishments in 2018. But, as you might suspect, I uncovered a couple of interesting issues in which I'm seeking some follow-up clarification.
See what CEDIA presented to members…
As is typical of these events, the presentation started with an overview, first introducing those staff and board members acting as presenters for this particular webinar. This was followed with a reminder of just who the newly elected members of the Board of Directors are. Dave Humphries, a New York and Mid-Atlantic sales representative who is the current Chairman of CEDIA's Board of Directors presented the new board members, as well as reviewed the entire list of board members.
The master of ceremony for this affair was CEDIA Director of Member Engagement Jenny Scott. The other presenters for the webinar included: Dave Humphries, Rob Sutherland (CEDIA Treasurer), Tabatha O'Connor (CEDIA Global President and CEO), Tom Darling (CEDIA SVP, Education and Certification), and Giles Sutton (CEDIA SVP, Industry Engagement).
Boards, Councils, and Volunteers
After the board discussion, Scott presented a list of volunteers that the organization recently honored with awards, including: Joel Silver of Imaging Science Foundation (Lifetime Achievement Award); Larry Pexton of Control4/Triad Speakers (CEDIA Fellow and former Chairman), Amanda Wildman of TruMedia (Volunteer of the Year), Lina Maria of Audio Concept (New Volunteer of the Year), and Sam Woodward of Lutron (Training Volunteer of the Year). These awards were all announced earlier this year, with actual trophies presented at the last CEDIA Show in San Diego.
These announcements were followed by a discussion of the many advisory councils the organization has established. As Scott mentioned each of these, she gave a brief description of each council's specific role – they all report to the Board of Directors. Additionally, many of these councils have "working groups" and "task forces" that report to the overall council who, as mentioned above, reports to the Board. It's quite an extensive bureaucracy and those of you who would like to volunteer to participate can sign up at cedia.net/volunteer.
I have to admit, I find it interesting that there is a council for IPRO, a sales representative organization, to advise the board on issues related to sales reps concerns. But I don't see one listed for participating manufacturers. Yet, the reality is that manufacturers provide a lot of funding support for the organization. Could this be a pet project of Chairman Humphries, who himself is a rep?
There is a council titled the "Industry Relations Advisory Council," but according to Jenny Scott's definition, this group…"shares ideas, thoughts and suggestions relative to CEDIA's cross-industry collaborative initiatives." This is, it seems, a group designed to reach out to other related industries, such as home builders, architects, designers, etc. I did not see a specific council targeted for other in-industry groups, such as manufacturers or distributors.
Are There More or Fewer Members?
From here, the presentation hit its first snag, for me at least. Scott handed the presentation over to President and CEO Tabatha O'Connor to discuss membership matters. A slide popped up on the screen with a graphic showing that in 2017, the organization had 3,751 members. This amount was just under their historical high, which was 3,766 members back in 2015 – around the time that CEDIA EMEA was subsumed into CEDIA US, becoming a truly global organization.
But what caught my eye is that the 2018 year-to-date membership level was shown as 3,484…down 267 members or a little over 7% off. This was shown to be the lowest level of membership since pre-EMEA days in 2013 (3,224 members).
O'Connor noted in her presentation that, "We expect that to increase by year end," but didn't give a specific projection. "With members in 79 countries, CEDIA is truly a global organization," she quickly added, moving on.
 Membership Breakdown; Renewals Just Opened
Of this total, the breakdown by type of member is: 74% are residential integration companies…14% are manufacturers, 10% are industry-related professionals, and 2% are individual members. O'Connor notes that the association is seeing strong membership growth in Australia and New Zealand with a 15% rate of growth.
At this point, Jenny Scott stepped in and mentioned that "the 2019 renewals just opened" and went on to encourage everyone "to take a moment and renew your membership before the end of the year."
During a Q&A session, Scott took my question – typed in on the webinar attendee console – on why the membership numbers showed a decline. As she said in her presentation, renewals had just opened and they expect to close out 2018 at about the same level as 2017. However, I don't recall the numbers being presented the same way in previous presentations. And it is somewhat confusing that she finished her answer by saying she encourages everyone to renew their 2019 membership.
I reached out to the organization for clarification on when their 2018 membership level is set.
'Financials'
Scott then turned the presentation over to Board Treasurer, Rob Sutherland "to walk through CEDIA's 2017 financials." In fact, CEDIA management does not review the actual full financials with members. Rather, they only offer a rudimentary pie chart of top-line consolidated numbers. This year would be no different.
"The CEDIA team works diligently to drive our mission forward for our members with strict attention to our financial responsibilities and careful management of assets, revenues and expenses," Sutherland said briskly, his words punctuated with a British accent. "We will cover the consolidated revenue and expenses of the global organization."
$36 Million One-Time Gain From Sale of Show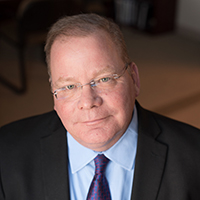 The organization now openly admits it had a one-time gain of $36 million from the sale of the CEDIA Expo show to Emerald Expositions. Long time Strata-gee readers will recall that information was first reported here, as the management (and directors) at the time said repeatedly they were unable to reveal the purchase amount due to a non-disclosure agreement with Emerald. But Emerald, as a public company, revealed that purchase price in a filing with the SEC.
"This is an asset purchase, and it is not included in the revenue graph," Sutherland told webinar attendees. "But it can be found in the organization's balance sheets." While undoubtedly a true statement, CEDIA's balance sheets are not made readily available to members.
The $36 million…"is in an investment earning account," the Treasurer told attendees. "To be used for the future programs and projects."
Double Digit Revenue Increases
On revenues, Sutherland told the group that revenues for 2017 were a total of $11,276,095, an 11.3% increase as compared to 2016. Much of this growth is attributed to the ISE show, which by itself had a revenue increase of 4.1%. That's an important consideration, as the ISE show and other international events combine to represent almost half (48.7%) of the association's total global revenues.
Sutherland went on to say the organization also saw increases in Education revenue and Membership revenue as compared to the previous year.
Revenues Up, Expenses Down – Yet Still A Million Dollar Loss 'We Anticipated'
Turning to expenses, Sutherland told attendees that the overall expenses decreased overall by an impressive 17.3% to $12,248,869 – "…mainly due to the elimination of CEDIA Expo expenses as a result of the sale of the show." CEDIA, he said also saw a reduction in Administration expenses, thanks in part to a consolidation in services with the new global staff.
So…with revenues up and expenses down, one would think this would have been a banner fiscal year. However, Sutherland said that expenses still exceeded revenues…"by just under $1 million – which we anticipated as we moved away from a trade show organizer to building a world-class education platform."
The association's investment into new educational initiatives and its newly acquired tools such as The CEDIA Designer software program, will offer a future revenue stream that should eliminate this shortfall down the road, Sutherland reassured attendees.
Sutton Promotes The CEDIA Designer Software
Scott then turned the program over to Giles Sutton who launched into a discussion, almost a sales pitch, on The CEDIA Designer software program, which he called, "The Worlds Most Powerful Home Cinema Software," CEDIA members get access to TCD Level 1, called Media Room, for free. This is, Sutton says, a $625 value. There are, as you might imagine, other levels – paid levels – which Sutton says will be made available to members at a "significant discount."
In kind of a halting, scripted "conversation," Scott asked Sutton to talk about the three awards celebrations that CEDIA held this year that he had the opportunity to attend. "We had a FANTASTIC global awards program this year," Sutton gushed. First, he went to Sydney, Australia to the Integrate Show…then on to San Diego to Petco Park during CEDIA Expo…and finally the CEDIA EMEA event held at the renowned British Museum in London. Apparently, they were a lot of fun and many members were recognized.
Member of Excellence Program
Then Scott asked Sutton to talk about CEDIA's Member of Excellence Program. This is a new member recognition program with two levels: a CEDIA Advanced Member, and the Member of Excellence. The details of this program are still being finalized, and the association will be launching a dedicated website with more details on how you can get involved later.
Scott then turned the presentation to government affairs with Humphries stepping back into the presentation, saying this is "one of the most overlooked benefits the association offers." Humphries noted that the association makes effort to influence public policy to protect CEDIA members, the electronics industry, and consumers. It requires, Humphries "daily vigilance."
Expo and ISE Shows Were Strong and Are Getting Stronger
Humphries then reviewed the CEDIA Expo which had "renewed emphasis on training and education." A quarter of the training sessions were brand new, he told webinar attendees. Humphries also noted the success of the Design Connection – a tour of the show for specifiers – which was hosted by Emerald Expositions.
Humphries went on to extol the results of ISE – Integrated Systems Europe. CEDIA co-owns ISE with AVIXA, which as far as I'm concerned, means it is still in the trade show business. And with their recent purchase of the multi-regional Technology and Business Summit show, I would say they are even more so in the show business.
Progress on the Association's Three-Year Strategic Plan
In any event, ISE, which Humphries says is "the world's largest pro AV show," also noting that it "is co-owned by CEDIA and AVIXA." This year, ISE saw "over 80,000 attendees." Humphries went on to talk about their educational initiatives at ISE, and noted that the event is moving to Barcelona in 2021 "to accommodate the growth of the show."
Scott then asked Tabatha O'Connor to update the group on the association's progress with its new three-year strategic plan, originally announced in February. The plan, CEDIA's CEO told the attendees, identified three key areas of focus for the association. These areas are:
Provide world-class education, and workforce development
Set standards, guidelines, and best practices
Be a "connecting point" for related audiences, such as builders, designer, and architects
Interestingly, when first announced, there were four targeted areas. A CEDIA executive told me they refined this down to a more focused three key initiatives as two of the original points were closely related.
New Education Head Reveals Educational Overhaul Plans for 2019
O'Connor next turned the presentation over to Tom Darling, their new head of education. Darling started by noting that he has an expanded team dedicated to building out CEDIA's education offerings. There are now ten employees serving education, certification, and workforce development.
Darling also noted that CEDIA is committed "to make CEDIA education more accessible than ever before." CEDIA education was offered at more than 100 in-person events this year, including at shows and other regional and partner events. They expect to be involved in even more events next year.
"Our goal is to make it even easier for members to attend training," Darling said.
Hybrid Education
CEDIA is developing "hybrid education," Darling said. This is a combination of online with face-to-face events, designed to make education more accessible. Also, more training at the regional Tech Summits, of which there will be 11 this year, will help to effectively bring the training to the member.
The organization is developing an all new, comprehensive online education program, which again, makes it easy for members to access education at a time convenient for them. Fully 13 new online courses will launch in January. This number will grow to a total of 70 courses by the end of 2019.
Finally, CEDIA's education department is staffing up and creating a program for workforce development. The plan is to offer a 12-week entry-level training program for new folks looking to enter the technology business. Their hope is to create a pool of talent for CEDIA members that can be easily onboarded, thanks to their base-level CEDIA training.
Other Topics
Other topics the webinar touched upon, included:
a series of white papers being created to offer "standards and best practices" for CEDIA members
a CEDIA podcast on trends, best practices and industry news
the hiring of White Good, a PR company used by Emerald Expositions to reach out to the design and build community
Participation in Design and Construction Week with a CEDIA Technology Solutions Pavilion
Launching a CEDIA Outreach Instructor program to provide eduction to the specifier community
CEDIA's new headquarters is finished and the association has moved in. There will be a grand opening event on March 28 in Fishers, Indiana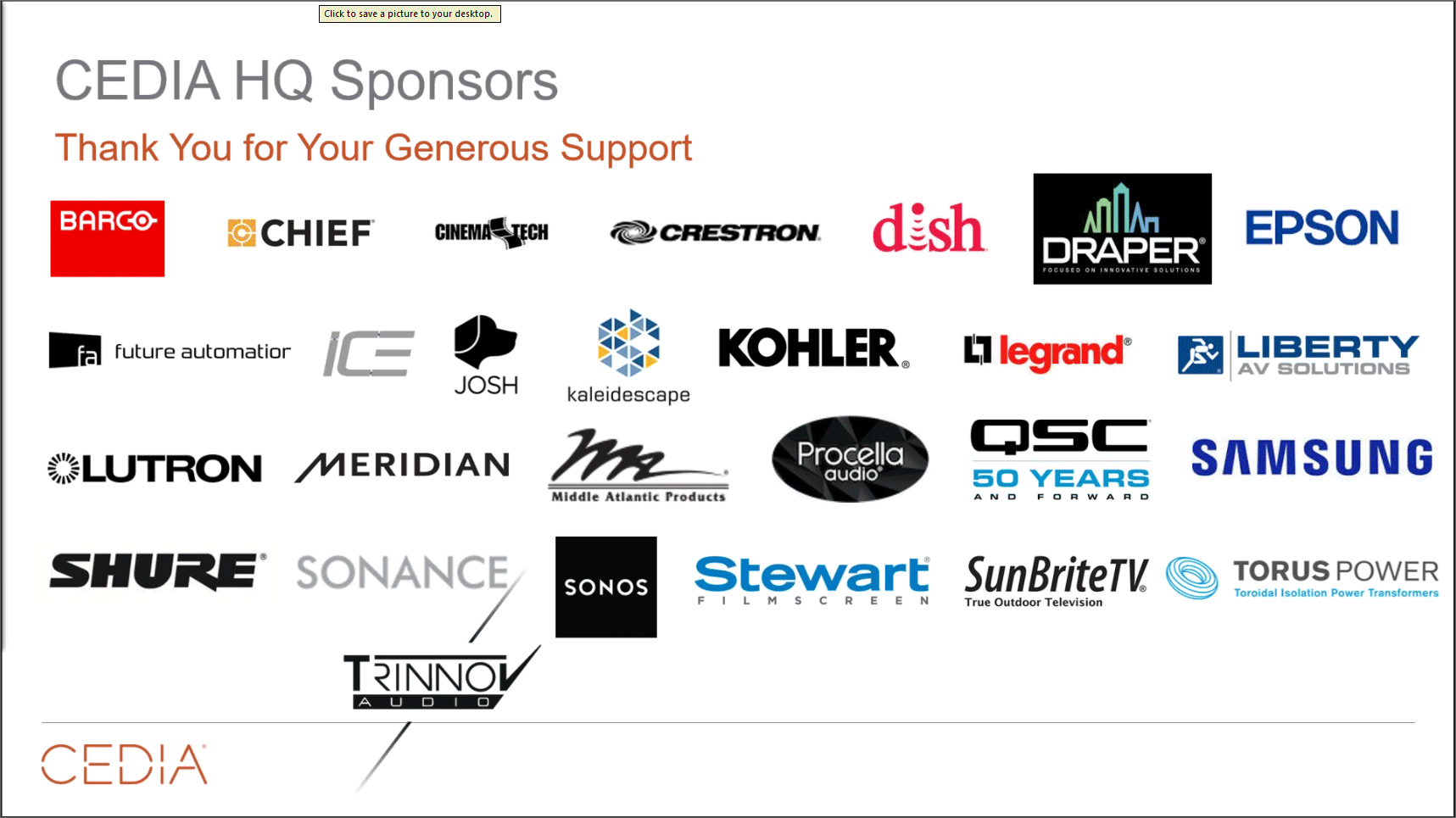 It was a comprehensive overview that often felt more like a sales pitch than a report of activities and results to the members. The fact remains that this is an organization undergoing tremendous change – yet often not enough detail is provided to members to help them determine whether they agree that CEDIA is on the right path. As positive and upbeat as this presentation was, there was a concerning $1 million financial loss, a confusing drop in the number of members (or maybe not a drop!), and initiatives announced but not fully explained.
Remaining Hopeful
But whether you agree with all the decisions CEDIA has already been made or not, it's hard to argue with the fact that the hardworking team at CEDIA has accomplished a lot. There is a new headquarters building which offers new options in usability to local members. There is a whole new educational scheme being developed by Tom Darling and his team which holds a lot of promise for all-new content delivered in new ways with easier access for members. And with new programs and initiatives, there is always the hope they gain traction and deliver a brighter future.
It's that holidays…let's remain hopeful!