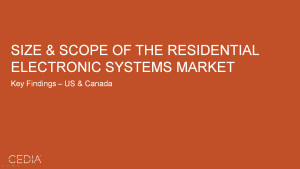 As is their normal practice at the annual Expo, CEDIA released key results from their annual Size and Scope of the Residential Electronic Systems Market survey which is conducted in conjunction with Parks Associates. However, what is not normal is that this year we heard these results from Dave Pedigo, CEDIA's all-around tech guy – rather than from Erica Shonkwiler, CEDIA's Market Research Manager who has apparently left the organization. But that switcheroo was not the only surprise, as some of the results were almost shocking.
See the astounding results from this year's survey…
CEDIA and Parks Associates conducted this survey from July – September 2015 and they received a total of 676 qualified responses. Although the survey covers all types of systems installers including security, electricians, and IT professionals…for the purpose of this preview, they focused only on AV integrators in the residential market.
Because numbers are still being crunched from the recently collected data, the report is not yet complete (even though Expo came later this year) – so we only got a few brief numbers. But that was enough to cause a stir among reporters as some of the results were quite surprising.
A 50% Increase?!
So let's get right to it – the first topic is actually one of the most important ones…average total annual revenues for CEDIA integrators. We were surprised – no shocked – to learn that CEDIA says integrators' revenues last year (2014) increased to $2,200,000, or 50% higher than the $1,459,000 booked in 2013. The organization had previously forecast a 19% increase for 2014…expecting annual revenues of $1,746,000.
A 50% one-year increase is a head-spinning number and one, quite frankly, we're struggling to digest. We speak with integrators all the time – and while it's certainly not unusual for them to tell us their revenues are growing, no one has thrown out this kind of number.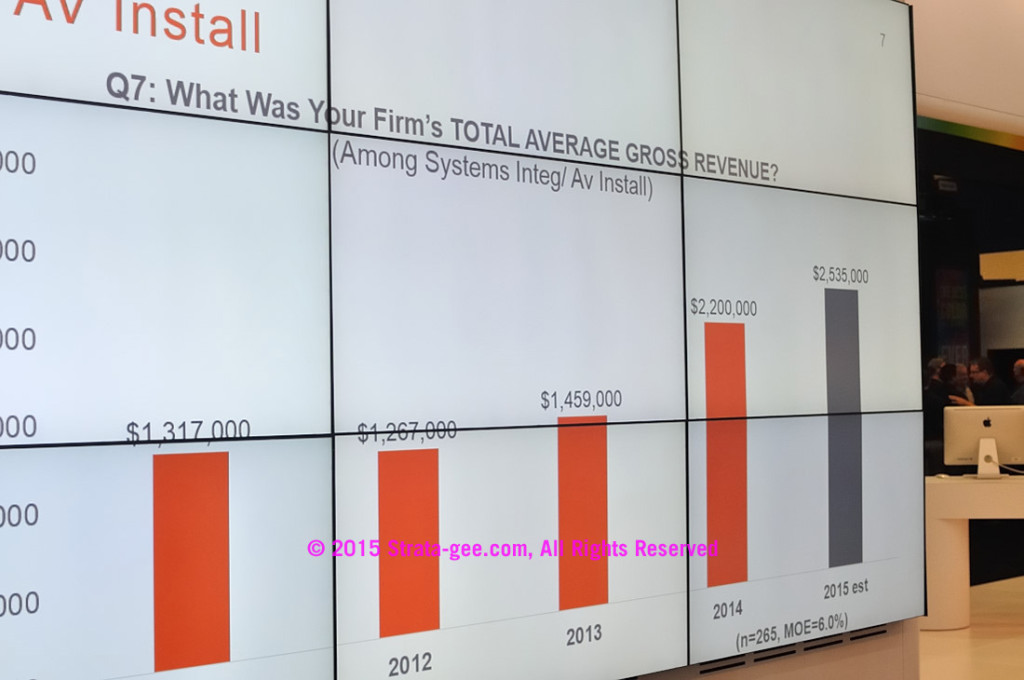 A DOUBLING of Revenues?!?!
Furthermore, CEDIA is projecting another 15% growth to an estimated 2015 revenue of $2,535,000. These double-digit growth rates…if true…are breathtaking.
But that's not all! As we looked at the slides during the presentation we noticed an even bigger result. Based on the new forecast for 2015 results, CEDIA's data says that integrators will have DOUBLED their revenues in the three-year period from 2012 to 2015…from an average of $1,267,000 in 2012 to $2,535,000 this year (projected). This is a stunning number…the whole industry doubled in only three years??
Even CEDIA was Given Pause
We asked Pedigo to explain that seemingly amazing increase – the scale of which we have not heard about from any integrator. Pedigo admitted that some of the numbers have given even the organization some pause. But he suggests that the combination of integrators increasing the categories they participate in (security, landscape)… and doing more installations each year (more on this later) combined to drive overall revenue numbers to this high of a level.
Break out the champagne…maybe?!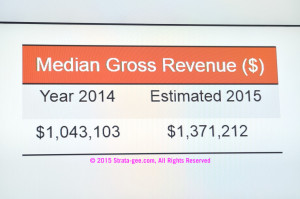 These results are impressive even when looked at on a median basis (the point where half of the integrators' results are above the number, and half of the integrators' results are below the number) instead of on an average basis (which can be skewed by a few large participants). Many statisticians will tell you the median number is typically the better gauge of actual results. Looked at this way, the median gross revenue is expected to grow to an estimated $1,371,212 or 31.5% over $1,043,103 in 2014. Still an apparently huge increase.
The percentage of revenues that integrators reported were from residential installations has remained fairly stable…coming in this year at 75%. That is the same percentage reported by integrators in 2014 and up only slightly from 2012, when the figure was 73%.
Average Size of Installation
CEDIA members reported completing a total of 59 installations in 2014 or 15% more than the 51 installations completed in 2013. CEDIA estimates that this number will grow to 66 in 2015, or up another 12%.
With total revenues and number of installations revealed, we can calculate the average installation size, which in 2014 was $37,288. This figure is 30% higher than the average installation of $28,608 in 2013. What's more, CEDIA estimates the average installation in 2015 will be $38,409, up a modest 3% over 2014.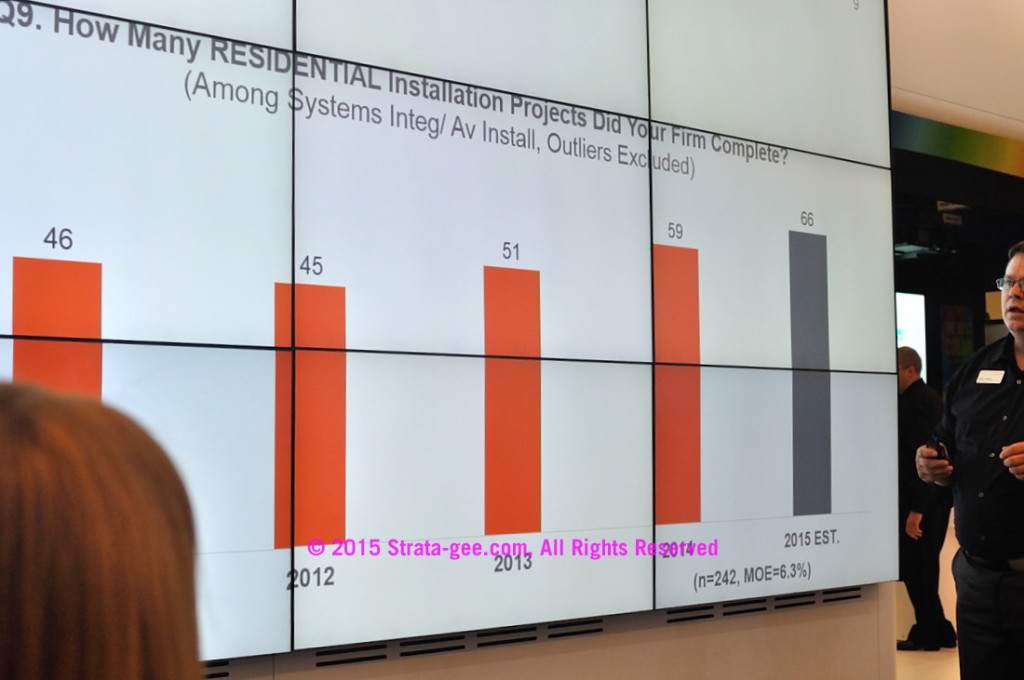 Another figure the organization tracks is the percentage of integrators' revenues that result from equipment sales. This number has been pretty stable and integrators reported that in 2014, 53% of their revenues were from hardware sales. That number will rise to 54% in 2015 according to CEDIA estimates.
The Great Outdoors?
Finally, the organization offered some analyses of different product categories, most of which were unremarkable. But we will tell you about one category they highlighted which seemed to suggest a more strongly growing trend – outdoor entertainment equipment.
According to the survey, in 2014 integrators on average installed a total of 12 outdoor entertainment systems. However, the category is projected to grow – with integrators in 2015 installing 17 outdoor entertainment systems or 42% more than the year before. In a breakdown of outdoor categories, the growth appears to be mostly in displays and lighting control…although the numbers are pretty small.
Caution – A Startling Discovery
So what's our take on all of this. Frankly, we find the whole survey suspect this year. In reviewing the numbers we were provided last year by CEDIA, we made a startling discovery. The response to the survey was down…and down to a significant degree.
For example, in the survey on total revenues, last year 557 dealers reported their numbers. This year, only 265 dealers reported their revenues. That means participation in the survey was cut by more than half! Any statistician will tell you that the smaller the sample, the greater the likelihood of errors. Perhaps for this reason, CEDIA affixed the margin of error (MOE) to every slide.
Margin of Error? Big!
The survey on outdoor entertainment systems that we mentioned above had a sample size of only 152 dealers, yielding a 7.95% MOE. This is a very low sample. But it's not as low as one category we didn't tell you about. In a survey question on security installations, only 88 dealers responded, with a MOE of over 10%. That is TOO low of a sample for us to have confidence in the numbers.
We have reached out to CEDIA for an explanation on why the participation numbers are so low this year as compared to last. Unfortunately, with the departure of Shonkwiler, no one remaining at CEDIA appears to be assuming responsibility for the organization's market research. We haven't been able to get any answers.