It's a remarkable event when someone can claim a legitimate first. In all my years in this crazy Tech business, those firsts are getting fewer and further between. But Emerald Expositions, owner of the CEDIA Expo trade show can claim a legitimate first that I have never seen before from any show. They gave the cold shoulder to any media organization not named CE Pro.
Usually, shows want good media relations across the board with happy media writing positive stories and building an upbeat buzz about their event. Not Emerald…they are quite satisfied to help just one media outlet to run positive stories about their event…their very own CE Pro.
See how Emerald and CEDIA Expo give the media the cold shoulder
By now you most likely know that CEDIA Expo is NOT owned or run by the Custom Electronic Design & Installation Association (CEDIA), a trade association of integration companies. Rather, it is owned and run by the for-profit, public company Emerald Expositions, part of Emerald Holdings.
Emerald Expo Buys a Show and a Media Company
And in 2018 Emerald also purchased several of the media properties of EH Publishing. This acquisition included CE Pro, the rather generically named Commercial Integrator, Security Sales & Integration, Campus Safety, and more.
Now as time goes by, we are beginning to see the emerging ugly underbelly of disconnecting a formerly beloved trade show that represented the annual happy gathering place of the entire non-profit CEDIA trade association community…from that trade association…and turning it into a for-profit business enterprise meant to benefit the masters of Emerald's majority private equity owners, shareholders, investors, and other profit chasers. Any direct benefit to the integration community – the main mission of CEDIA the trade association – is now incidental.
No Press Room, No Organized Press Conference Schedule, No Media Relations
So what were the firsts? Well, for starters, there was no press room. How unusual is that? It is the very first show I've ever attended that made no provisions whatsoever for media.
For those of you not in the media, you might think, "What's the big deal about that?" It is a very big deal and when CEDIA ran CEDIA Expo, they understood this well.
A Hub of Connectivity and Communication
A press room is a hub of connectivity and communication for the media that facilitates their ability to do their job. A well-appointed press room not only includes tables and chairs where members of the media can sit down and write up news stories about the event – but also provides wireless and/or wired internet access, so those stories can be instantly posted.
Often, press rooms include bins where exhibitors can place their press releases and announcements in various media formats, facilitating the media's access to more detailed and accurate information. Most events also include meeting rooms, lockers, and refreshments. These things all contribute to helping the media cover the event and giving visibility to show exhibitors and product launches to the world in real time.
You Don't Want a 'Hangry' Media Walking Your Show Aisles
Most events also provide meals for the media, usually breakfast and lunch. Why? Because you don't want to force the media to stop their news collecting and publishing activities to waste precious time leaving the event in search of sustenance. And God knows – as one person put it to me – you don't want a "hangry" media walking your show aisles.
Another first – Emerald/CEDIA Expo provided no advanced information to the media including an organized listing of press conferences being offered by exhibitors. Nope, we were all on our own searching those out. In the days leading up to the event, there was a mad scramble of information exchanges taking place amongst the media on our own.
Emerald Hires a Media Company to Manage Media Relations, A Competitor to Some
When Emerald first took over the event, they tasked a PR company called White Good to man the press room and handle media relations. But this year, they tasked rAVe – a media company that only recently began offering PR services – to take over this role.
This was an interesting choice for a couple of reasons. First of all, rAVe is first and foremost a media company. Many eyes rolled when the technology press heard that bit of news. Asking a media company to handle media relations meant that many of the attending media had to rely on rAVe – whom some considered a competitor – for their CEDIA Expo experience. That's like asking GM to look to Ford representatives as their media rep for the auto show! Even if a certain media group does not consider rAVe a competitor, they clearly are not experienced at running PR at an event.
Emerald's Media Rep's Beat is the Commercial Channel
Oh, and one last point about rAVe – this is a media company focused on the commercial channel. CEDIA Expo is a residential event, a very different type of event with not much crossover in media. This was, to say the least, a curious choice by Emerald…very curious.
Lastly, let me note that all of the Smart Stage content presented on the main floor at the event¹…ALL of it…was curated and presented by CE Pro. Look, nothing I say here is meant to disparage the editorial team at CE Pro. They are friends of mine and they are good at what they do. But there are a lot of other media resources with complementary and unique insights who could have made a substantial contribution to the content presented at the show.
CEDIA Expo Attendees Force-Fed Content from One Perspective – Emerald's Own CE Pro
Perhaps because it fits the business purposes of the for-profit Emerald, those resources were not tapped and we got all of our content filtered through the lens of one outlet.
To be fair, Emerald did do one thing for the industry media – and only one thing. They let us into the event with media badges at no charge.
But there used to be, and needs to be, so much more. CEDIA Expo needs to remain an INDUSTRY event…NOT an EMERALD event.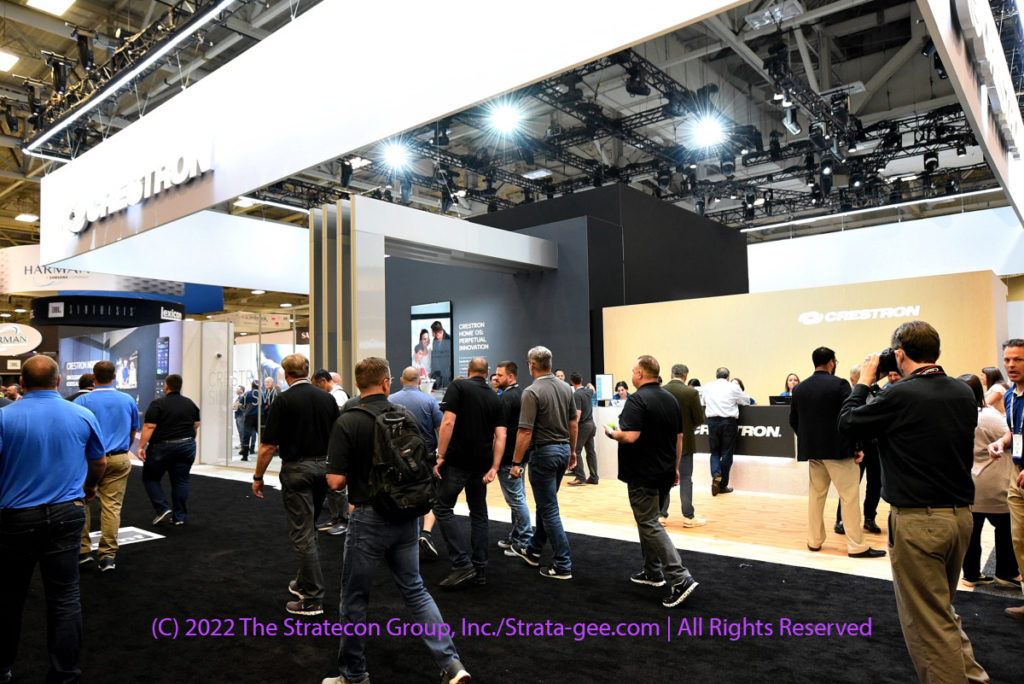 For CEDIA Expo to Remain Relevant, It Needs to Attract More Media
For the CEDIA Expo to remain relevant, they need more media attending, not less. Media attendance was off by about 30% or so this year. These kinds of media unfriendly policies are unlikely to attract more media to the event.
I did complain about all of this to the rAVe person running media at the event for Emerald and at the last minute they tried to slam together a media lounge. It was way too small to be useful, didn't have power or internet. So in other words, it was useless.
Media Pulled It Off with No Help from Emerald's CEDIA Expo
The bottom line…the media scrambled and got their stories written and disseminated. You should appreciate their efforts even more this year because that was accomplished with no help from Emerald and CEDIA Expo. They actually made it more difficult and no doubt repressed the amount of media that should have been produced.
You would think the largest trade show exposition company in America could do better than that. I know I did…
Why Did Emerald Ignore the Media Other than CE Pro?
I've given this a lot of thought, but only they know for sure. It could be that because it costs money to offer services and hospitality to the media, the company made a simple business decision that this would cut into their profits by raising the cost of the event and therefore is unacceptable.
Or, it could be a not-so-subtle effort to depress the coverage of those media groups that compete with their owned media enterprise – again, CE Pro. This is also a business decision meant to offer a bulwark to protect its own media investment and help its profits.
Or, it could be incompetence driving this situation. Let's not overlook the fact that we could be giving Emerald too much credit. I have noticed their lack of attention to the media all the way back to 2018 – see this story on a ridiculous media badge issue at Emerald's first run CEDIA Expo 2018.
Treading a Dangerous Path
All I know is that I am beginning to see more and more examples of the dangers of disconnecting the CEDIA Expo trade show from CEDIA the trade association. Under Emerald's control, the CEDIA Expo's priority is generating profits for its business and returns for its owners, and investors first and foremost.
What about their consideration for building an industry? If such consideration exists at all, it is a weak secondary concern at best.
Disconnecting Expo from CEDIA has put us on a dangerous path.
Learn more about Emerald at emeraldx.com.
---
CORRECTIONS
#1 – 10/13/2022 – This sentence was changed to add the context that the content I was referring to was the live Smart Stage panels, roundtables, and other content presentations on the main floor. The educational content presented in the training center was provided by the CEDIA trade association.