Welcome to San Diego for the first for-profit CEDIA Expo, the first Expo to take place under the full control of professional show producer Emerald Expositions. It is also the last CEDIA to be held in San Diego, at least for the forseeable future. Next Year, the show moves back to Denver, one of the locations that is considered most popular with CEDIA members.
See our initial thoughts on this year's CEDIA Expo show…
The skies may be gray, but the temperatures have been mild for the 2018 CEDIA Expo taking place at the San Diego Convention Center. So far, no major central theme has emerged from the event this year…although JVC talked 8K (e-shift 8K) in their new D-ILA projector lineup in the wake of 8K's official launch at last week's IFA show in Europe.
Day One traffic to me seemed fairly strong, although most of the exhibitors I spoke with were split on whether it was up or down from last year's event. Attendee mood seemed quite good, as most integrators are reporting good sales growth this year.
With this being the first CEDIA Expo produced by Emerald Expositions, I had my antenna up to see if I could pick up any attitude changes from exhibitors with this event, the first run by a for-profit corporation, as opposed to the past CEDIA shows run by…well…CEDIA, a trade association. In fact I detected a fair amount of grumbling from some exhibitors, particularly the smaller ones, about increased fees associated with Emerald's version of the show. In some cases the fee increase was more of an annoyance…in other cases the increase was more substantial – including one that almost tripled, according to one exhibitor.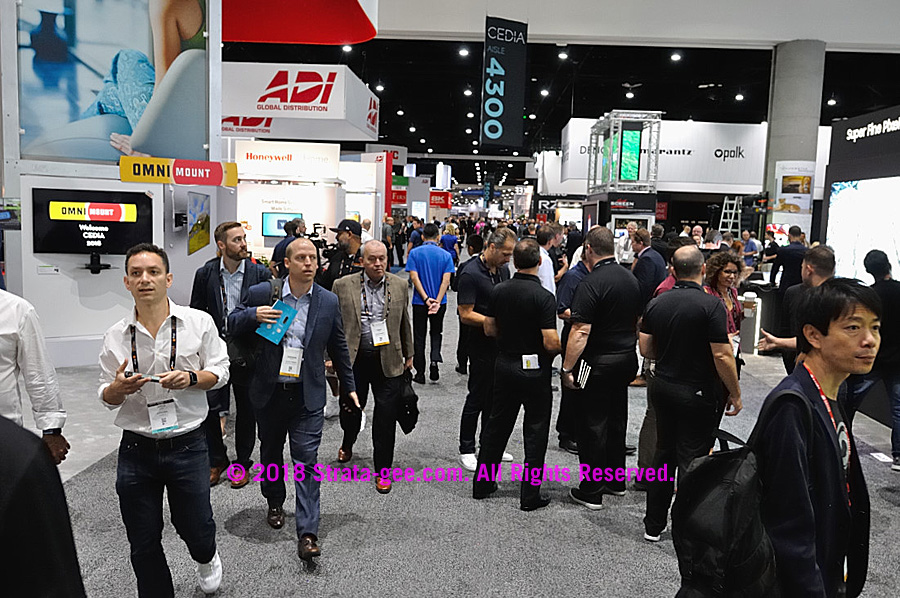 Inside Baseball
We also heard grumbling amongst several members of the press corps. Truthfully, some of these gripes (and yes, even I participated in griping) are a little inside baseball, representing issues that will not affect most attendees to the event. The first complaint, and this was heard last year as well, was related to the significant distance between the position of the press room – a space that serves as the media's temporary home office on the road – and the show floor. Like last year, the press room was positioned up on the second floor (where many educational classes are located) which adds a lot of footsteps just to get to and from the show floor.
This year, though, there were some new headaches added. First headache – the press room was not open the day before the show opening. This day usually has one or more press conferences scheduled and it is helpful for the press to be able to set up for the event in the press room and prepare to participate in the press conferences. More importantly, the press room is where the press is supposed to go to get their badges for access to the floor.
Locked Out of the Press Room
But when I got there on Wednesday, the press room was locked. Asking around, I discovered that the press room wasn't scheduled to be opened until the morning the of the show's opening day. Except that the the press conference schedule – with conferences the press was presumably expected to attend – started one hour before the show opened on Thursday. How were we to access those events if we did not have our badges?
I ran into some CEDIA folks and – you guessed it – they had no idea what I was supposed to do – quite logical since they now have nothing to do with the show (other than providing education). They suggested I go to the regular badge pickup and see if I could print my press badge. As it turned out, when I got to the pre-registered badge pickup desk, the system showed my badge had already been printed and so would not print it again! The attendant had no idea what was going on or where my ostensibly printed badge was and referred me to another badge desk. After finding another desk, that attendant also tried to locate and print my badge, hitting the same roadblock. She referred me to the main registration desk where – after more confusion and a discussion amongst several of the attendants there – my badge was discovered in a box on the floor. This took a lot of time, a lot of walking, and a lot of confusion by show staff.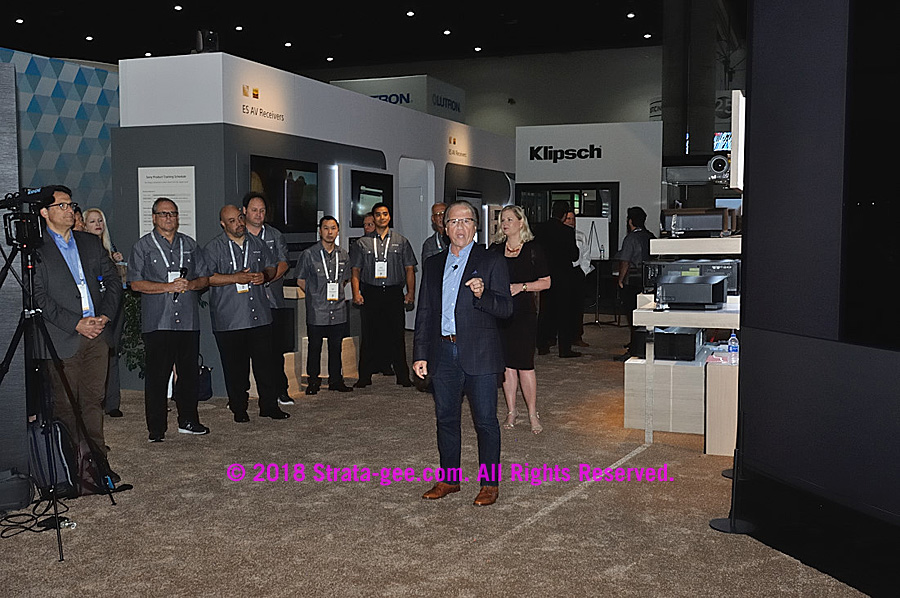 Not the Level of Execution I Had Anticipated
This was not at all what I expected from a company that bills itself as "a leading U.S. business-to-business trade show, event and conference producer…" With all their shows and all their experience, I had expected fewer impediments, not more. Things at this point in the Expo felt haphazard to me. I did, eventually, get my credentials…but it took way too long with way too much hassle it seems.
If this was a new show from a new entity, I would shrug off these annoyances. But this company is supposed to be one of the best of the best, leading me to have high expectations of things being better under Emerald than they had been under CEDIA.
To Be Fair to Emerald
To be fair to Emerald, had I carefully read the press section of their website a little more closely, I would have discovered the altered press room schedule and some of the changed procedures. I made the mistake that many of us make which is, I assumed these processes would stay the same.
Other confusing changes, there were no internet-connected computers provided for use by the press in the press room. This provision of computers is typical fare…at least in the tech industry. Was this a play to save money? Or is Emerald unaware of this regularly provided press convenience?
Keep in mind, Emerald executives and staff were at the last year CEDIA show…shadowing all of the CEDIA folks to see how they did things. In fact, I interviewed Emerald Exposition's Brianna Morris in the press room last year.
No Exhibitor Press Kits…in the Press Room
Finally, there are no media kits or press information in the press room. It is incredibly convenient for members of the media (yours truly included) to walk along the large cubby-holes and pick up press kits for many of the exhibitors at the show – in many cases literally sitting down and using these materials to file reports on the spot.
Emerald had the press room under the watchful eye of their own PR agency, a company known as White Good. When I asked the White Good's attendant where the press kits were, she informed me that they were told there were to be no media kits in the press room. She didn't know why… but she did refer me to the CEDIA Expo website press section where it says:
No press materials will be housed in the on-site pressroom. Exhibitors are welcomed to distribute materials from their booth or post them to the CEDIA Expo digital pressroom.
Exhibitors Tell Me, "So Far…So Good"
Again, no explanation for why this change was made. I would argue that exhibitors are poorly served by this policy. What this effectively means is that I do not get the materials from the exhibitors until I walk the entire show and collect them. This arguably, makes the press' job tougher…and trust me, it's tough enough.
Overall, many of the exhibitors I spoke with on Day One had a "so far…so good" mentality. Some exhibitors suggest that they were evaluating their continued support of Expo based on how the show this year works out for them.
I'll continue to seek more input over the next couple of days.
Have a great Expo!