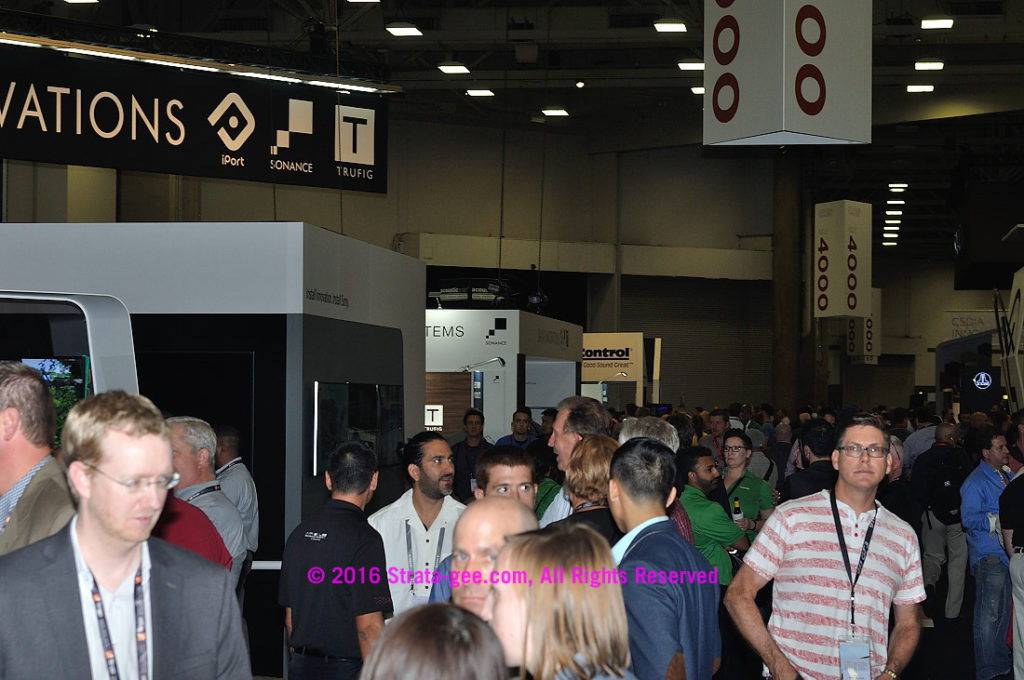 This week, CEDIA released their attendance figures for CEDIA 2016 (formerly the CEDIA Expo) which closed last week in Dallas. The total number of attendees was said to be 18,750 or flat with the 18,700 that attended last year.
See why CEDIA management tells us this is a positive result…
In a report on last year's CEDIA Expo – we called that show's attendance figure of 18,700 "disappointingly flat" as compared with the 18,500 the year before. And although CEDIA said that attendance with integrators was up 16%, most of the exhibitors we spoke with complained – in fact, most said they believed attendance was actually down.
We are unable to independently verify CEDIA's stated numbers, as they are the singular source of this information. Furthermore, CEDIA takes no further action to have their numbers independently audited like some other shows do (most notably CES). Although it would seem logical that these numbers are not fudged. If you were going to do that, you would show more growth – you know, "another record year."
Trouble?
Is this result trouble? On the contrary, says CEDIA CEO Vin Bruno: "Oh, I believe it's a victory." Bruno referred to Crestron's rather public announcement of their exit from the show as having had a negative impact. It is hard to know the exact impact of that event, but it would be reasonable to assume it had some negative influence, even though Crestron ultimately came back in with a booth shared with Amazon Alexa.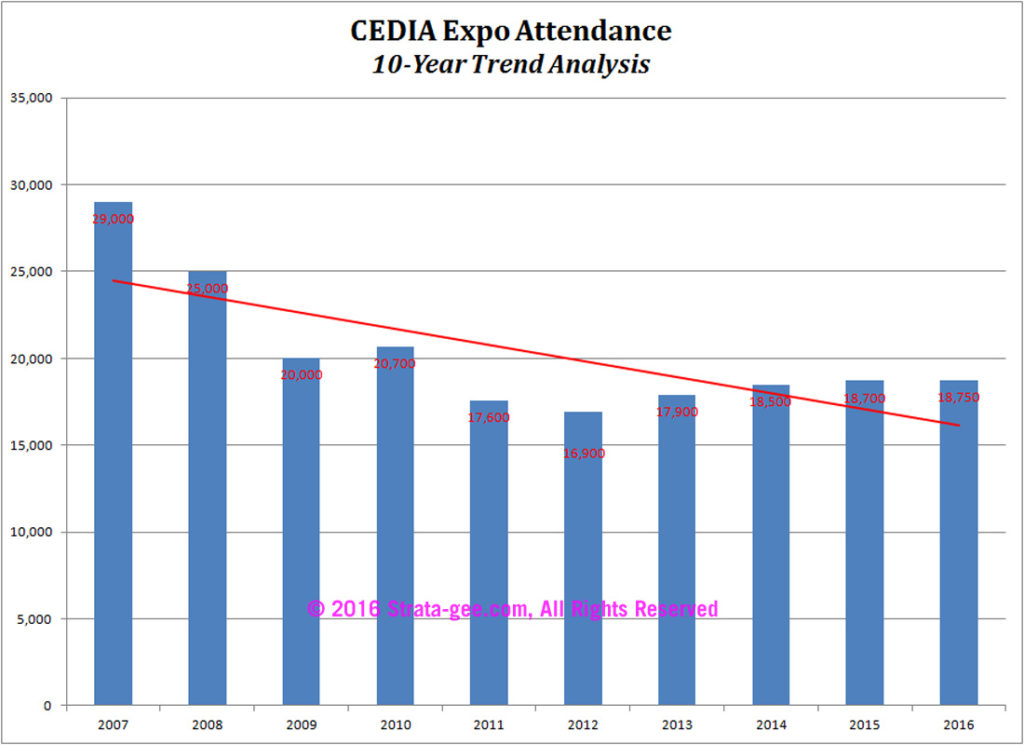 But overall, Bruno just shook it off: "The show did feel busy…it was busy…I've received so many thanks and congratulations and comments about how so many people were still in the booth at the end of the show on Saturday. So, all in all, I'm quite pleased."
Struggling to Bounce Back
Looking at our ten-year trend analysis, you can see that show attendance began crashing after 2007. The decline finally bottomed-out in 2012, having dropped from 29,000 to 16,900. Attendance the next year grew by 1,000 attendees in 2013. But since then, the numbers have remained fairly flat.
We have to admit, in our usual survey of exhibitors on the show floor, we received generally a thumbs up from most of the exhibitors we spoke with at the event this year. Certainly, many commented on how particularly busy Day 1 was, while many told us Saturday was quiet.
Still, to our eye, overall, it did look busier at CEDIA this year as compared to last. So the announcement of the actual attendance remaining the same surprised us a bit.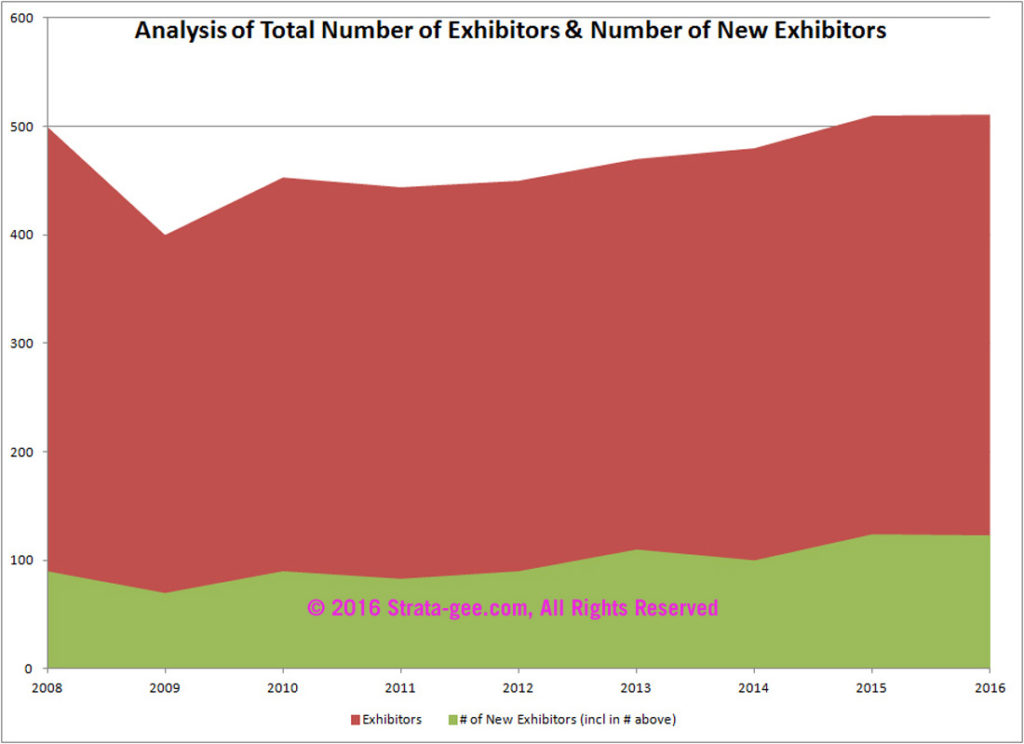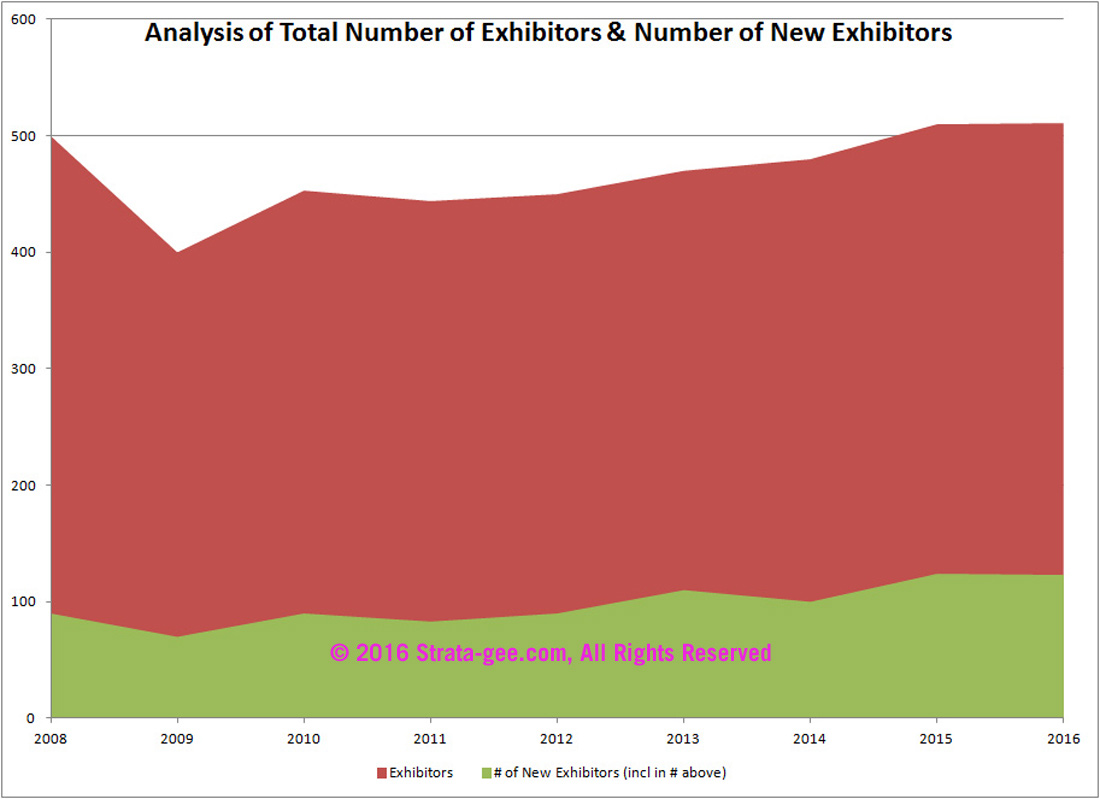 Same Situation with Exhibitors
The situation is similar in our analysis of exhibitor growth, which troughed in 2009 at 400 exhibitors. Since then, it has slowly grown back to a little over 500 exhibitors. Of this total, 123 were new exhibitors this year – also flat as compared to the 124 new exhibitors last year.
It is likely that this result will put some added pressure on Bruno, who has just completed a full year  running the organization. Bruno is pursuing an aggressive growth strategy for CEDIA and at the show announced that CEDIA U.S. had taken over CEDIA EMEA, which will now be fully incorporated for one global association.
Stepping Up
CEDIA has also stepped up its outreach to other related organizations, such as a realtors group who sent hundreds of their agents for training by CEDIA. Bruno also told us they are exchanging information with other associations such as InfoComm, and other construction-related groups.
Have we reached the high watermark in the number of technology integrators in the United States? Or will CEDIA's new initiatives gain traction and begin to drive CI industry growth?
Learn more about CEDIA and its many educational programs and opportunities at: www.cedia.net.