Onkyo USA announced this week that it will become a retailer of Sonos wireless music systems – selling the company's wireless music systems on Onkyo USA's website. The company also says it will distribute the brand nationally as well.
See more on Onkyo's partnership with Sonos…
On the same day that Strata-gee was first to report that SnapAV would become a national distributor of Sonos wireless music systems, Onkyo posted an announcement on their website saying they too would distribute the brand – and become a Sonos retailer as well. The company is already showing Sonos products for sale on its website.
Onkyo describes themselves as "one of the fastest growing distributors in the consumer electronics category." The rather terse statement posted by the company on their website – only three paragraphs long – did not offer a lot of details.
Not 'Coming Soon'…It's 'Here Now'

However, starting in September, the text on their website says, customers will be able to purchase a wide range of Sonos wireless music systems on the Onkyo website. These products will include the Sonos One, Playbar, Connect, Sub, and the Sonos by Sonance architectural speaker line.
In fact, Sonos sales have already begun, as the Onkyo website already has a "Sonos" tab, which takes you to a new Sonos store page with the headline: "The Future of Whole Home Audio." Sonos products are shown in conjunction with Onkyo electronics.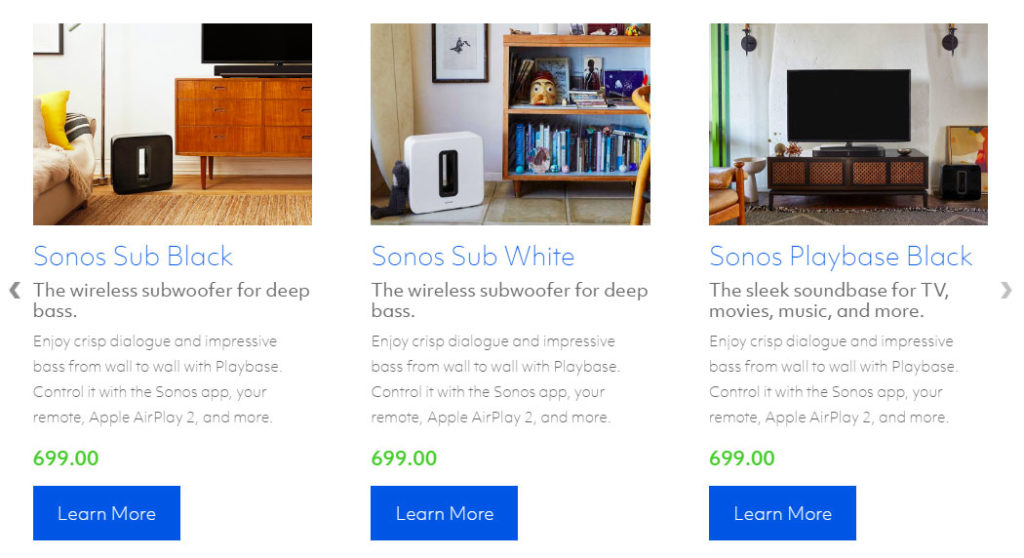 "We are incredibly excited for the opportunity to partner with Sonos and are eager to provide a complete audio experience to our customers, as well as solutions for our custom integration dealers. Given the ever-changing landscape of the consumer electronics industry, adding Sonos to our portfolio of marquee distributed brands is another giant step forward for ONKYO USA."

Joe Petrillo, COO of ONKYO USA
Onkyo Has Been Selling on Their Website for Years
In August, Onkyo announced that it had hired Mike Criscitiello as National Sales Manager for the company's retail business unit. This announcement was a little strange, as Onkyo is not typically thought of as a retailer.
However, much like many other manufacturers, Onkyo has actually been selling products online for years now. The primary inventory they sold was various "B" stock items, open boxes, refurbished items, and closeouts.
Onkyo Becoming a Retailer?
Now it appears the company intends to become a retailer of products from other brands, in addition to theirs. In the case of Sonos, the company says it will ultimately begin selling Sonos product on other company owned websites for Pioneer, Elite, and Integra.
It is not clear how dealers will react…will they care? Will they view Onkyo entering the retail business as their supplier becoming a competitor? Many Onkyo dealers also sell Sonos, so this move would appear to put them in conflict. Or on the other hand, will they accept this as just another creative business model in an ever-changing industry?
What Do You Think?
What do you think? Are you an Onkyo dealer? Share your thoughts in the Comments section below…
See Sonos on Onkyo at: www.onkyousa.com.