The 2012 CEA Line Show wrapped up today and as usual, it was a combination of mind-numbing "me-too" posers, mixed in with a handful of some real, creative, innovators. The problem is, it took a lot of patience to wade through all of the literally hundreds of booths, and thousands of people to dig through muck…and find the gems.
See our show overview…
What a strange dichotomy at this event. While clearly the number of vendors and booth personnel increased dramatically from last year…there seemed to be less of a press presence than in years past. Over the next few days I will be posting several photo slide shows from the various press conferences and booths I attended. In the shots from the press conference room, you will notice the rather sparse press corps attendance with lots of empty chairs.
But when you see my shots down the aisles in the exhibit area, you will see that often the aisles were jammed. Given that this show largely exists for the purpose of helping manufacturers preview their products for the press…I'm not exactly sure who these people are. But clearly, there was an attendance uptick from previous years with…whomever they are.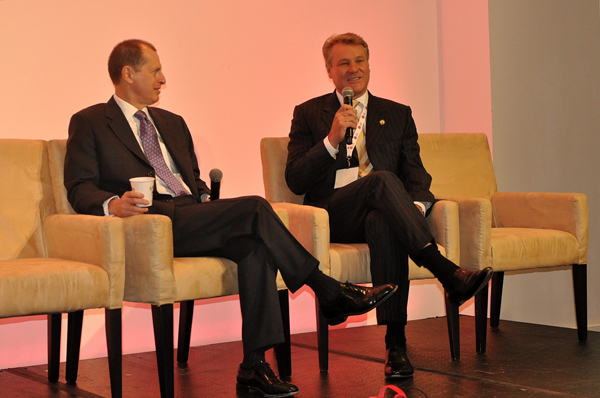 CEA's Shapiro and Fry's Electronics Randy Fry kick off the event…
The kickoff presentation was supposed to be with the CEA's head stats guy – Shawn DuBravac. However, for some reason, he was late – so the order was switched and we started with Gary Shapiro interviewing the new CEA chairman, Randy Fry of Fry's Electronics out of California. Clearly a cozy pair…the session was fairly free form as it appeared that Shapiro did not have any set questions. He just appeared to wing it with discussions of the best-selling technologies at Fry's stores, what they felt were going to be the hot products of this selling season (SPOILER: more of the same), a discussion of the CEA's new stance for enforcing tax collection by Internet retailers…and finally, Shapiro worked in some administration-bashing politics-his favorite topic.
Finally, DuBravac showed up with all-new data that I CAN'T WAIT TO SHARE WITH YOU. There was some surprising…maybe even shocking…numbers. Equally surprising, were some of the CEA's interpretation of these numbers. Watch for my report here…there's some good stuff coming.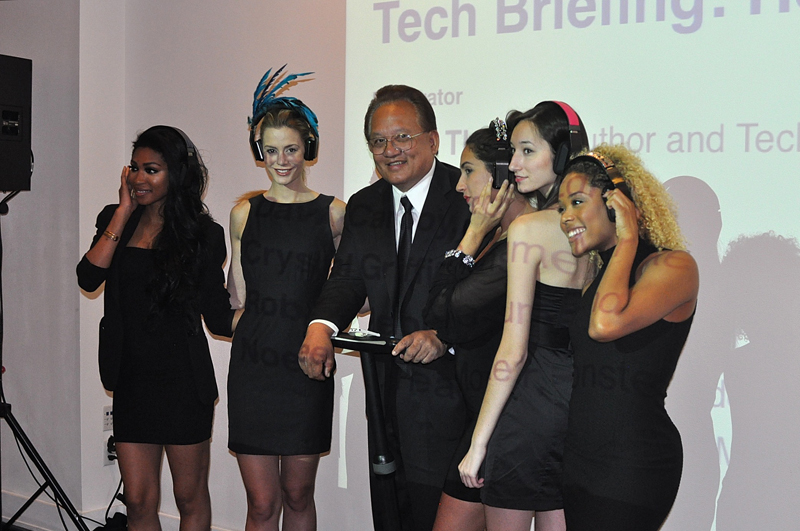 Monster puts on a show…as usual…
Also, you'll want to see my take on the latest Monster press conference. Noel had some interesting new products – he rarely disappoints. You'll hear about a new venture with Joel Silver of ISF, a new spin on the headphone movement, more discussion of their wireless products, and even a mini-fashion show (like the one they did in Las Vegas at the Consumer Electronics Show).
There were several panels, some pretty dull…but some pretty darn interesting. A retailer panel revealed that independents feel the "big box is dead" and a resurgence of independents is underway. Well…maybe. They also talked about the future with some unpredictable thoughts.
A lot of paneling…
A headphone technology briefing panel looked to be pretty unexciting…unexciting that is, until they added Monster's Noel Lee at the last-minute. There were some interesting exchanges with a journalist poking fun at Monster. But some of the smartest lines seemed to be coming from the head Monster.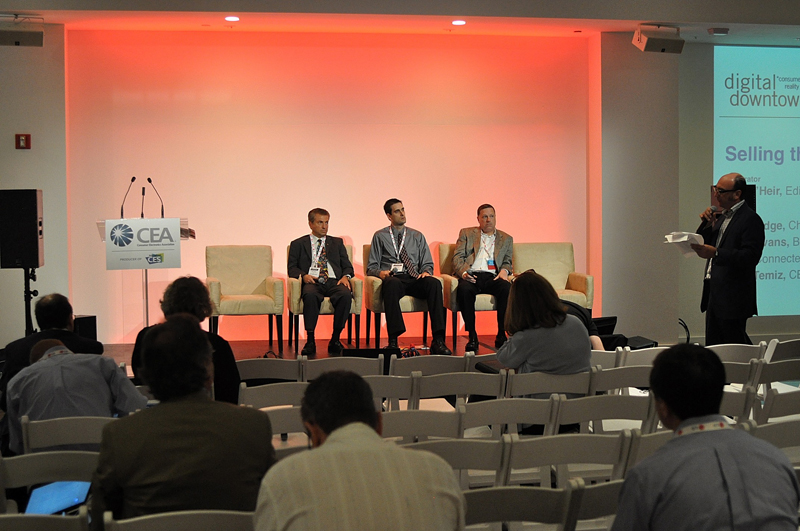 As far as I'm concerned, the panel on next generation TV was a bit of a letdown…but a couple of interesting points emerged. Perhaps one of the most interesting exchanges was when the executive from Dish explained why the government should leave them alone and let their "Hopper" DVR automatically skip advertisements on playback.
The high resolution and Internet-connected future of video…
When it came to video, the future – we are told – is 4K resolution and Internet connected TV. I would like to see some data about just how many people are really demanding Internet-connected TVs and how many are simply getting it thrown in through feature-creep and not even hooking it up.
One company that is continuing to surprise me is Pioneer. You'll see my report about this company – once relegated to primarily a low-end or mass-market position…but now offering some of the most interesting top-line Elite audio AVRs…as well as some interesting new stuff.
Cue Pioneer…
Taking a cue from Pioneer's car electronics side and its smartphone powered AppRadio – the home side is now integrating smartphones into their home systems with a seamless streaming technology called HTC Connect – and I have to admit, it's pretty interesting stuff. They're doing some good work over there at Pioneer…watch for my report.
SpeakerCraft surprised me also with an all-new product that you may have already heard about – the Protege. I'll give you the lowdown on it. It just may be the early indicator of a new wave of innovation from the new, post-Jeremy Burkhardt SpeakerCraft.
Techies just want to have fun too…
I'll have some short blips for you with some fun products from iHome…I know, not a market segment that I normally pay a lot of attention to, but they sell a lot of this stuff and some of it is pretty neat. And they don't shy away from some of the new wireless technologies that make many of their products even more consumer-friendly.
I'll introduce you to a new and very interesting concept in an all-inclusive home theater called Unity Home Theater developed by an ex-Apple engineer. You know those Apple people – always offering cool designs, with simple operation and…oh yeah, real performance.
House of Marley still groovin' along…
I have a new report from one of my favorite companies to cover – House of Marley. What an incredible blend of hip-ness, counter-culture, eco-friendly, and high-tech products. Not to mention the incredibly friendly and laid-back employees…mahn.
Those of you who know me, know that I am not enamored with the industry's efforts at 3D TV. So you should pay special attention when I tell you I saw a demo of a glasses-free, 3D technology that was pretty compelling. I've seen uninteresting demo's of a similar technology from other companies  (I don't want to name names, but their initials are SONY.) But this one caught my attention…watch for my report and tell me what you think.
Lots of wireless…
Finally, there were a zillion (OK maybe not a zillion, but it felt like a zillion) wireless speakers and systems. But I came across a provider who showed me a really cool product – a tube digital audio system. I managed to get some good photos…so watch for that report as well.
Whew! I'd better stop now or you won't come back to see my reports. But what I've listed above is just some of the highlights. At the risk of sounding like a late night infomercial: but wait!…there's more! It was a really interesting show – and I wouldn't say that if it weren't true. Believe me, I'm not looking for MORE shows to go to. But there were some fun and innovative product at this year's CEA Line Show.
I think you're going to want to know about these…so keep watching your inbox or keep visiting strata-GEE.com regularly over the next week or so.
Stay tuned for more…
Ted