Intros 700 Series Signature Models & Rehires Past PR Agency
Bowers & Wilkins (B&W), a leading high-end specialty loudspeaker brand for 54 years, that recently zigged and zagged when it was acquired by EVA Automation and launched a whole new line of wireless multi-room audio systems, has taken steps to demonstrate its re-focus on their high-end, high-performance roots. These moves include re-hiring the company's long time PR company and now launching new products that are true to its heritage as an undisputed leading premium brand.
Learn more about B&W's latest moves…
It has been quite a ride over the last four years or so for B&W – the once tried and true, reliable leader of upscale loudspeaker products sold through the specialty channel who then took a walk on the wild side with Silicon Valley executive Gideon Yu and his company EVA Automation. Yu diverted B&W product development into the highly competitive wireless, multi-room music system segment. The product of that diversion, Formation, was a dramatic departure from B&W's roots, and has not produced the results the company had hoped for.
Now, four years later, while EVA Automation remains an investor, neither Gideon Yu, nor any of his cohorts, are on the current Board of Directors that are leading the company. While B&W remains in the Formation business, as Executive VP James Krakowski explained to Strata-gee readers in a recent interview, the company's latest moves suggest it is re-focusing on the high-performance side of their business – a move that will likely be celebrated by many of its dealers.
First Sign of a Shifting Strategy
The first sign of shifting winds at B&W were reports out of the U.K. in February that things were changing at the company, as Strata-gee reported. Word was that Gideon Yu, Greg Lee, and David Liu were all off the Board of Directors. This dramatic upheaval was ultimately confirmed by the company in a letter to dealers.

Then, earlier this month, Lucette Nicoll of Nicoll Public Relations (NPR) announced on Facebook that they were once again the agency of record for B&W. This was welcome news to many of the media and many in the industry who were aware of NPR's contribution to the success of B&W in the American market.
NPR had allowed their contract with B&W to expire back in 2017 – just a matter of months after EVA Automation had acquired the company and taken full control with new management in place.
An Ominous Sign – 'We Let Our Contract Expire'
"We let our contract expire because we just felt a little out of step with the new management and their new marketing and PR strategy. We felt that they had the right to select another organization that was more in tune with their new direction."

Lucette Nicoll, Nicoll Public Relations
Prior to this separation in 2017, NPR had been B&W's agency of record for an amazing 30 years. And those three decades were critical formative years for the brand when the company had made huge gains in this country. When NPR and B&W had separated back in 2017 – many saw that development as an ominous sign.
Now, it is hard NOT to ascribe significance to their re-appointment by the new management of B&W as the agency of record for PR services.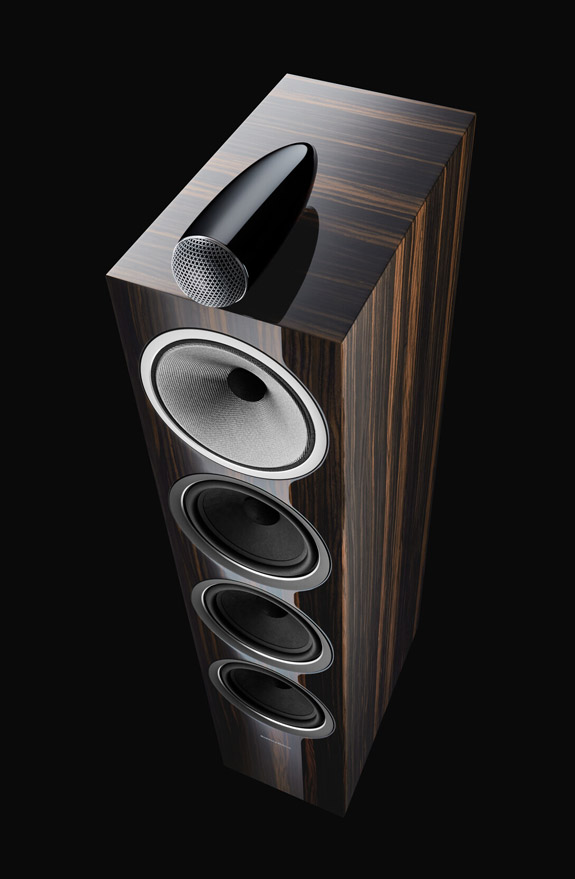 Second Sign of a Strategy Shift – New 702 & 705 Signature Models
The second sign of a shift in strategy is that the company announced today that they are introducing two new products in their 700 Series line, the 705 Signature and the 702 Signature. These new products are what the company calls Signature models – which are upgraded versions both in terms of looks and performance – over current existing regular series models.
While more evolutionary than revolutionary change, dealers will welcome the fact that the company is paying attention to the part of the line which better represents their heritage of high-end, high-performance loudspeakers.
Not Just Another Pretty Face, A Performance Upgrade Too
B&W's 700 Series is just one step down from their vaunted 800 Series, and much of the technology embodied within it is informed by the research and technological breakthroughs from the development of their pinnacle line. Two of those 700 Series models, the 702 and 705 are receiving a Signature upgrade.
In some companies, a "signature" model represents little more than a cosmetic upgrade with select high-end finishes not available to regular models. However, B&W Signature models include significant performance upgrades as well. So the new 702 & 705 Signature will not only look more upscale, they will sound more upscale as well.
New Crossover for Better Resolution, Openness & 'Spatial Retrieval'
These new Signature models feature real upgrades to the crossover network, both in terms of components and design. For example, they both feature "specially treated upgraded bypass capacitors" said to be sourced from Mundorf…larger heatsinking…and in the case of the 702, an upgraded LF capacitor in the bass section of the crossover.
The company says this is not just spec sheet stuff – these component upgrades yield real, audible improvement in the performance. Users, they say, will experience better resolution, openness, and "spatial retrieval on offer, lending them an even-more polished, refined and involving sound."
An All-New, Custom Finish Upgrade; Every Speaker Will Be Unique
So clearly, these new Signature models are not just another pretty face. But, oh by the way, they feature a new and really pretty finish upgrade as well. For these new 702 & 705 Signature models, the finish boasts a new Datuk Gloss ebony-colored veneer, "with a distinctive, beautiful grain." The company says no two pairs of these models will be exactly alike…the grain structures…like snowflakes…are completely unique.
Sourced from Italian specialty wood supplier Alpi, the finish is based on an exotic real wood veneer from a sustainably sourced and environmentally friendly supply. Each piece of wood has nine coats of finish to create a deep, lustrous appearance. Each speaker has an attractive bright metal trim around the mid/bass and midrange cones and silver finished tweeter grilles.
B&W 702 & 705 Signature Pricing and Availability
B&W's new 702 & 705 Signature models are available in July 2020 and are listed at $6,499.99/pr and $3,999.99/pr.
All-in-all, B&W dealers are sure to be pleased by both of these new developments, as they portend a new go-forward strategy that is much more harmonious with what made B&W the company that it is.
For more information on these new models, be sure to visit B&W's website here: bowerswilkins/signature/700-series.