Pulse – A High-Performance Soundbar
Historically, the consumer electronics industry is broken down into basically two types (genders) of products. A product is either designed for the masses with affordability and popular technologies – think wireless Bluetooth streaming speakers for less than $50; Or, serious, high-performance specialty AV products – think a component home theater system with Dolby Atmos/DTS:X/Auro3D built-in for more than $20,000. Like East not meeting West – never the twain shall meet. Until now…
Meet Bluesound's Pulse Soundbar – a true industry gender-bender…
Bluesound, a line of audiophile grade products designed for the discerning digital music crowd, surprised us at CEDIA 2016 with a very cool looking soundbar they call Pulse. This soundbar not only looked good, but Bluesound gave us the inside scoop on how the Pulse is different than any other soundbar on the planet. And that's not hyperbole, Pulse is not your typical soundbar.
Since its launch, Bluesound, a division of Canada's Lenbrook, has sought to redefine the audiophile market by bringing high-quality performance standards to products that embrace today's digital technologies and connected consumer lifestyles. The company markets a whole home wireless music system based on its proprietary BluOS operating system that embodies such high-end concepts as hi-res audio streaming and Master Quality Authenticated (MQA) designation.
The Popularity of Soundbars
Over the last five years or so, the fastest growing segment in the loudspeaker business has been the  soundbar – a product that is generally looked upon as a mass market product. Most companies define this as a convenience product – offering a simple L/C/R that tucks under the typical flat-panel TV…and sounds better than the TVs built-in micro-speakers.
But in most cases, you would never call them a true high-fidelity, audiophile performance. Bluesound has re-imagined the soundbar, such that it delivers both the convenience consumers are looking for, coupled with a true audiophile-level performance.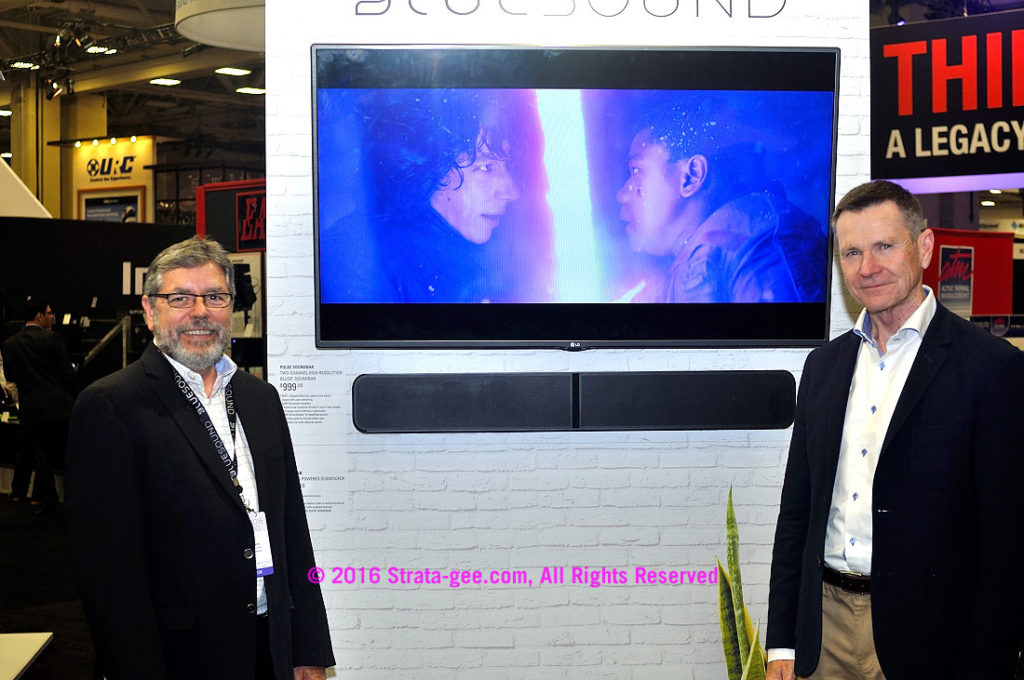 Pulse is High Quality Audio Performance. Skeptical?
Skeptical? We were too. But we know enough about the team behind Bluesound to give them the benefit of the doubt…so we listened to what they had to say about this new concept soundbar.
Consider, for example, the following features of Bluesound's Pulse Soundbar.
Pulse Soundbar Features
The world's first soundbar that features hi-res audio streaming
The world's first soundbar that carries the Master Quality Authenticated designation
24-bit/192kHz sampling frequency
Attractive slim cabinet constructed of extruded aluminum for extreme rigidity with thin walls
Amazing claimed frequency response of 70Hz – 20kHz, 3dB down point 55Hz
True 3-way speaker design
Custom-built drivers each in a discrete optimized enclosed chamber
Tri-amplification – 20watts x 6, DirectDigital technology
Voiced by Lenbrook's famous Paul Barton
Bluetooth built-in with AptX codec
3 mounting options: shelf mount, wall mount, freestanding tabletop; All necessary hardware included
Available this month with MSRP of $999.
Optional subwoofer debuting later this Fall called the Pulse Sub ($599 MSRP)
Visually, we found the Pulse to be quite attractive in an understated way. With rounded edges and slim profile, we are impressed with the amount of performance that Bluesound is able to extract from such a diminutive design. Check out our photos here from the CEDIA 2016 show floor.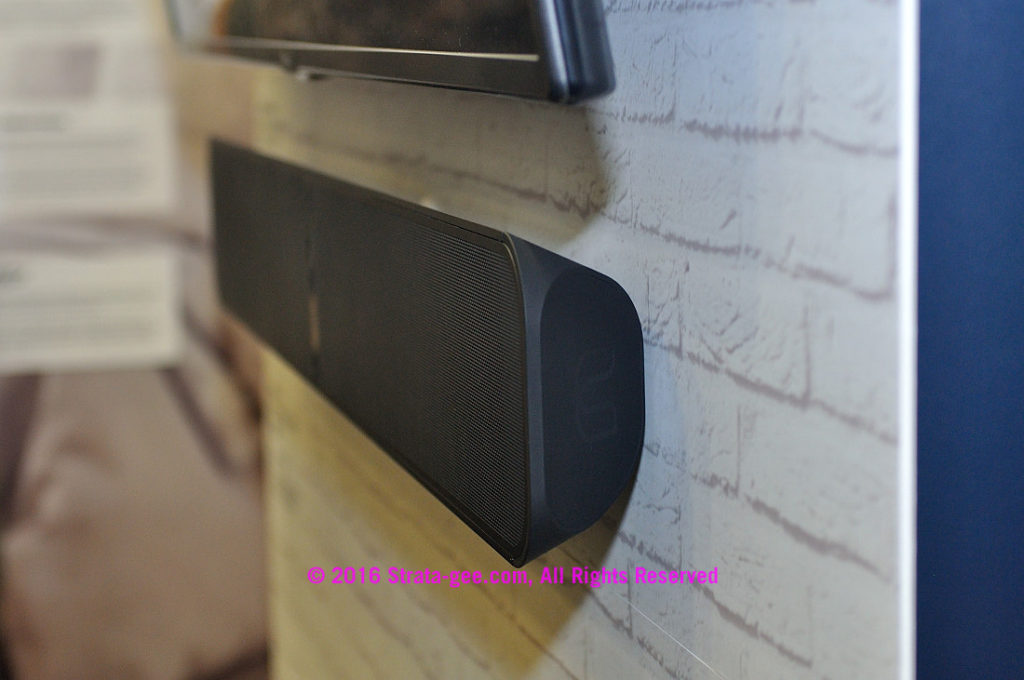 BluOS Adds Functionality
Because Pulse operates on the BluOS operating system, it can function as part of a whole-home wireless (or wired) music system. The advanced ARM processor supports top files types including MP3, AAC, WMP, Ogg, FLAC, ALAC, and true Hi-res audio with MQA. End-users' local content can be accessed over their home network, whether Wi-Fi or Ethernet. Other inputs include Optical and Analog, offering even more flexibility and connectivity.
"The Pulse Soundbar is truly an awe-inspiring product," commented John  Banks, Director of Market Development and Chief Brand Officer for Bluesound. "Never before has an audio product combined this level of sonic performance with the intelligence and flexibility to drive a whole-home audio system. Both home theater enthusiasts and music lovers alike will readily appreciate what enjoyment the Pulse Soundbar offers them in their main listening room and throughout the house."
Learn more about Bluesound at: www.bluesound.com.