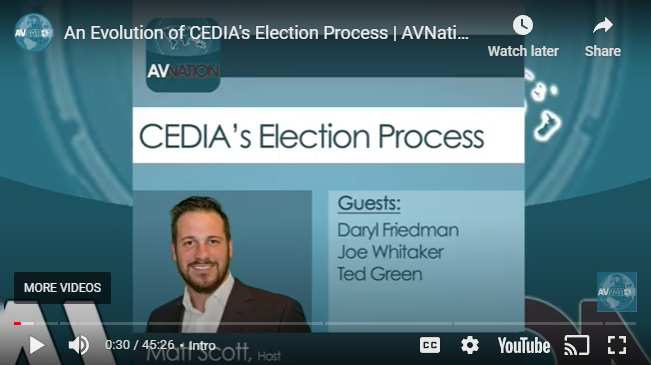 This week, AVNation features Ted Green – me – on a special episode discussing the CEDIA Director Elections taking place right now. As you may know, there was some controversy surrounding this election as CEDIA's board decided to change the normal election process where association members pick from a selection of nominees to vote on those they want on the Board of Directors. Instead, this year members vote with a simple yes/no on a predetermined slate of candidates selected by the Board's Governance Committee.
See more on this special AVNation episode featuring me
Last week I wrote about some controversy swirling around the current CEDIA Board elections, normally a pretty cut-and-dried process, but this time with an unexpected twist. This year, with no notice to members, the Board opted to change the process. Now, instead of giving members a pre-qualified set of eight or ten candidates to choose from – the Board's Governance Committee conducted an intensive screening and is offering members a "slate" of three candidates they have selected to fill the three open slots.
The Board says they were trying to simplify the process for members, many of whom do not bother to take the time to wade through all of the provided bios to pick the candidate they think would be best. In fact, the Board says the vast majority of members don't participate in the elections at all.
Some Members Complained about the Changes to the Election Process
But some members complained to me about the process being changed with no notice to members. They also took exception to the fact that while it may be true that this is a simpler process, it's simpler because it takes away the opportunity for members to pick and choose which candidates they would like for director. Yes, I can vote on the "slate" but what if I like some…but not all…of those offered. CEDIA's board says, in effect, don't worry about it, we've selected these folks and they are great candidates.
AVNation features Ted Green on this special episode, on a panel to discuss the topic. The panel was moderated by Matt Scott, a former CEDIA Director and a current member of the Governance Committee. Also on the panel was Daryl Friedman, current Global President and CEO of CEDIA; Joe Whitaker from Origin Acoustics, another former CEDIA Director; and me, the only non-current or former CEDIA Director or executive participating.
I Felt a Little 'Surrounded' by CEDIA
While I felt a little "surrounded" by CEDIA on this panel, I did my best to speak for those who had legitimate questions about what CEDIA did and why. Take a look at it and see what you think.
My article on the issue – CEDIA Board Elections Now Open, But Did Org Violate Its Own Bylaws? – was the source material largely used for this panel.
You can listen to an audio podcast or watch a YouTube video of the panel at this link…
Check It Out For Yourself
Or you can watch the YouTube video here…
Learn more about AVNation by visiting avnation.tv.
Let me know what you think in the Comments below…