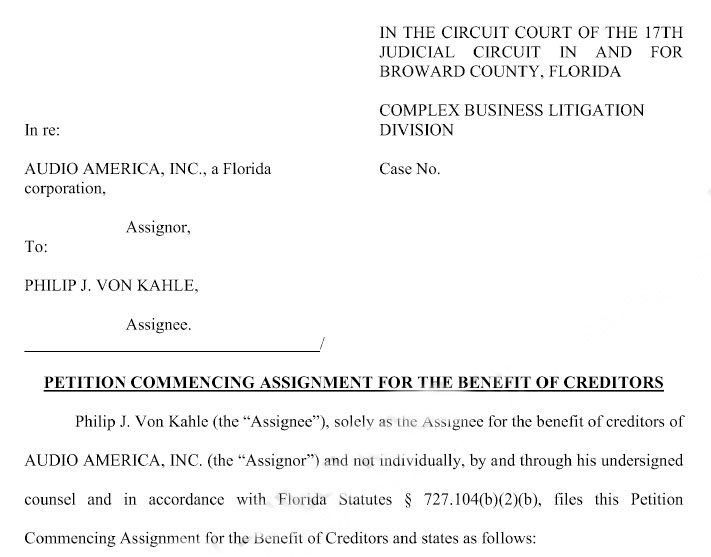 Audio America, Inc., the surviving entity that merged with Next Level Distribution and Next Level Fulfillment has filed formal paperwork for an Assignment for the Benefit of Creditors (ABC), a form of receivership, with the Circuit Court of the 17th Judicial Circuit in Broward County, Florida. The move was widely rumored but only confirmed Tuesday. Also joining in this ABC is another entity known as Ecomhalo, LLC, a related company.
The news confirms much of what we heard last month regarding the impending liquidation of a major U.S. distribution company.
See what we learned in Audio America / Next Level Distribution's ABC filing
On September 7, 2023, Ryan J. Munder of Audio America, Inc. of Plantation, FL signed an irrevocable Assignment for the Benefit of Creditors, naming Philip J. von Kahle, President of Michael Moecker and Associates of Fort Lauderdale, FL, as the "assignee" who will take control of all assets of the company and seek to liquidate them to retire all of the outstanding debt – or as much debt as the remaining assets are able to cover. Kahle signed the document, agreeing to become the assignee on September 11, 2023, and filed the appropriate documents with Florida courts on September 14, 2023.
Audio America (Next Level Distribution) and Ecomhalo Both File ABC
Kahle also signed a separate agreement with Ecomhalo, LLC, another independent but related company at the same time. On September 15, 2023, Kahle filed paperwork with the court to jointly administer both cases for more efficient processing.
With this filing, we learn much more about the situation than we knew last month. Although it is a rapidly evolving situation and the work of the assignee is only starting, Kahle has already filed a long list of creditors with the court, along with a shorter list of secured creditors with big amounts of assets locked up.
Secured Creditors Have Perfected Claims on $19 Million of Company Assets
In fact, this is where Kahle starts – with a list of secured creditors. Audio America, Kahle tells the court, has three creditors who hold "perfected liens" on no less than $19 million worth of company assets. These secured creditors include BankUnited, N.A. which is owed $19,257,346; Pioneer Electronic (USA) Inc. which is owed $382,000; and Ascentum Capital LLC which is owed $42,488, apparently on a forklift lease.
The assignee also provides a list of assets which it says has an aggregate value of $47,540,008. When you see that, you might think…well, what's the problem here? Asset value is double the level of the secured debt…they have plenty of resources here to work with. But the company has not totalled up debt to unsecured creditors which is also quite large.
The Asignee Says There's Not Enough Assets to Pay Off Secured Creditors
Perhaps most importantly, these assets include several items, such as inventory, which the company values at $19 million, but which will likely pull in much less than that in liquidation. So there is a big problem here. The assignee also notes that the company, with multiple locations in multiple states, owes various taxing authorities an amount that is "in excess of $35,000."
As a result of all of this, and pending further investigation and calculations by Kahle. he tells the court that "…the Assignee does not believe that the value of the Assignor's unencumbered and liquid assets exceeds the aggregate amount owed to the Assignor's secured creditors and taxing authorities." That's right, Kahle does not believe there are enough assets to pay off secured creditors and back taxes, let alone unsecured creditors.
Filing an ABC is an Alternative to Bankruptcy
Much as I detailed in my coverage on Audio Research Corp. of Minneapolis, MN, which also filed for Assignment for the Benefit of Creditors, this process is an alternative to traditional bankruptcy, which often takes years to discharge. With ABC, a more streamlined process is laid out in which the company's owners turn over all assets to an assignee who takes legal ownership of the company and, under the watchful eye of local courts, seeks to quickly dispose of all assets with the proceeds going to pay creditors off – as much as possible with the remaining amount of assets. The assignee keeps a portion of the assets to pay his fee for these services.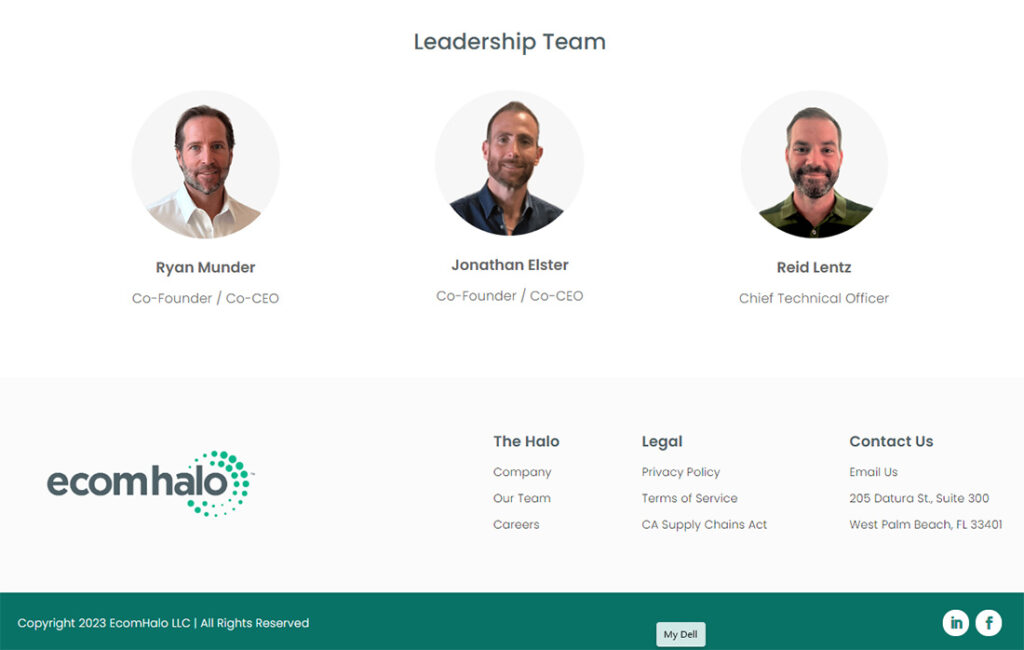 Of course, laws vary from state to state, but in general, they all seek the same end, an efficient processing of the dissolution of an insolvent company with the maximum payoff of existing creditors. In the case of Audio Research, the assignee in that case was able to completely satisfy secured creditors and to make a substantial payment to unsecured creditors.
A 22-Page Listing of Unsecured Creditors
This case looks to be a much different situation. The list of unsecured creditors runs 22 single-spaced pages long. I roughly calculated the unsecured debt to be somewhere over $26 million. Remember, this is on top of the $19 million in secured debt and the over-$35 thousand in back taxes owed.
The top unsecured creditor is LG Electronics, who finds themselves with a $6 million headache. As I said, there are 22 densely packed pages listing all of the unsecured creditors – way more than I can recreate here. However, below you will find a smattering of unsecured creditors drawn from that list, presented in no particular order…
| Unsecured Creditor | Amount Owed |
| --- | --- |
| LG Electronics | $5,983,514 |
| Lutron Electronics | $73,556 |
| Luxul Corp | $87,667 |
| Metra/AV | $4,812 |
| Metra Electronics | $284,293 |
| Metra Electronics | $18,897 |
| Almo Corp | $31,211 |
| Amazon Business | $162,415 |
| Cleer, Inc. | $33,708 |
| D&H Distributing | $258,165 |
| EERO, Inc. | $336,557 |
| Garmin USA | $100,281 |
| IC Realtime | $68,150 |
| JBL Inc. | $634,890 |
| Just Add Power | $44,471 |
| JVC Professional | $57,483 |
| KEF America | $116,288 |
| Legrand (NUVO) | $22,589 |
| Milestone AV | $101,508 |
| Mitchell Acoustics | $308,642 |
| Nortek – Panamax | $29,525 |
| Nortek Security & Control (2GIG) | $27,059 |
| Optoma Technology | $139,081 |
| Pioneer Electronics | $411,071 |
| Platinum Tools | $51,474 |
| Polk Audio | $52,887 |
| Polk Audio Mobile | $17,818 |
| Screen Innovations | $15,647 |
| Seura, Inc. | $13,621 |
| Sonance/IPORT | $84,359 |
| Sonance/IPORT | $2,762 |
| Sonos | $99,463 |
| Speakercraft | $58,885 |
| Structured Cable Products | $112,769 |
| TCL | $239,056 |
| Vanco Int'l | $52,852 |
| Westinghouse Electronics USA | $1,288,358 |
| Yamaha Electronics Corp | $118,860 |
| ZVOX Audio, LLC | $458,368 |
These are just a few selected items out of a very long list of unsecured creditors.
Interviews That Sound More Like Depositions
For the moment, it's still early in the process and the assignee is still getting everything organized. His first step is to conduct "interviews" of each of the two Assignors – Audio America/Next Level Distribution and Ecomhalo – interviews that actually sound more like depositions. The court also held a hearing this morning to lay out the path forward for the ABC.
There will undoubtedly be even more information revealed as the process moves forward.
Learn more about Audio America/Next Level Distribution by seeing my previous post on the company here. Or visit them at getnextlevel.com.