One of the bigger stories in our industry is Dolby Labs introduction of a new surround sound system they call Dolby Atmos. Launched at CE Week in New York City this past June, Atmos has already attracted a number of predominantly electronics manufacturers supporting the system in their latest models. Now the selection of Atmos products expands with new product introductions by both Triad Speakers and Atlantic Technology.
See the new Atmos speakers from Triad and Atlantic Technology, two specialty companies…
As we originally reported, Dolby Atmos was rolled out at CE Week this past June in New York City. With great fanfare, two manufacturers (soon to be one, but that's another story) – Onkyo and Pioneer showed Atmos A/V receivers (Pioneer also showed an Atmos speaker system). And both demonstrated their Atmos systems.
Atmos has many unique features as is explored in a guest post here on Strata-gee, but most interesting is the incorporation of "height" information. Adding height, means that sound needs to come at the listener from above. Dolby proposed two solutions to adding this capability to systems: have speakers in the ceiling above listeners; or, have speakers placed at normal positions, but with an upward firing driver to bounce sounds off the ceiling to be reflected back at the listener.
No matter which system is implemented, consumers will need new speaker products to add to their systems. And today's announcement from these two manufacturers addresses that issue.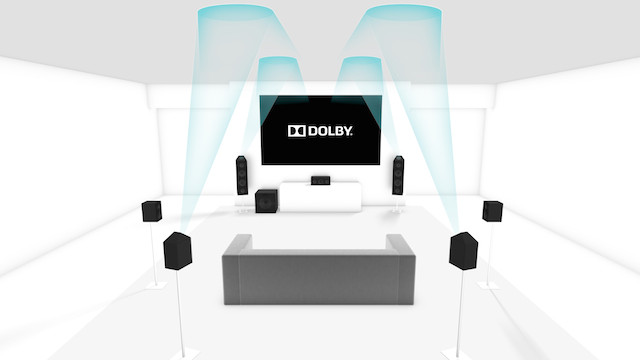 At CE Week, Onkyo used prototype speakers supplied to them by Triad. The Triad design included rear speakers with an upward firing driver to accomplish the height information. At that time, we tried to get information about the Triad design, but due to the fact that they were prototypes we were unsuccessful.
Now Triad rolls out their Bronze LR-H Atmos-enabled speaker system – poised to take advantage of the growth of the nascent Atmos technology. The Bronze LR-H incorporates a D'Appolito configuration with two forward-facing drivers with a tweeter placed between them.

Built into the Bronze LR-H cabinet is the Atmos-enabled upward firing driver that Triad calls the "height channel" aimed at the ceiling. In a typical home Atmos system, the consumer would need four LR-H for the front left and right speakers…and the rear left and right speakers. With all speakers including the upward-firing height driver, the Atmos sound sphere is created. Simply adding in a center channel and…perhaps…a subwoofer and you are ready for a completely enveloping sound experience.
Atlantic Technology, at least in this initial offering, took a different approach. Rather than engineer all new speaker models specifically for Atmos systems, Atlantic Technology has introduced its 44-DA speaker – or what is known as a Dolby Atmos-enabled "module."

What is a Atmos module, you ask? A Dolby Atmos module is a relatively small upward-firing speaker in its own cabinet that you can simply add to your existing system – literally setting it on top of your current speakers – in order to add in the Atmos height information to your system. This saves you from having to throw out your current system in order to buy an all-new speaker complement to your new Atmos electronics.
Atlantic Technology's 44-DA features a 5¼" woofer and a 1″ silk dome tweeter configured concentrically. AT says that the driver is mounted in the cabinet in a "precisely-determined angle" – presumably optimized for the whole ceiling-bouncing thing.
In a somewhat humorous PR battle of self-inflated significance, both companies staked claim to helping develop the Atmos concept. From Triad's press release: "Dolby used Triad design and development services to prototype the upward firing Dolby-enabled speakers and supplied our prototypes to its industry partners who used them to evaluated electronics components licensed under the Dolby Atmos program."
Not to be outdone, Atlantic Technology's press release claims: "Upon seeing and hearing the first working sample from Atlantic Technology, Dolby decided to feature the Atlantic system in closed door partner demonstrations at last year's CEDIA. Later that year, Dolby provided its employees a glimpse into the future of home entertainment when it featured this system during its worldwide sales and marketing conference."
Regardless of this chest-thumping exercise in corporate ego, these new products are certainly early entries into what might be the expanding Atmos universe…if Dolby's technology catches on.
Triad's Bronze LR-H Fast Facts:
Dimensions: 7-9/16 (w) x 19½ (h) x 9¼ (d)
Frequency Range: 88Hz – 20kHz (+/-3dB)
Amp Power: 50 – 200 watts
Impedance: 4 Ohms
Sensitivity: 89dB
Configuration, Front-Firing Drivers: Two (2) 5½" SB Acoustics drivers, One (1) 1″ SB Acoustics fabric dome neodymium tweeter
Configuration, Upward-Firing Drivers: Four (4) 2″ full-range ScanSpeak neodymium drivers
Price: $1,000 MSRP each
Availability: Q4, 2014
Triad says the Bronze LR-H will be offered in a "wide variety of colors and finishes."
Atlantic Technology 44-DA Fast Facts
Dimensions: 5½ (h) x 8-3/8 (w) x 9½ (d)
Frequency Range: 150Hz – 50kHz (+/-3dB)
Amp Power: 10 – 100 watts
Impedance: 6 Ohms
Sensitivity: Not rated
Configuration: One (1) 5¼" damped polypropylene woofer; One (1) 1″ silk dome tweeter
Price: $499 pair
Availability: Q4, 2014
Atlantic Technology told us in a phone interview that one of the biggest advantages of the separate design of the 44-DA is that consumers will have more flexible placement options – even showing a photo of it on a bookshelf.
"Triad has been developing and experimenting with a wide range of solutions including in-room, in-wall, on-wall and in-ceiling designs," says Larry Pexton, Triad Speakers, Inc. President in a prepared statement. "Somewhat to our surprise, in testing our speakers we have found that the built-in height channel – which reflects off the ceiling – performs better in some applications than using dedicated ceiling speakers for the height channel."

"The availability of the 44-DA facilitates the transformation of an ordinary home theater into an extraordinary listening experience for the custom installer and home theater enthusiast alike," says Peter Tribeman, President and founder of Atlantic Technology, in a prepared statement. "The 44-DA represents the next step forward in delivering a truly believable sonic theater experience in the home."
Learn more about Triad at: www.triadspeakers.com.
See more on Atlantic Technology at: www.atlantictechnology.com.
AT CEDIA EXPO:
See Triad's Bronze LR-H during the EXPO in their booth #448 and in the Dolby booth #180.
See Atlantic Technology's 44-DA during the EXPO in their booth #1386.