Apple, Inc. held their regularly scheduled September event today to announce new products – this time to introduce: a minor new Watch update, a more significant new bigger iPad they call the iPad Pro, a new Apple TV with a revamped user interface, and finally the new interim smartphone update – the iPhone 6s & 6s Plus. Using lots of exciting & cool music, dramatic video segments, and massive colorful images on a huge screen – presenters worked hard to milk applause from the Apple friendly crowd. But for us, most of these "innovations" were "meh" – more evolutionary than revolutionary.
See our brief on the Apple update…
As usual, rumors were wildly swirling around the industry in the days leading up to this event which was held in a larger facility than in years past. This fact alone led many to speculate that something big would be announced – otherwise, why change the venue to accommodate more press? Would there be something unexpected?
As it turns out, the venue change may have been solely to accommodate the company bringing in a lot of employees. There was a large section of the auditorium devoted to the largest attendance by Apple employees we can ever recall at a product launch event. Was Apple feeling a little nervous about this launch? Was there some reason the company wanted to guarantee a reliably enthusiastic human applause track (from people who are, after all, on the payroll)?
Mostly the rumors had correctly predicted the items to be updated, and there was no big surprise. However, we did get a glimpse of Apple's concept of the proper TV viewing interface in their new Apple TV. We'll get into that later, but first Apple gave us a brief update on their Watch.
Keeping Watch of the Watch
First up in the Apple presentation was a minor update on the Apple Watch. Things are going swimmingly well with the watch, we are told. A survey of Apple Watch owners showed that 97% of them were happy with the product. Woo-hoo!! Buy why did the company feel the need to ask owners if they like the Watch…a little insecure maybe?
The company showed a new Watch color (rose gold), new bands, and a new anodized aluminum construction. We were just about to stifle our yawn when the company announced a partnership with Hermès, the french design house. This version adds a selection of unique bands designed by Hermès as well as their ID on the watch face, but still looks pretty much like the Apple Watch. Considering that this collection starts at $1100 retail, only true Hermés fans are likely to make this leap.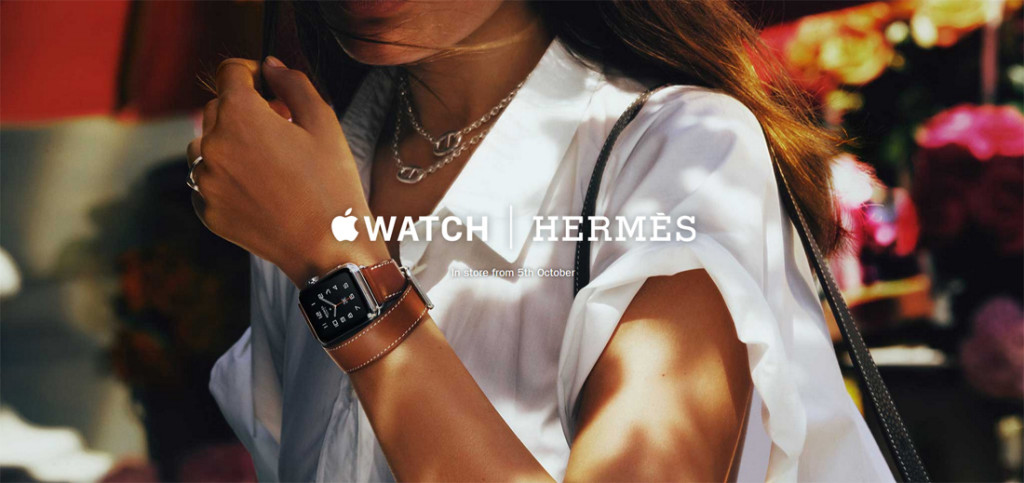 The company also announced watchOS2 which provides for native apps and better performance. In the words of Apple marketing, watchOS2 "further enhances this groundbreaking experience with new features and native third-party apps."
By the end of the Watch presentation, detectable sounds of seat squirming were audible as the crowd clearly wanted to move on to bigger and better things. Little did they know that next up was to be the biggest thing presented (at least in physical dimensions).
New iPad Pro
After a series of puns about a "big" announcement, Apple launches a new iPad. Perhaps this was the BIG surprise? (Wha-wha…) Considering that the iPad has been experiencing troubling sales declines, Apple has tried to reinvigorate the line with a new, huge 12.9″ iPad…called the iPad Pro. The screen is quite large – 2732 px X 2048 px or 5.6 million pixels in total. It is a big and beautiful version of the Retina display we've come to know and love.
But we've watched other companies introduce larger tablets (notably Panasonic) with little to no pickup by the market. Most companies have been experimenting with smaller tablets, first pioneered by Samsung. So why go big?
The company never says why, but I think we can figure it out. First of all, phones are getting bigger. It would seem logical that this might depress the market for small tablets. If a bigger phone is good – and Apple certainly has sold a lot of its bigger format phones – than perhaps the tablet world needs a bigger format as well.
Why Go Big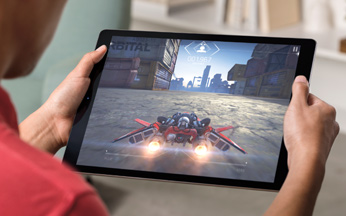 More likely, the idea to go to a larger format may be due to the fact that Apple has launched real multi-tasking in the iPad Pro – the ability to have two apps opened side-by-side on the screen and cut and paste between them. You need more screen real estate to have each image large enough to be usable. So this may be the justification. Multi-tasking, common on desktops and laptops, has been missing from Apple's tablets up to now. So this is a significant step forward for them.
The iPad Pro has a new chip – the A9x – a third generation 64-bit microprocessor which the company says is 1.8 times faster than the A8 chip. The iPad Pro also has four speakers built in and the company claims it plays significantly louder than the iPad Air 2 (a common customer complaint about the previous model – it wasn't loud enough).
From Content Consumption to Content Creation
It appears that Apple is re-conceiving the use case for a tablet…and may just take out the laptop once and for all in the process. Up to now, tablets like the iPad were more effective for content consumption than they were for content creation. Tablets are great for watching videos or looking at Pinterest photos – but just try touch typing on an iPad and you'll know what we mean.
But Apple has launched two new accessories for this iPad that give a hint to their thinking. First is what they call a Smart Keyboard. Meant to offer touch typists a high quality, fast mechanical keyboard that directly connects to the iPad Pro through a new connection (called Smart Connection), serious document creation can now be done on an iPad Pro.
Apple Invents the Pencil
The second accessory is the rather simple looking Apple Pencil. The Pencil is, as you might imagine, an implement that is used for drawing and graphics input directly on the iPad Pro's screen. It is touch sensitive, push harder and you get a broader line…use just the tip and get a very light line. Much like the digital tablets artists use, this turns an iPad Pro into a real artist's tool.
Our thought that Apple was clearly looking to turn the iPad Pro into a real content creation device was confirmed when they brought up app developers to demonstrate apps that were designed to work with the iPad Pro. First up…Microsoft Office. Oh yes, the primary software of the buttoned down business crowd – a rather foreign bunch as compared to the typical Apple user – Microsoft showed how spreadsheets and memos could be easily created and imported into the various programs in their business suite.
Following Apple was Adobe – the publishing and graphics tool kings. Here again, using Pencil (or even, the presenter noted, you finger) it was easy to create graphics as their software interprets your finger's drawings, snapping them to a corrected version of what it believes you're trying to create (a tilted loop is snapped to a clean circle, for example). Fully supporting multi-tasking, a document was created and custom graphics were added in literally just a couple of minutes.
If Apple is successful in turning the iPad into a content creation tool, with a landscaped iPad Pro on its Smart keyboard stand – this could be the death knell for the laptop. Watch out MacBook!
Prices for the iPad Pro start at $799. The Apple Smart keyboard is $169 and the Pencil is $99.
Apple Shows 'The Future of TV'
One of the more interesting elements of the presentation was Apple TV, which got a significant user interface (UI) overhaul. In this new version of a largely unsuccessful product, (Jobs once famously referred to it as his hobby) the company may be giving us a glimpse into the UI of their long-rumored iTV they are said to still be working on.
Apple executives went so far as to say this new interface is "the future of TV." What is the future of TV, you ask? In a word: apps. Yes, they said apps are the future of TV. Well if that's true, then where has Apple been? Companies like Samsung, Panasonic, Sony, LG have already been making apps available on their sets for years.
So while Apple may be playing catch up to the rest of the industry, there is no question that by revamping Apple TV's operating system (called, you guessed it, tvOS), opening it up to developers with a SDK (software development kit), Apple believes that developers will begin creating wondrous new apps for use on your TV.
Apple TV as Game System
And if their demonstrations are any guide, Apple is expecting Apple TV to turn into some kind of video game system, showing us a few games in which you use the remote control like a game controller. And since the remote has a gyroscope in it, the system becomes almost Wii-like where you swing the controller through the air to, for example, hit a ball.
Apple also demonstrated a shopping app, and even a sports app from MLB (Major League Baseball) that allows you to pop stats up on the screen while you watch a game. Not only that, but you can even watch two games simultaneously on a split-screen.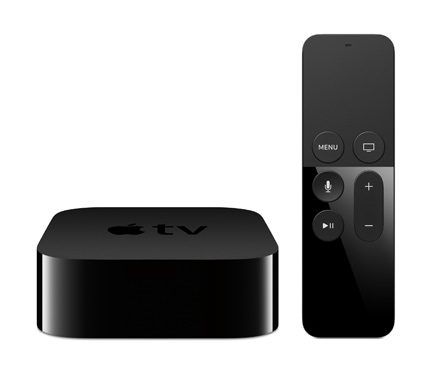 The Apple TV remote includes a "touch surface" or space where you use your finger or thumb and slide across it to control the on-screen cursor. This is an increasingly common motion we are all becoming used to as it is the same motion we use to control our smartphones.
In addition to that, Apple's Siri system is included and she accepts voice commands to help operate your system and locate your content. The demo of the Siri interaction was pretty impressive ("Siri, show me the latest kids' movies"), but we're a little wary – we've fought with Siri on our phone many times.
The Apple TV demos were interesting, but we'll have to actually use one to see for ourselves it if works as well as it seems to in these carefully controlled presentations.
The new Apple TV will sell for $149 (32GB) and $199 (64GB). Interestingly, the current Apple TV will continue at $69.
iPhone Interim Update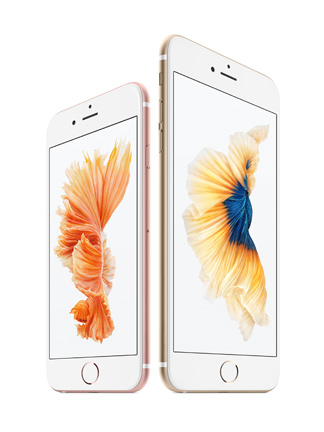 Apple has fallen into the pattern of launching a major iPhone upgrade every other year with an interim update in the years between. This year, then, is the year of the iPhone 6s and 6s Plus. On the outside, they look almost identical to the iPhone 6 and 6 Plus – other than the fact that there is now a rose gold colored version. The changes, however, are more significant on the inside.
Apple wants you to believe that everything has changed. These are, CEO Tim Cook told us, the most advanced smartphones in the world. Well…maybe…
The biggest news with these new iPhones is something they call 3D Touch. Using haptic technology that Apple calls Taptic in their Watch, the screens on these new models respond to downward pressure from your fingers. This opens your experience up new features they call Peek and Pop.
Peek and Pop Your Way Around
Say you're looking at your inbox and you received an email from your Aunt Tilly. You can simply touch the message in your inbox with a light touch and it opens a temporary screen so you can "Peek" at the contents. If the message is something you want to respond to or read more fully, than you increase the pressure of your touch on the screen and it will "Pop" open. On the other hand, if while you are peeking you determine that it is not a message that requires further reading or attention, you simply release your finger and the message window closes and you are back in your inbox with that message still marked as unread.
It is pretty clever – and all apps are being rewritten to take advantage of this new dimension of control. The company has also developed other gestures, they call "Quick Actions" that work in conjunction with 3D Touch to make zipping through menus and tasks a breeze.
Beyond 3D Touch, the other innovations in the 6s and 6s Plus seem quite minor. The camera has been upgraded to 12 megapixels. The company has added something they call Live Pictures where the camera will capture 1½ seconds before and after the picture to make your image seem to come to life when you touch it. Interesting, but not a big deal to our way of thinking.
Better Selfies & 4K Video
Your selfie camera is 5 megapixels and in low light situations the whole screen operates as a big flash that is color balanced for the existing light. Since we don't take selfies, this too is not a big deal for us.
Video capture is now at 4K with a resolution of 3840 px X 2160 px. This won't mean much on your phone's screen – but will look nice if you show your videos on your Apple TV.
Everything's Changed
Apple executives were positively effusive in their praise of these new iPhones.
"The only thing that has changed with iPhone 6s and iPhone 6s Plus is everything – 3D touch lets users interact with iPhone in entirely new and fun ways, and the innovative Live Photos bring your pictures to life," said Philip Schiller, Apple's senior vice president of Worldwide Marketing. "These are the most advanced iPhones ever, with 7000 series aluminum, ion-strengthened glass, the new 64-bit A9 chip, 12-megapixel iSight and 5-megapixel FaceTime HD camera, faster Touch ID, LTE and Wi-Fi. Customers are going to love these."
Pricing on the iPhone 6s ranges from $199 to $399 depending on configuration. The iPhone 6s Plus has a price range of $249-499 depending on configuration. Both will be available in the U.S. starting on September 25 with pre-orders opening September 12.