In new research from Flurry Analytics, Apple clearly won the battle for holiday shoppers smartphone dollars. Based on activations of smartphones and tablets during the period of 12/19-12/25, Apple took a healthy 44% bite out of the market…well ahead of second place finisher Samsung (21%), who has struggled in the wake of a battery-blowup scandal. But when compared to last year…some surprises emerge.
See more on this research, released just days after the holiday season…
It's impressive to think that, for every Samsung activation this holiday season, Apple got two activations. But actually, Apple's 44% is down fairly substantially from their 49.1% share just last year. In the meantime, Samsung is up a couple of percent from their 19.8% share in 2015. This is remarkable when you consider the copious amount of negative publicity they endured as a result of their Galaxy Note 7 exploding battery debacle.
Managers at Apple may also want to take close look at the red flag flying: Apple's 49.1% rating last year – while an impressive almost-half of the entire market – was also down 2.2% from their 51.3% share in 2014. That's a troubling continuing downward trend for the market leader.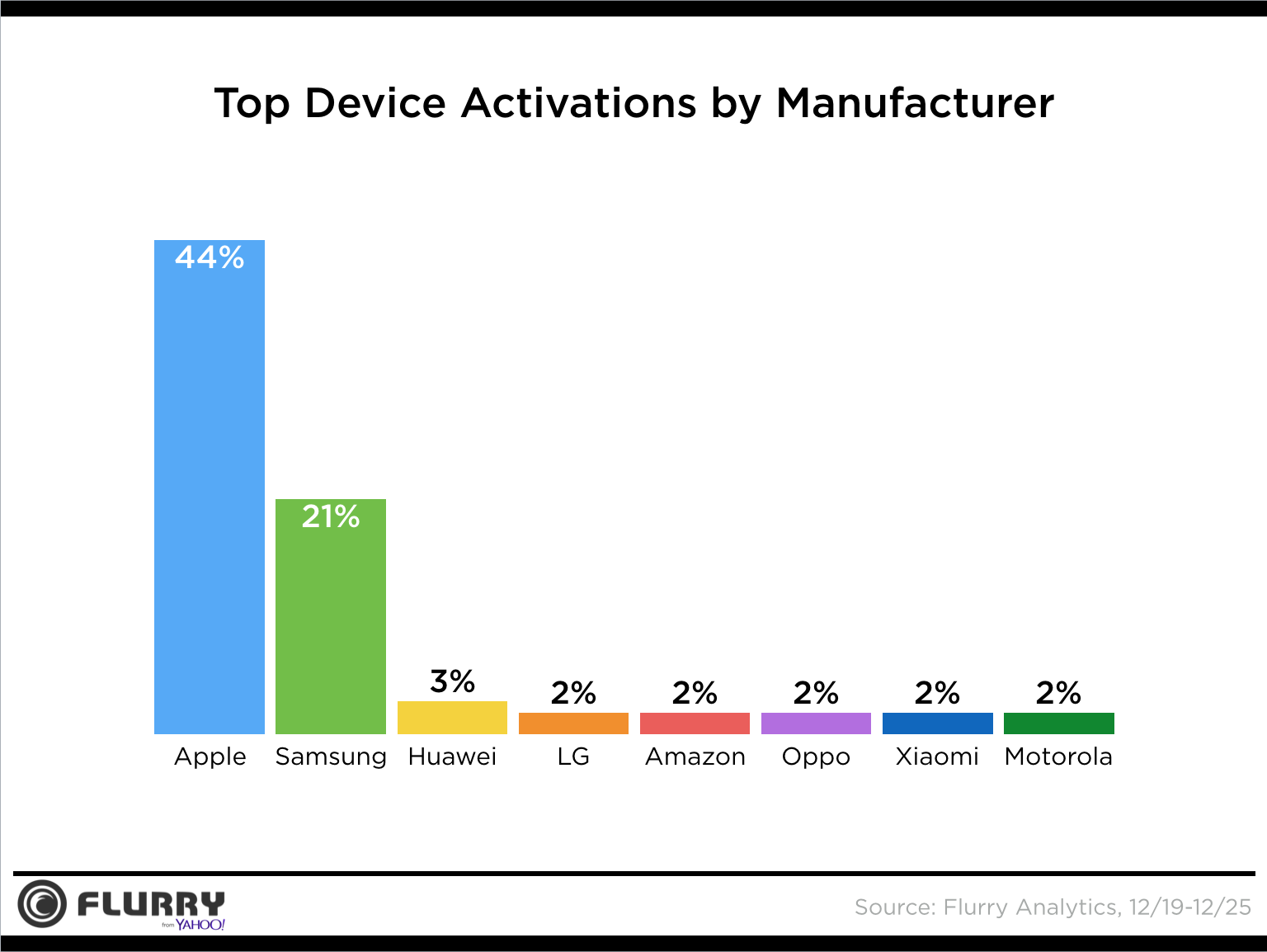 After Apple & Samsung, The Two Percenters
Outside of these two powerhouses, the runners up have very small shares of only about 2% each with the exception of #3 Huawei (3%)…then LG, Amazon, Oppo, Xiaomi, and finally Motorola each at just 2%. Flurry notes that Huawei's and LG's positions, at #3 and #4, are remarkable considering the fact that neither manufacturer has a device that cracks the top 35 devices activated. But what they do have is a large universe of devices that are all collectively being activated.
The Silicon Valley Business Journal also speculates that Western-based Apple benefits from traditional Western holidays more than Asian-based manufacturers. This is due to the fact that while these holidays may be supported in these overseas markets – they are not as powerful of a sales driver as they are here in the U.S.
Where is Google?
It is also interesting to note that Google is nowhere to be seen in the data. This, on the other hand, should not be too surprising considering the fact that Google has only just now launched their Pixel and Pixel XL phones – to mixed reviews, at that.
The other big surprise from Flurry's data is the continued ascension of Phablets – devices with screen sizes of 5.0″-6.9″ meant to split the gap between handheld smartphones and tablets. Phablet, is a conjunction of the word "phone" and the word "tablet."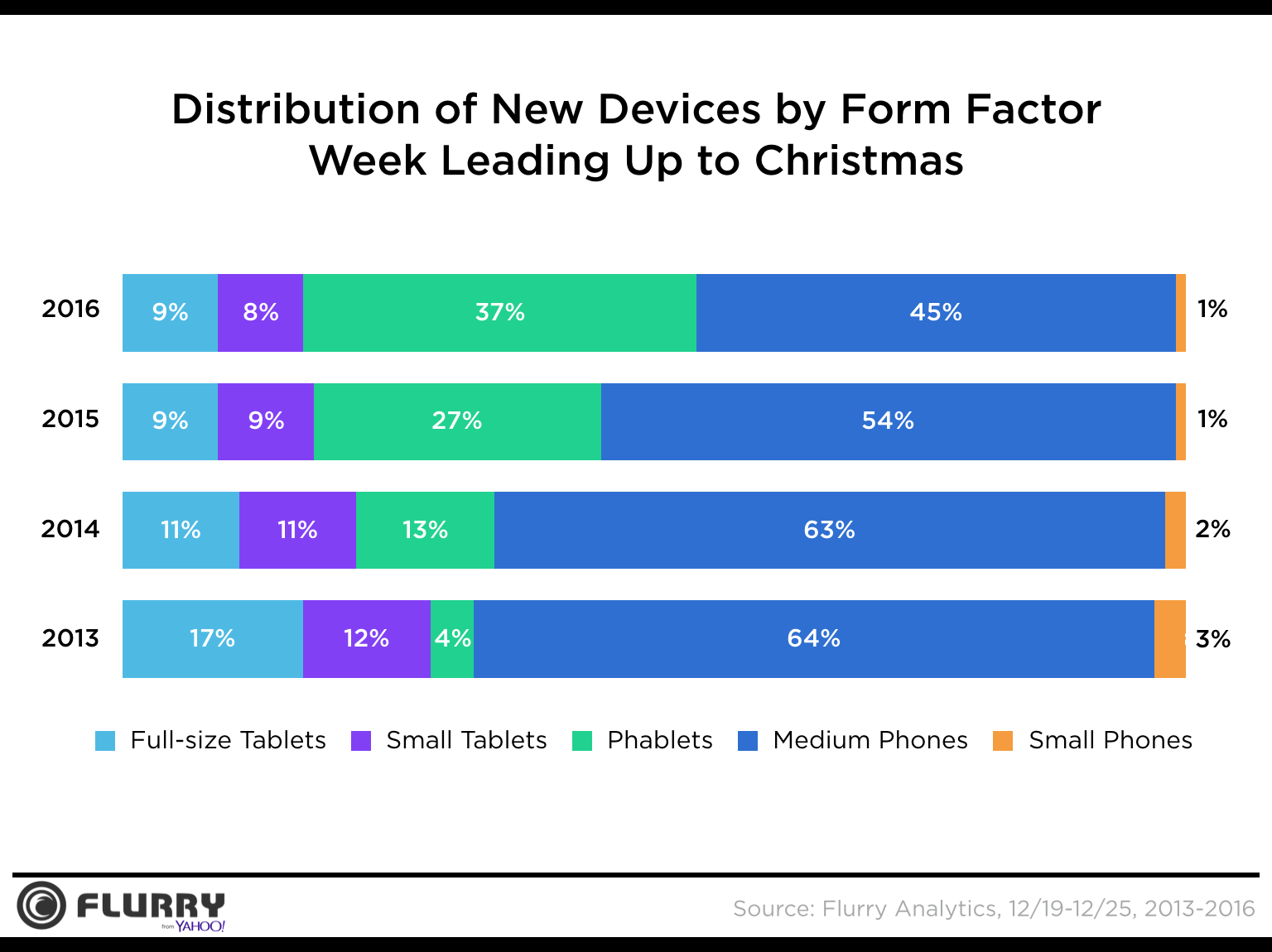 Flurry: Phablets are the Phuture
The share of total activations for medium phones (screen size of 3.5″-4.9″) still holds the largest share of the market at 45%. But the share of medium phones has shrunk from 64% in 2013 to 45% this year. In the meantime, Phablets have seen their share grow from only 4% in 2013 to 37% now.
Full size tablets saw stabilization this year, with 9% of the activations…down from 17% in 2013. Researchers at Flurry feels this indicates a continuing purpose in their purchase…if only for a niche audience.
Howwever, Flurry estimates that Phablets will be the dominant form factor by the end of this year.