In 2020, the year of COVID-19, there was much death and devastation in the U.S. and around the world. But one business segment soared during the pandemic as a result of local municipalities and states around the country putting their citizens into 24/7 lockdown at home – and that business was eCommerce. With in-person retail stores closed by local government orders, consumers had no option but to shop online to obtain the things they needed.
So what do experts expect will happen to the growth rate for eCommerce in 2021, now that all states have removed most or all of their restrictions and in-person retail stores are all open for business? You might be surprised…
See the latest forecast for eCommerce growth & Total Retail growth in 2021…
Conventional wisdom would suggest that eCommerce had a built-in advantage last year, as all in-person retailers were forced to close and online retailers were essentially the only game in town for consumers to acquire the products that they needed for daily living. But now that those restrictions have been pulled and all retail stores have reopened, eCommerce has seen their normal competitive environment restored and one might think that their growth rate is sure to moderate. Yet market researcher eMarketer has already revised their growth forecast for eCommerce upward based on new sales data.
As Results Unfolded in Q1, Researchers Raised their 2021 Forecasts Further
In January, they forecast that eCommerce would grow 13.7% for 2021, betting largely on the fact that the new habits learned by millions of new online shoppers would continue on into the new year. Lo and behold, eCommerce had a strong Q1, in no small part thanks to government stimulus payments. These results convinced eMarketer to raise their 2021 growth forecast to 17.9%, projecting online sales will hit $933.3 billion!
If they are right, that means that eCommerce will represent a 15.3% share of total retail, which is over the 14% of retail it represented last year. The report calculates that if eCommerce growth continues at this pace, it will represent more than 20% of total retail by 2024.
Overall Retail Sales are Also Surging
Overall retail itself is surging – experts say it will grow by a solid 7.9% to come in at $6.083 trillion. And that will be the first time it has ever exceeded the $6 trillion threshold. What categories are driving this growth? Interestingly, the data says the fastest-growing categories are apparel and accessories (up 28.7%) and furniture and home furnishings (up 11.4%).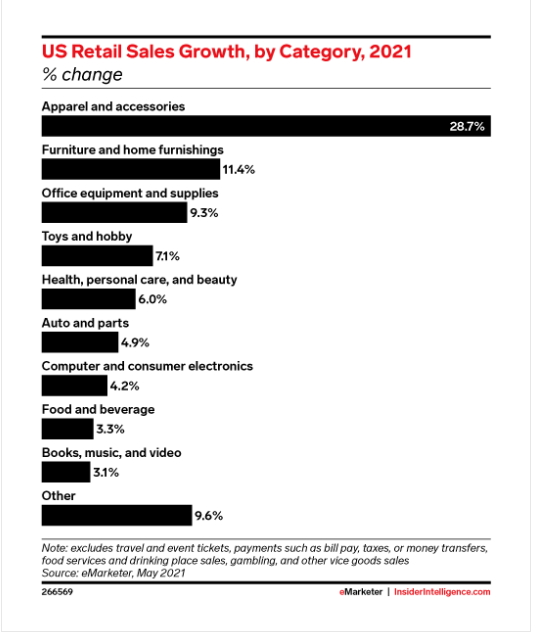 Other strong growth categories include office equipment and supplies (up 9.3%) and toys and hobby (up 7.1%). The report identifies the underperformers as books, music, and video (up only 3.1%) and food and beverage (up only 3.3%).
Yet Consumer Electronics are Slated to be an Underperformer in 2021
Also expected to underperform in 2021 is computer and consumer electronics, with sales expected to grow only 4.2%. These categories had surged last year during the pandemic in 2020. Likewise, eCommerce sales of computer and consumer electronics are also expected to decline this year to 12%. Last year, online sales of computer and consumer electronics had grown 33.9%!
See more from eMarketer by visiting: emarketer.com.