If you are like many of our readers, you are either a custom integrator or specialty AV retailer who serve the Affluent ($75,000 per year income and up) market. Two new pieces of market research provide colorful illumination of the holiday shopping plans of Affluents for this coming holiday season.
And the results of this research may give you pause…
The data presented by these two studies as reported on by eMarketer – one by Shulman Research Center, and the other from a Time/YouTube partnership – paint an interesting picture of how and where Affluents plan to spend their copious dollars during this important end of year holiday shopping season. Considering how important this income demographic is to the technology industry, it is a worthwhile exercise to study the attitude of Affluents.
First, we should mention that the two studies use a slightly different definition of Affluents. The Shulman Research Center defines Affluents as those earning an annual income of $75,000 and up. However, the Time/YouTube study uses the more common definition of Affluents as those earning $100,000 or more per year.
Where will you do your holiday shopping?…
We start with the Shulman study which was predicated on a simple question – Where do you plan to shop this holiday season? This question was asked of a group of Affluents who also, by the way, happened to be Internet users as well.
Shulman then took those responses and reported them in total and broken down by generation. It is interesting to see how the individual generational result compared to the overall or average number for each type of shopping venue. Respondents were able to pick multiple responses to represent all of the places they anticipated shopping over this holiday period.
Mostly online…but not exclusively so…
Perhaps not too surprising in today's world, Affluents said, by a significant majority, that their holiday shopping this year would be at online retailers – with a total of 71% picking this option. Shulman then provided a generation breakdown of responses with Millennials (ages 18-34), Gen X (35-49), Baby Boomers (50-68), and Seniors (69 and up) each broken out.
Interestingly, we would have expected TECH-savvy Millennials to be predominant in online shopping – but they were actually slightly below this figure, with 68% picking this option. Far and away the biggest online shoppers are Baby Boomers, of which 76% – 5% more than the average – said they'll be shopping online.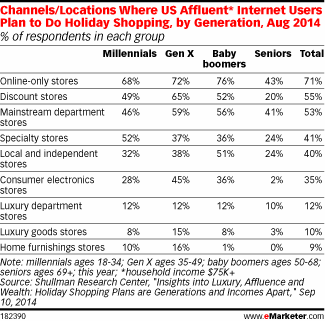 The top and the bottom of where Affluents will shop…
The top three shopping venues were Online-only (71%), Discount stores (55%), and Mainstream department stores (53%). The bottom three venues were Home furnishings stores (9%), Luxury goods stores (10%), and Luxury department stores (12%).
Consumer electronics stores registered in the lower middle of the pack with 35% of Affluents indicating they'd be shopping there over these holidays. Gen X'ers will be leading the charge in Consumer electronics stores as 45% of this age range picked this venue for their shopping.
Specialty store fans…
We found it interesting to see that Millennials – by a large margin (52%) – indicated that they'll be shopping in Specialty stores…which overall were identified by 41% of respondents. To us, this could be a hopeful sign of a possible specialty resurgence.
And Local and independent stores (35%) were mostly preferred by Baby boomers of which 51% said they'll be doing their holiday shopping there as well.
We were struck by the amount of cross-shopping plans of the survey respondents. It is clear that survey respondents will be spreading their money around multiple venues.
But…what are Affluents shopping for?…
The Time/YouTube study was also based on a simple question – What will you be buying for your holiday gifts this year? Remember, this survey used a slightly higher qualification, defining Affluents as those earning $100,000 or more per year.
The study reported on the top 5 categories in which Affluents intended to make their holiday purchases – showing the results for the categories as reported last year and of course, this year. The categories remained the same although the ranking did change slightly.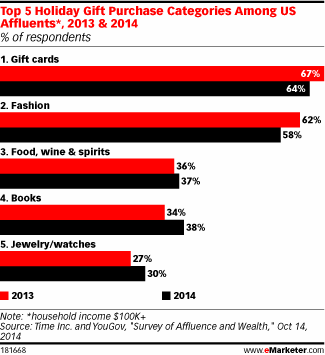 Categories remain the same, but shift…
The top item Affluents intend to purchase is Gift cards…as it was in 2013. However, this category dropped to 64% this year, down a significant 3% from 67% last year.
Second on the list is fashion which was picked by 58% of respondents, also down from 62% last year. But number 3 – Food, wine & spirits – actually eked out a small 1% gain to 37% this year.
A bookworm holiday…
But the big winners were the number 4 (Books) & 5 (Jewelry/watches) categories which actually improved significantly this year. A total of 38% of respondents said they'd be buying books this year as compared to 34% last year. That result actually moves Books up to the #3 slot this year.
And 30% of the Affluents taking the survey said they'd be buying Jewelry/watches this year as compared to 27% last year. While this leaves them in last place…it still is a significant uptick.
What we were dismayed to discover is that consumer electronics didn't crack the top 5 categories on the wish list for Affluents!