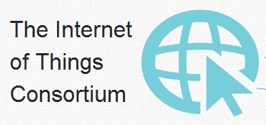 One of the more interesting of the seemingly endless series of announcements at CES 2013 was one that heralded the formation of a new trade association called the Internet of Things Consortium (IoTC). Utz Baldwin, CEO of Ube, clued us in because, as we were to learn, Ube is one of the founding companies.
What is the Internet of Things Consortium all about? See more below…
Saying its mission is to "foster and support the growth of Internet-connected devices for consumers," the IoTC has drawn together ten forward-thinking companies seeking to develop a set of open standards to facilitate growth of the world of connected device, software, and service providers.
The group chair is Jason Johnson who is the Managing Partner at the incubator Founders Den. Johnson hailed the plethora of products and companies at CES.
"As we will see this week, there are a number of amazing 'Internet of Things' solutions in development from both start-up companies and established consumer electronics corporation," Johnson said in a prepared statement. "Be it a new game controller, a fitness tracker, a home thermostat or an automatic door lock, the future is bright for people building real life connected things."
Founding, or charter members of the IoTC include: Active Mind Technologies (Game), BASIS Science, Coin, Kease, Logitech, MOVL (KontrolTV), Ouya, Poly-Control, SmartThings, and Ube. This charter membership includes both early-stage companies as well as established global entities.

The IoT Consortium will create a platform for hardware, software, and service providers to collaborate on ways to make connected devices "more rich and rewarding" for consumers. The Consortium will also serve as an "innovation forum" for those companies engaged in emerging technologies such as Bluetooth Low Energy and Low Power Wi-Fi.
"As an early leader in this emerging market, SmartThings is delighted to be a part of the Internet of Things Consortium to help drive collaboration and the emergence of an Open Physical Graph," said Alex Hawkinson, CEO at SmartThings, a leader in connecting everyday devices to the Internet.
The group plans to hold regular meetings in San Francisco. They will also hold meetings in conjunction with major trade shows such as CES, Mobile World Congress, CEDIA, and others.
Any company with hardware and software products and those providing services that are already on the market or planned for availability within 90 days can seek participation information at info@iofthings.org.
"Ube is thrilled to be a member of the IoTC. The successful adoption of M2M and connected home technologies is dependent on open standards for the provisioning and control of millions of headless devices," said Ube CEO Utz Baldwin. "We are excited to be among other emerging companies that share the same vision and that are committed to moving the industry forward collectively."
>>For more details on the Internet of Things Consortium, see: www.iofthings.org.