This Time Brand Takes Local Dealers With Them

Raleigh, NC-based Cary Audio announced this week that they will allow their high-end specialty electronics line to be sold online. At first blush, this looks like yet another specialty brand disrupting their bricks-and-mortar dealer base in favor of powerful online dealers – much like our recent story on McIntosh Labs doing just that. But this time, Cary took a completely different approach – one that takes their local dealers along with them.
See how Cary built an entirely different program in going online…
Specialty manufacturers are facing difficult circumstances in their effort to market their brands and grow their sales in a very challenging marketplace. There is an ever-decreasing footprint of dedicated specialty A/V retailers through which to sell their products. And there is a changing trend in the ways that consumers shop for and purchase products, including electronics.
Cary Audio is an eclectic brand of high-end audio products with a wide range of models. Items offered include contemporary digital products like digital-to-analog converters and models that harken to the earlier days of our business, such as amplifiers featuring vacuum tube architecture.
High-End, Historically
High-end brands like Cary Audio have historically been exclusively sold through independent specialty retailers, with attractive showrooms, knowledgeable sales staff, and focused assortments of performance-based brands. For the typical high-end customer, the shopping experience was an important part of the decision process to acquire high-end products.
As online merchants like Amazon.com, Jet.com, and others continue to take a bigger piece of the retail pie – specialty brands are feeling left out in the cold. Some have experimented allowing their brands to be sold online, only to experience a huge backlash from their existing dealer base. That is the plight that McIntosh Labs finds themselves in right now.
Cary Audio Goes 'Hybrid'
However, Cary Audio took a different approach – one they call a "hybrid" model. How does this hybrid model work? What's in it for their dealers?
First, Cary did NOT authorize existing online retailers; rather, they launched their own direct-to-consumer webstore called CaryDirect.com. The Cary line is fully represented there.
What Cary did differently is that they restructured their dealer program, creating a new dealer program "that assimilates dealers into the direct-to-consumer model." Cary says they've taken great care "to include our current dealer base into" this new shopping model.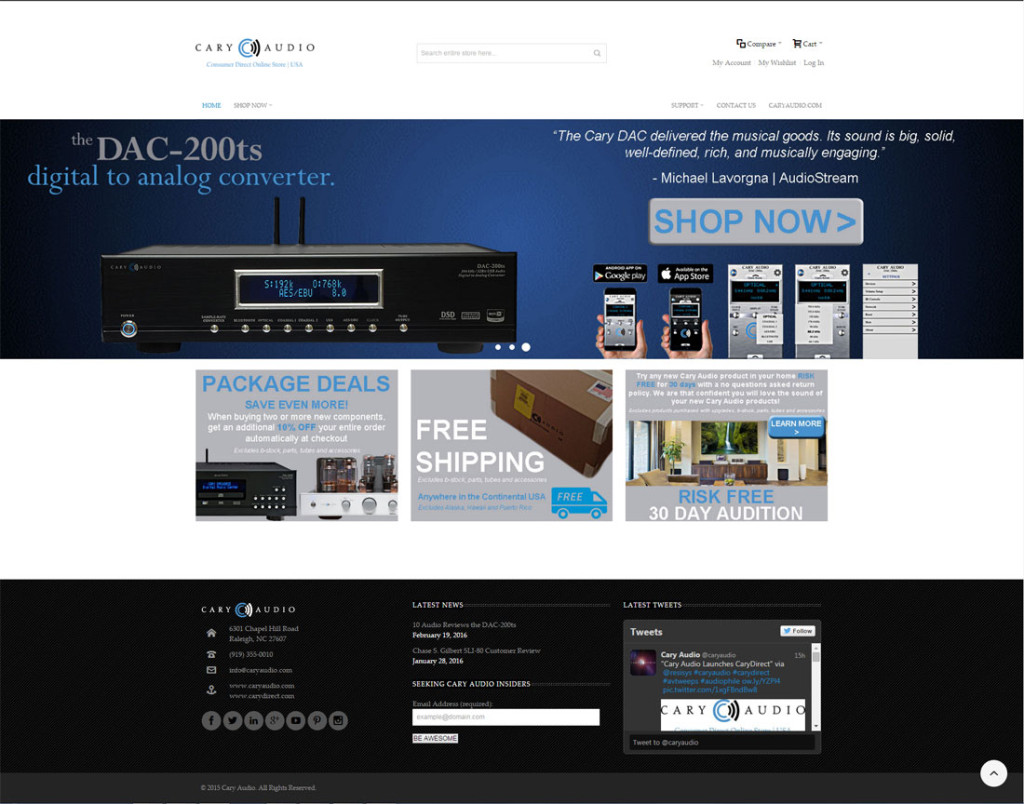 No More Dealers…Now 'Cary Retail Reps' or 'Cary Brokers'
Cary dealers will now be known as "Cary Retail Reps" or "Cary Brokers." Dealers will be able to define their level of participation in this new model and are incentivized to continue to display the Cary line in their showrooms for "sales and promotional purposes within their local markets."
The company says it hopes to make the process of acquiring their products "transparent and consistent" for the consumer. Although the company's announcement  about this programdoes not provide a lot of specifics, it would appear that they intend to use their webstore to drive customers to local dealer showrooms and only take the sale when the shopper is in a market for which there is no Cary Audio dealer.
"CaryDirect (www.carydirect.com) is only available in the U.S. and countries where there is no Cary Audio representation," the Cary announcement says.
More Support For Current Dealers; More Dealers
Cary Audio believes that this program will not only provide a new level of support for existing dealers, but will attract new dealers as well. The draw? As Cary Retail Reps or Cary Brokers see how they "can profit from our hybrid model," they will find it extremely attractive.
For more information on CaryDirect, or to sign up to become a Carry Retail Rep or Cary Broker, contact Cary Audio by email at: sales@caryaudio.com; or by phone at: (919) 867-4333.
Visit the Cary Audio website at: www.caryaudio.com. Check out Cary Direct at: www.carydirect.com.
Are you a Cary Audio Retailer?
We'd love to hear your thoughts on this new program either by contacting us directly (see our "Contact Us" page for the deets) or though a comment in the "Comment on this Post" in the box below.
Those who contact us directly can comment confidentially and won't be individually identified.