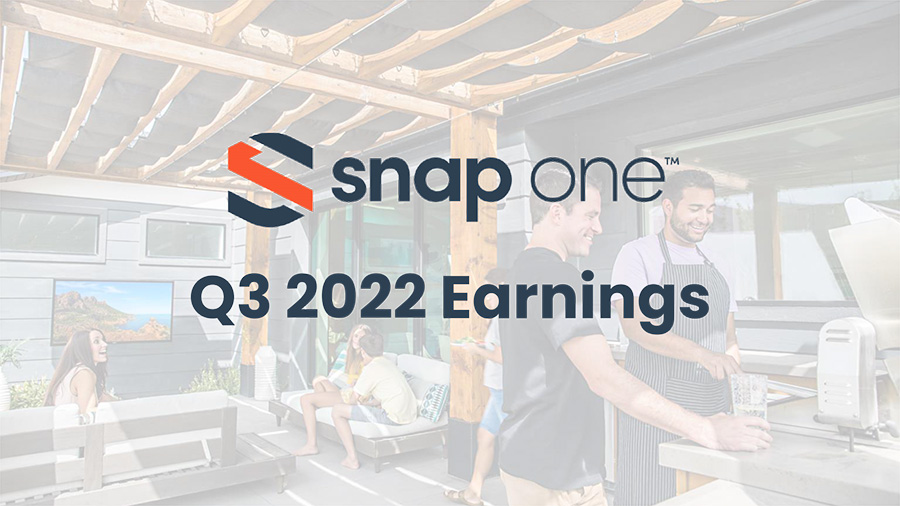 Snap One (NASDAQ: SNPO), a major player in the custom integration/smart home channel, recently reported its fiscal 2022, third-quarter results last month, showing both revenue gains and reduced losses. The company says sales are slowing and they revised their forward-looking guidance for yearly performance downward.
Since this earnings report was released, the value of Snap One stock has really struggled, dropping 19% and setting several new 52-week lows.
See why Snap One stock struggles in the wake of their Q3 performance report
Snap One was forced to report rather bumpy results for the third quarter of the 2022 fiscal year. On the face of it, the numbers didn't seem that bad – revenues increased and losses decreased. Should be good news…right?
Sales Grew 7.9%, Net Loss Decreased 95.3%; But…
For the quarter, net sales came in at $281.2 million, or 7.9% higher than the $260.7 million of net sales booked in the same quarter a year earlier. The company reported a net loss of -$1.0 million, a 95.3% improvement from the net loss of -$21.5 million in Q3 last year.
To the uninitiated, these numbers may not look that bad. However, to analyze that performance, you have to put yourself in the frame of mind of a Wall Street analyst.
Once Again, We See that Wall Street Doesn't Like Surprises
First, a 7.9% increase is pretty good…unless you were expecting more. And analysts were really expecting more. Why did they expect more? Well the company itself has maintained a projection of double-digit revenue growth. One analyst report I saw had pegged Q3 revenues to grow by 15.7%. So growth of just 7.9% was an unexpected surprise – and Wall Street doesn't like surprises.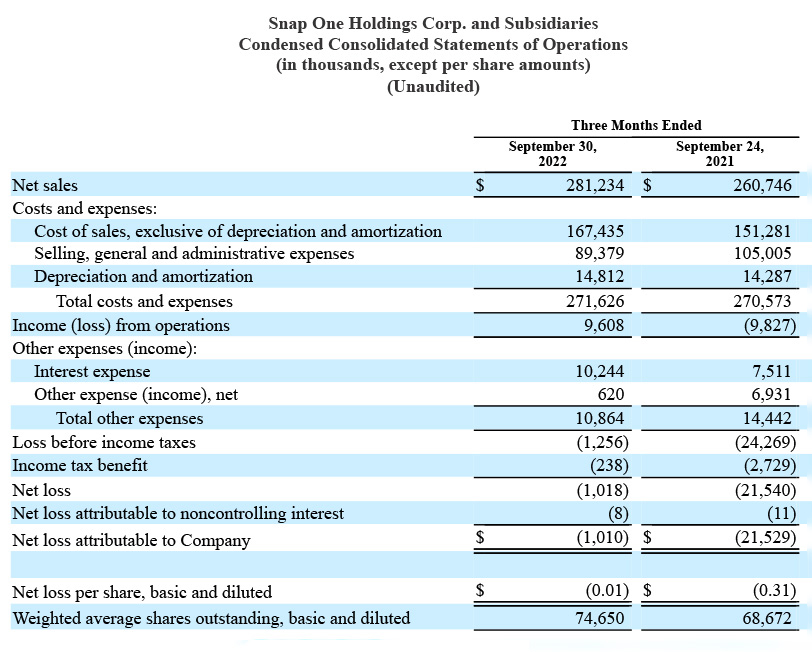 Second, the company lost -$1.0 million in the quarter which was much better than last year when they lost -$21.5 million in the same quarter. But here again, the company was expected to trend into profits this quarter. One analyst forecast I saw prior to Snap One announcing their results had projected net income of $0.27 per share. Instead, the company had a net loss of -$0.01 per share.
Again, Wall Street doesn't like surprises.
'Q3 Results Were Below Our Expectations'
But there was more… In a conference call with analysts, CEO John Heyman said the following…
We acknowledge that our Q3 results were below our expectations… We grew approximately 8% in a tough climate despite supply chain issues, a softer economy, foreign currency headwinds and delays in local branch openings.

John Heyman, Snap One CEO in a conference call with analysts
The above comment seemed to suggest a more extreme business climate than anything that was mentioned in their official press release announcing the quarterly earnings results. That announcement only vaguely mentioned a "macroeconomic reality." But on the phone call with analysts, Heyman went much further.
'We Hit a Bit of a Speed Bump'
Said Heyman: "So why have we hit a bit of a speed bump? Here is what we are seeing in the current environment. We began to observe a moderated pace of daily sales in the second half of the quarter. We anticipated a normal acceleration at the end of the quarter but did not see that, and October trends have continued to be a bit softer than previously forecast."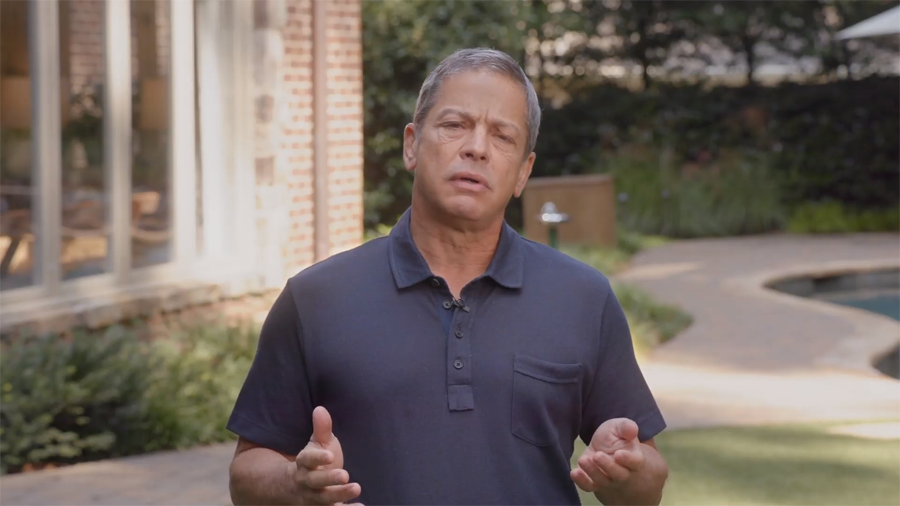 Heyman's comments contained some powerful words that were sure to impact analysts – raising issues of an unexpected sales slowdown that impacted the reported quarter (but was not otherwise called out). Worse yet, did you see he mentioned October? This conference call took place on November 9 and was discussing results from their Q3 which ended on September 30, 2022.
Heyman: Integrators are Carrying Inventory
So Heyman's October reference was significant fiscal information about the current quarter in which they are now operating. This is usually a no-no for a public company to discuss results being experienced in real time. But that also means that the slowdown they saw in Q3 is continuing and will affect the current fourth quarter.
So why is Snap One experiencing a sales slowdown? According to Heyman, their integration partners "…remain busy…Their activity levels and near-term pipeline visibility remain healthy." But, he adds, some integrators are carrying inventory and have to "work through elevated levels of that inventory."
Integrators Bought Inventory for Supply Chain Issues and a Price Increase
Why are integrators carrying inventory? The company says their integrators purchased extra inventory "in response to their own supply chain challenges." These were not Snap One supply chain issues, but those of some of their competitors.
But when later on the call Heyman revisits the topic of slowing purchases from their integrators, this time he adds that Snap One had a 9% price increase in the second half of the year and that dealers bought extra inventory to beat the price increase. That means previous quarters' sales were artificially inflated and that added inventory is reducing Snap One's current sales. He predicted it would take another quarter or two for those bloated inventories to be worked through and for more normal purchase patterns to return.
Company Reduces Guidance for Annual Results
So why did the company miss both sales and earnings projections? Heyman says this drop in sales hit both revenues and earnings. Again, none of this is good news to analysts. In fact, I'd say it is downright alarming to them.
But wait…there's even more. Because Snap One expects these trends to continue to play out, the executives said they've revised its guidance for revenues and adjusted earnings downward – pulling them back from previously forecasted levels but still keeping respectable year-over-year numbers.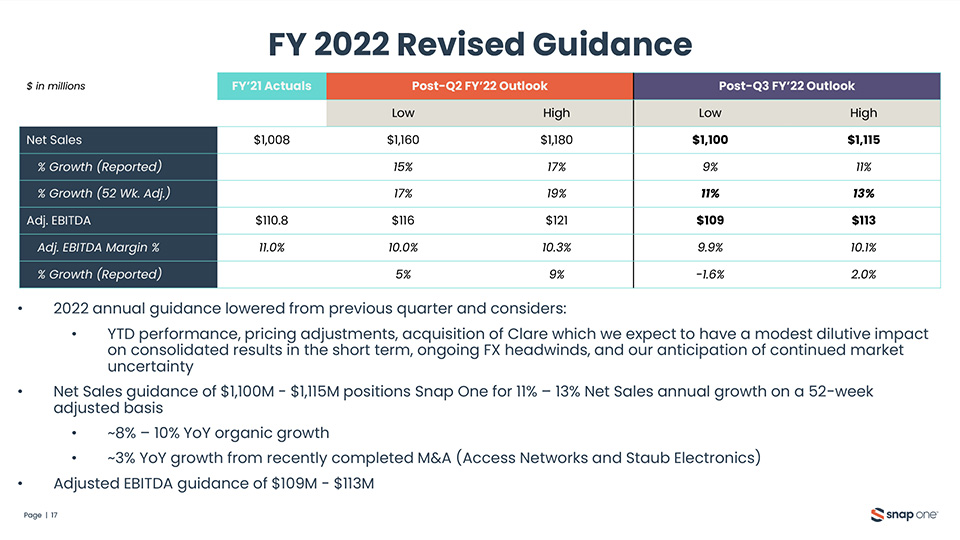 The guidance for revenue growth for fiscal 2022 was cut $60 million – $65 million – now expected to come in between $1.1 billion to $1.115 billion. That is a projected growth rate of between 9% to 11%…compared to a projected growth rate of between 15% to 17% the company provided in the Q2 earnings report. Folks, that's a meaningful deceleration in performance in the eyes of analysts.
Snap One Executives Remain Confident of 'Long-Trem' Performance
Both Heyman and CFO Michael Carlett went on to express to the analysts their confidence in the Snap One business model delivering strong "long-term" growth performance. Still, I could sense the analysts were quite troubled by what they heard. I would soon get evidence that my senses were correct.
As is common practice, the analyst conference call was opened up for a Question and Answer session, where analysts can ask specific questions about the company's performance and expectations. It immediately became clear, from the first questioner on, that most of the questions would be centered around this inventory matter and other performance "headwinds."
Analyst: When Will Your Growth Align with Integrator Activity?
Christopher Snyder of UBS started, "I was hoping for some more color on the integrator inventory digestion. Is there anything you could provide to kind of quantify the headwind realized in the back half of '22? And then also, at what point do you think the destocking headwind will be in the rearview and the company can kind of continue to grow in line with the activity that you're seeing at the integrator level?"
Heyman told Snyder that Snap One estimated that their integrators are bloated with "about $40 million to $60 million of inventory…" and that it will take another one or two quarters, 3 – 6 months, for them to "burn down" that inventory.
What's Going On with New Branch Openings? Company to Become More 'Targeted' with Openings
Another analyst asked about their branch opening plans. As I suspected, they have slowed down their branch openings this year. Heyman suggests this slowdown was due to "permitting and supply chain" issues. But, he promised analysts, "…we've got plans to open a bunch of local branches in the fourth quarter." Note, we are in the fourth quarter now.
In looking at their plans for new branches next year, Heyman was a little hazy – saying they'll open more locations "in the second half of the year." However, in addressing the pace of branch openings next year, he admits that the company is "going to be a bit more targeted." This sounds like a reduced priority on opening local branch locations.
A Buying 'Conservatism' is Resulting in a 'De-Scoping' of Projects
There is much more in this unusually extensive Q&A session on this call, but one other section worthy of highlighting was Heyman's discussion of other trends they've observed in their business.
The second piece, though, is the market. And I don't want to leave this call with everyone thinking that we're saying that the market is as strong as it's been over the past couple of years… I think there's a conservatism that's going on with buying today that is resulting in the de-scoping of projects that might mean 2 speakers in a room instead of 4. It might mean 4 speakers, but they're cheaper speakers… And so I think it's a combination of all those things that lead us to having a more cautious outlook around the rest of the year and as we plan for our budgets into next year, we think about our expense structure.

Heyman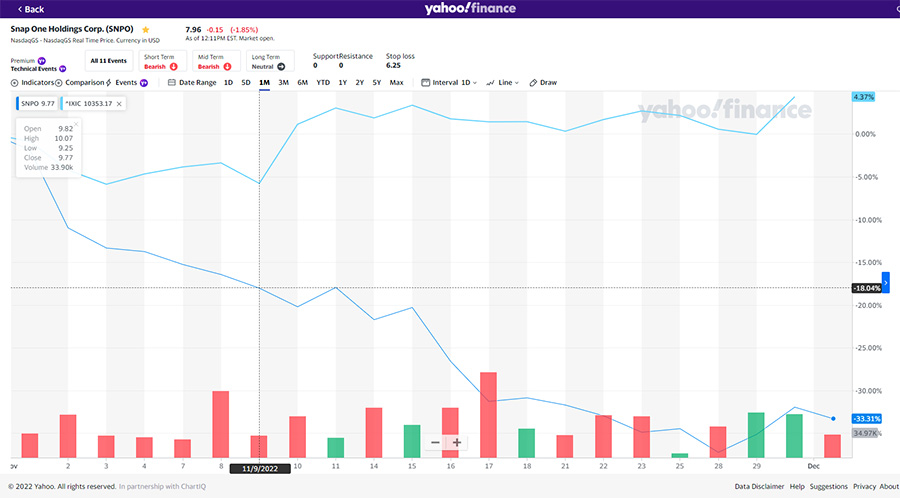 Wall Street's Reaction to Snap One's Business Outlook is Pretty Clear
The reaction of the market to Snap One's announcement is pretty clear. The company announced its quarterly earnings on November 9th. Since then, the stock value has dropped to $7.95 per share at the close of business on December 1st – a 19% drop in value.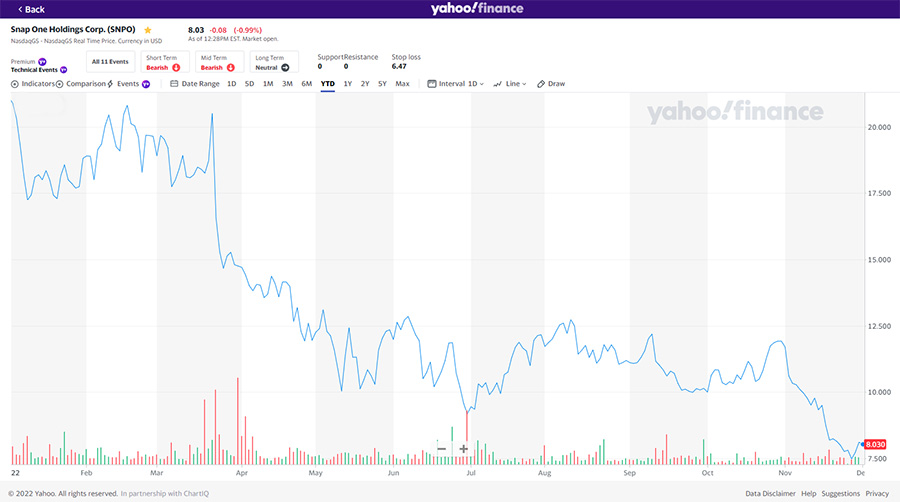 For the month of November, Snap One saw its stock's share value drop 32%. Compare that to the NASDAQ, which grew 4.4% over the same period. On a year-to-date basis, Snap One stock has dropped a dizzying 62.3%, from $20.89 per share in January to $7.95 in November.
Given the go-forward outlook the company provided with the Q3 earnings report, it looks like another tough 6 months or so ahead before they see things start to turn around.
Learn more about Snap One by visiting snapone.com.