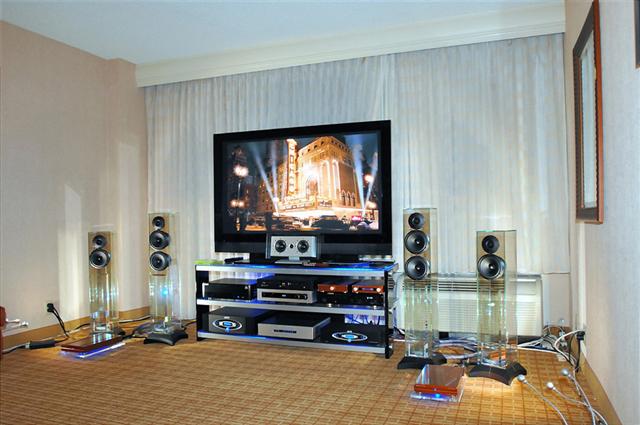 <April 11, 2012> Waterfall Audio, a luxury loudspeaker manufacturer based on the French Riviera, announced today that it has selected Grace Motif of Scottsdale, AZ as its exclusive U.S. distributor. Consistent with Grace Motif's other lines of high-end, high-design products, Waterfall Audio speakers feature a unique cabinet hand-constructed out of safety glass for a striking appearance.
Waterfall Audio loudspeakers glass cabinets use a unique and acoustically dense 6mm thick glass with a

metallic color coating. Glass, especially thick glass, is very rigid – a good property for a speaker cabinet. But glass also is very reflective – a negative element in a loudspeaker cabinet.
Dampening reflections…
In order to deal with the reflectivity of the glass and the sound waves emanating from the back of the driver, the company has engineered an ingenious device they call an Acoustic Dampening Tube or ADT. By locating the ADT at the rear of the driver, the company achieves maximum and efficient dampening of the spurious frequencies.
The result is said to be stunning sound quality and a dazzling visual effect as the glass cabinets virtually disappear in the room. The design is enhanced by proprietary glass fabrication techniques that make corners and seams disappear.
"Our goal has always been to provide a unique visual impact with no-compromise audio performance," said Waterfall Audio founder and managing director Cedric Aubriot. "Waterfall's glass-loudspeaker designs make a lifestyle statement that is utterly unique, because they literally disappear into the room."
In good company…
"This is an exciting time for Waterfall Audio," said Waterfall's Export Manager, Nadine Chaix-Dewell in a prepared statement. "The appointment of Grace Motif and their proven dealer network to bring greater awareness to this distinctive brand coincides with the introduction of our company's new brand identity and our redesigned Niagara reference model (reduced from $54,000 to $39,500 per pair) for greater value. We are in good company."
Waterfall Audio is the first major addition to the product line-up at Grace Motif since the company launched last year. Waterfall joins Grace Motif's other brands including Artcoustic speakers, Cineversum HD projectors and Image Screen precision screens.
Design indeed…
"We are gratified to partner with Waterfall Audio," said Grace Motif Founder and President John Caldwell. "Several of our dealers encouraged us to partner with Waterfall Audio because of their amazing performance, high design concept and synergistic fit with our other designer friendly brands. The growing interest in luxury-class audio and video products by our clients and the design community in what we offer, makes us confident that we can take Waterfall to the next level."
Waterfall Audio's product line starts at $275 each for desktop models. A line of on-wall/on-shelf satellite/powered subwoofers models start at $840 each. And finally, a line of three tower monitors start at $4950/pr. The monitors can be configured for two-channel or multi-channel/home theater systems.
For more information on Waterfall Audio products, visit: www.waterfallaudio.com.
And for more details on Grace Motif, visit gracemotif.com, email info@gracemotif.com, or call 480.423.4248.