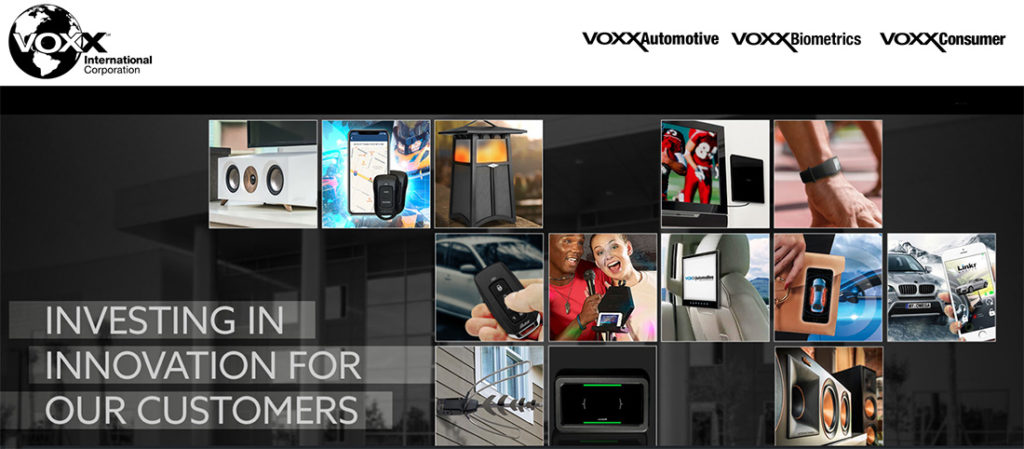 VOXX Stock Value Drops Nearly 30%
Yet more evidence of an industrywide downturn emerges, this time from VOXX International's Fiscal 2023 fourth quarter and full-year results. After claiming that "…we had a lot of positive developments and continued to win new business and expand globally," Voxx President Pat Lavelle went on to blame "inflation," "fears of recession," "the retail environment," and "supply chain constraints," for creating "roadblocks" to the company's performance this year. Roadblocks, indeed…
Learn more on VOXX's results in Fiscal 2023
It was a really tough fiscal 2023 fourth quarter and full-year result for Voxx International [NASDAQ: VOXX], as the company turned in disappointing results for both periods – with many parameters falling to their lowest level in three years. Perhaps most concerning to investment analysts is the fact that the company believes that the current adverse macroeconomic conditions will continue to impact the company moving forward throughout the first half of its Fiscal 2024 period.
Company management expressed to analysts its confidence that these business headwinds will begin to wind down in the back half of fiscal 2024. And while there can be no assurance of such recovery taking place, company management remains confident in their plans – especially in the continued expansion of its Onkyo and Pioneer divisions in international markets, and the continued ramp-up of its smaller but growing Biometrics division.
Let's Dig Into the Numbers
So let's dig into the numbers and see where the company ended up…starting with their fourth-quarter results. For Voxx, the fourth quarter is the period that ended on February 28, 2023.
Keep in mind, Voxx is a diversified conglomerate with three major business units. These units are:
Automotive Electronics: This division includes OEM products – such as remote start, security, and rear seat entertainment – and Aftermarket products
Consumer Electronics: This division includes Premium Audio products and Other Consumer Electronics. This division houses key brands such as Onkyo, Pioneer, Integra, Pioneer Elite, Klipsch, Jamo, Energy, Magnat, and more
Biometrics: This division is the smallest of the three and consists largely of iris-reading security solutions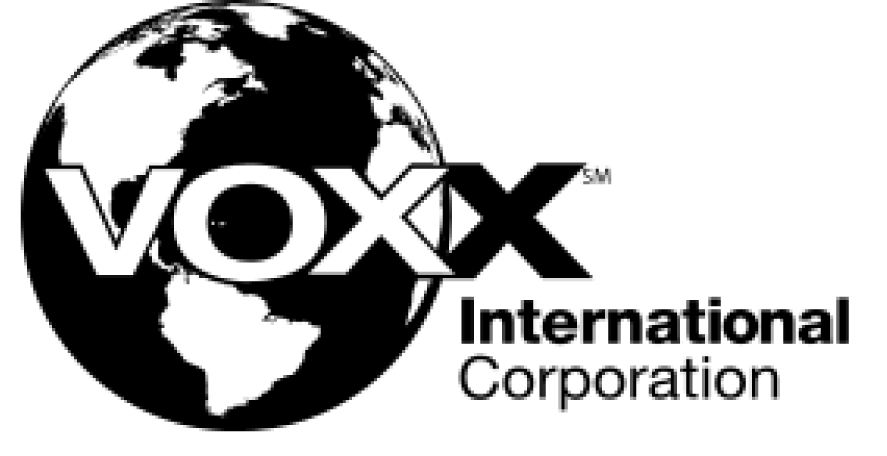 Net Sales Analysis in Fiscal Fourth Quarter
In the fourth quarter, the company booked net sales of $136.5 million, which is a decline of $27.4 million as compared to net sales of $163.9 million in the fourth quarter of Fiscal 2022. This is a substantial -16.7% drop in net sales.
Broken down by division: Automotive Electronics booked net sales in the quarter this year of $49.5 million compared to net sales of $50.6 million in the same quarter last year for a -2.2% decline. Consumer Electronics was harder hit with net sales in the quarter of just $86.7 million for a stunning decline of -23.4% or -$26.4 million lower than the net sales of $113.1 million in the same quarter last year. Finally, Biometrics had net sales of $0.4 million, a significant increase over the $0.1 million booked in the quarter in 2022 – but in an obviously quite small category.
Consumer Electronics in General and Premium Audio Specifically Declined the Most
Of particular note in all of the above, a large part of the Consumer Electronics decline was attributed to "lower domestic sales of premium home theater speakers, wireless speakers and mobility products." The premium audio division saw sales of $61.9 million – dropping a dizzying -32.3% or $29.5 million lower as compared to sales of $91.4 million in the category in the same quarter in 2022.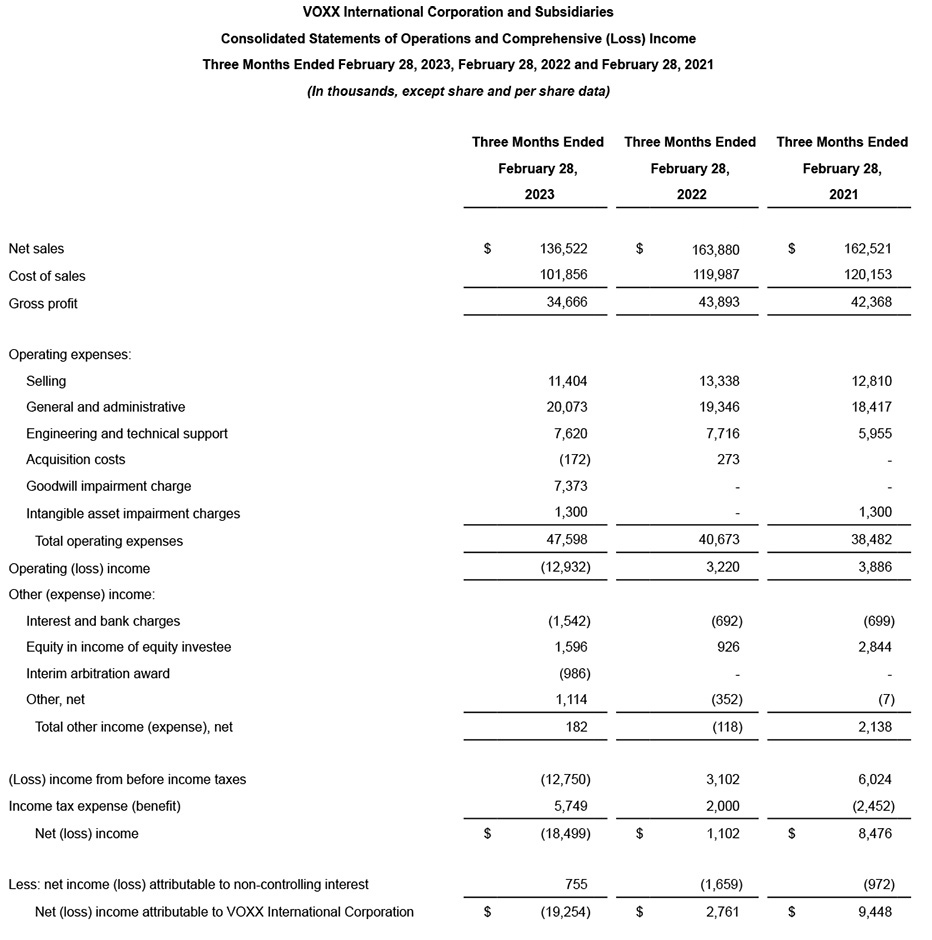 Other Key Results in Q4 of Fiscal 2023
Gross Margins – Overall Gross Margins were 25.4% in the quarter this year, down 140 basis points compared to gross margins of 26.8% in q4 of 2022. By category: Automotive…25.4% vs 20.1% (+5.3%); Consumer Electronics…25.3% vs. 29.8% (-4.5%); Biometrics…39.8% vs negative gross margin last year.
Total Operating Expenses – This year in Q4, Total Operating Expenses came in at $47.6 million compared to $40.7 million in the same quarter last year. That is a cost increase of +$6.9 million or 17.0% in a quarter where sales declined -16.7%.
Operating Loss – This year, Voxx reported a loss on operations of -$12.9 million compared to an operating profit of $3.2 million in last year's quarter.
Net Loss – Operations generated a net loss of -$19.3 million, a major downswing as compared to a net income of +$2.8 million in the same quarter last year.
While we had a lot of positive developments and continued to win new business and expand globally, Fiscal 2023 was certainly a challenging year. From inflation, fears of recessions across the globe, the retail environment and ongoing supply chain constraints, we faced a myriad of roadblocks this year and our results came in lower than expected. We're anticipating continued softness in the global economy and at retail, though chip availability has improved which should positively impact our Automotive business. We continued to grow the Onkyo and Pioneer business and have plans to expand our footprint globally this year. Additionally, our Biometrics segment should show considerable improvement with new accounts awarded and several projects underway.

Pat Lavelle, Voxx International Chief Executive Officer
Much the Same Pattern in Full Year Results for Fiscal 2023
While the numbers for the company's full-year results are much larger, the pattern is similar to that experienced in the fourth quarter. Net sales for Fiscal 2023 came in at $534.0 million, down -$101.9 million or -16.0% compared with net sales of $635.9 million in Fiscal 2022. Again a double-digit percentage drop in sales.
Looking at Fiscal 2023 sales by business unit, we see that Consumer Electronics remained the red-headed stepchild of the company. Automotive Electronics had net sales for the year of $174.8 million, down -25.8 million or -12.9% as compared to net sales of $200.6 million in the same unit in Fiscal 2022. Consumer Electronics saw net sales of $357.8 million, a drop of -$76.2 million or -17.6% as compared to sales of $433.9 million in Fiscal 2022. Biometrics net sales this year were $1.0 million, up $0.1 million or +18.6% over net sales of $0.9 million last year.

Once Again, Consumer Electronics and Premium Audio Booked Biggest Declines
One note on net sales: the largest category of the largest division at Voxx is Premium Audio products in Consumer Electronics. While the overall Consumer Electronics category dropped -17.6% as I showed above, Premium Audio saw sales collapse a surprising -20.2%, landing at $274.5 million…a drop of -$69.4 million compared to sales of $344.0 million in Fiscal 2022.
Other Key Results of Fiscal 2023 Full-Year Performance
Gross Margins – Gross Margins in Fiscal 2023 came in at 25.1%, a 160 basis point decline from the 26.7% booked in Fiscal 2022. By business unit: Automotive…24.3% vs 23.6% (+70 basis points); Consumer Electronics…25.5% vs 28.0% (-2.5%); Biometrics…34.2% vs 21.0% (+13.2%)
Total Operating Expenses – For the full fiscal year, Total Operating Expenses came in at $161.6 million in both Fiscal 2023 and Fiscal 2022 the company says.
Operating Loss – For Fiscal 2023 the company had an Operating Loss of -$27.3 million, a significant decline as compared to an Operating Income of $7.9 million in Fiscal 2022.
Net Loss – The company had a Net Loss of -28.6 million this year as compared to a Net Loss of -22.3 million last year.
Cash on Hand – The company reported it had $6.1 million in cash and cash equivalents at the end of Fiscal 2023. In Fiscal 2022, the company reported 27.8 million.
Total Debt – At the end of Fiscal 2023, Total Debt stood at $39.2 million as compared to $13.2 million at the end of Fiscal 2022
Total Long-Term Debt – The company has a Total Long-Term Debt of $37.5 million at the end of Fiscal 2023. In Fiscal 2022, that stood at $9.8 million.
The company does not provide an "organic" analysis in which the current performance is adjusted to eliminate items that did not exist in previous periods to give a better sense of how continuing operations are doing. However, Fiscal 2023 was clearly a rough road for the company. Management has responded by engaging in a series of cost-cutting moves, including cutting staff, as Strata-gee was first to report back in September of 2022. I also reported on Premium Audio Company's COO abruptly leaving the company in a move that also sounded like cost-cutting, although that was not how the company presented it.
Given the near-term market outlook, we continue to lower expenses and manage our capital prudently. We're optimistic for a rebound domestically as we move further into the year and with fewer supply chain disruptions. Our view of the opportunities within each of our segments has not changed and we remain bullish on our future prospects when there is a return to a more normalized operating environment."

Lavelle
Company Remains Confident in Its Ability to Deliver Growth in 2024
However, the company assured analysts that it was confident in its ability to vector into a better second half of Fiscal 2024, the first quarter of which they are already in. Lavelle says it continues with its plan to expand sales of Onkyo and Pioneer, as well as to continue to grow the Biometrics division.
However, keep this in mind – the company provided a three-year comparison of its Consolidated Statements of Operations and Comprehensive Income. The company acquired Onkyo, Integra, Pioneer, and Pioneer Elite in September of 2021. That means that Voxx had contributions from all of these brands for part of Fiscal 2021 and all of Fiscal 2022 and Fiscal 2023.
What Did Wall Street Think?
Investors had a strong reaction to this sobering earnings news from Voxx. It looks to me like they are skeptical of the plan at best. Why do I say that? The company released its fourth quarter and full-year results for Fiscal 2023 after the close of markets on Monday, May 15.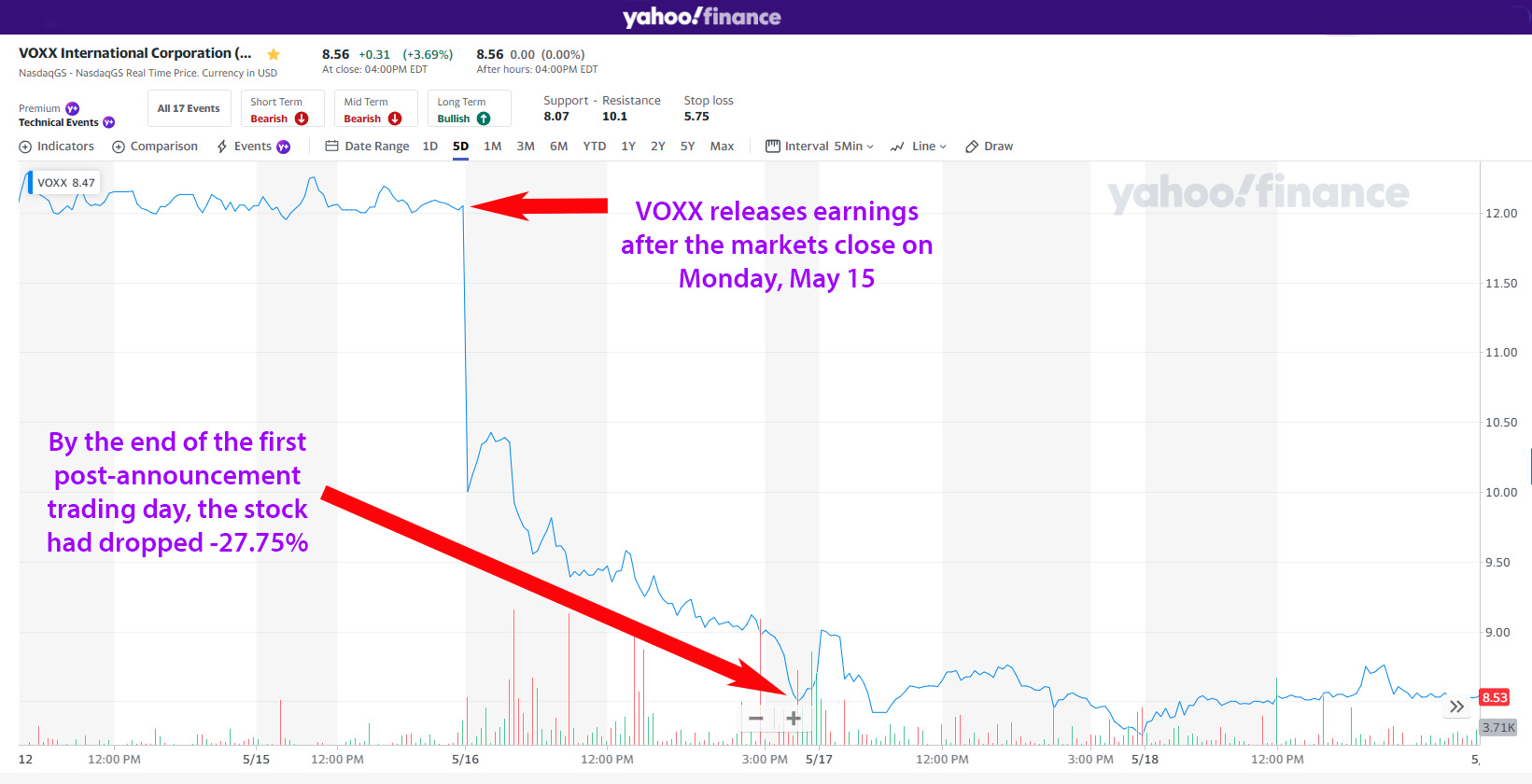 Trading in Voxx stock on Monday was a relatively sedate affair with the stock opening at $11.94/share and closing at the end of the day at $12.00, with 63,000 shares traded. As I said, after the close, the company released its earnings results. When markets opened up again on Tuesday, Voxx stock dropped like a brick – opening at $9.89 or down 17.6% below the close the day before the announcement.
That's a Bad Day, For Sure
During the day on Tuesday, the stock was vigorously (viciously?) traded, dropping to as low as $8.46/share. Ultimately, VOXX stock closed the day resting at $8.67/share with an eye-popping 467,600 shares traded…WAY over its normal volume of trades.
In one day, the company saw its stock lose -27.8% of its value. That's a bad day, for sure.
On Wednesday, things got worse… VOXX stock value dropped yet again, closing down at $8.26/share. That's the loss of another 4.7% in value, meaning the stock at that point was more than 31% below the value it had on Monday before the announcement. Today it rebounded a bit to close at $8.56…still about 29% below the pre-earnings release price.
Ouch…
Learn more about Voxx International by visiting voxxintl.com.