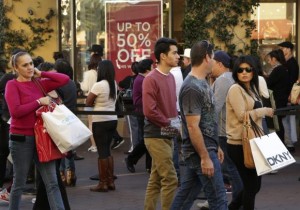 New data released by the Commerce Department showed an unexpectedly large drop in retail sales for the month of December. In fact, U.S. retail sales had their largest across-the-board drop in the past eleven months – plunging economists into vigorous debate over just what this means for the economy.
What were the worst performing retail segments? Read below to see more…
According to a Reuters report on the Commerce Department results, retail sales for the month of December dropped 0.9%. This was a significant reversal of fortunes after retail sales for November had posted a 0.4% gain. In fact, the report said this was the single largest drop in retail sales since January 2014.
Economists were said to have been ready for a pause in retail activity in December, with most expecting a slight 0.1% decline. But this result was nine times worse than that, causing some economists to question whether the overall economy is really as healthy as previously thought.
Broad-based retail decline…
Perhaps adding to the debate is the fact that, according to the data set, no one or two retail segments were the culprits of this decline – it was largely across all types of retail. In the past, it was often one or two specific retail segments responsible for a decline…and that was often easier to explain.
In fact, when looking at what is called the "core retail sales" – where sales are excluded for automobiles, gasoline, building materials and food services – retail sales fell 0.4%, also a troubling result after a 0.6% increase in November. The core retail sales is viewed by many economists to be more reflective of the consumer spending component of GDP – valuable to watch as consumer spending is more than two-thirds of the overall economy.
Breakdown by retail segment…
The worst performing retail segments were: electronics and appliance retailers, clothing retailers, building materials and garden equipment retailers, and automobile dealerships. And, by the way, the Commerce Department's data indicates that online sales declined in December as well – so these results cannot be explained as a shift from bricks to clicks. (Sales at furniture stores, restaurants & bars rose.)
In the "that's understandable" department, gasoline retailers saw their sales drop precipitously – off 6.5% – for the category's worst sales performance since December 2008. But this was obviously due to the fact that gasoline prices have dropped dramatically over the last few months – something that is generally viewed as a positive trend for the consumer, if not the gas retailer.
Economists are conflicted…
Some economists are unconcerned, telling Reuters that the December result is an aberration – suggesting that other positive data, such as low gas prices and a stronger labor market – are still looking strong. Other economists said these results are no more than seasonal fluctuations as a result of volatile holiday sales.
But many other economists are not so sure, saying that it appears that consumers are not spending that extra savings from low gas prices. In fact, many economists are cutting their estimates for 2014 year-end (Q4) growth and even scaling back their 2015 expectations.