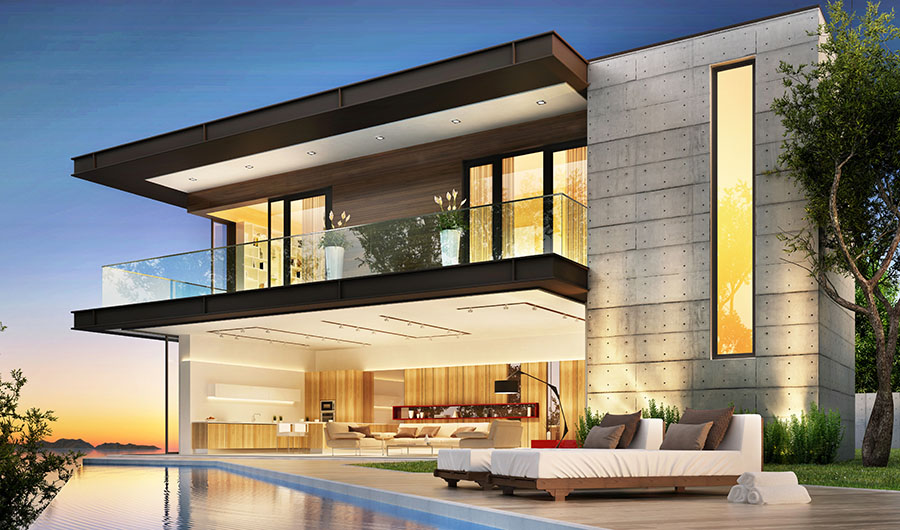 In what is likely another sign of the housing market downturn, and perhaps a cooling of the overall economy, sales of luxury homes in the U.S. plummeted in the three-month period that ended in April, according to an analysis by Redfin Corp. as reported by Bloomberg News. The Redfin analysis covered the top 50 metropolitan areas and revealed the largest drop in sales of luxury properties since the onset of the pandemic.
See more on the decline of luxury home sales
We finally have some data that will be meaningful for those doing business in the custom integration segment which largely addresses the luxury buyer. I wish it was better news. Sales of luxury homes throughout the U.S. have declined 17.8% in just a 90-day period. Bloomberg notes sales were impacted by "inflation, economic uncertainty and the stock-market slump" which it says combined to "push wealthy buyers to the sidelines."
The Redfin analysis looked at the top 5% of listings in each of the top 50 large metropolitan areas. For reference, the report noted that non-luxury sales in these markets dropped as well – but at a much more digestible 5.4%.
Luxury Home Sales Plummet -18% Nationally, as Much as -45% Locally
Luxury sales, as noted above fell a significant 17.8% overall. But while that overall double-digit drop of 17.8% is in itself shocking, the report reveals market-by-market sales declines that are downright eye-popping. The worst hit, for example, is Nassau County, NY, which saw luxury sales collapse -45.3%! Nassau County is home to prominent wealthy suburbs of New York City, such as Old Westbury and Brookville which are about an hour drive to the city.
Even West Palm Beach, FL, at the bottom of the top five leading loser list, saw its luxury home sales decline a surprising -32.8%.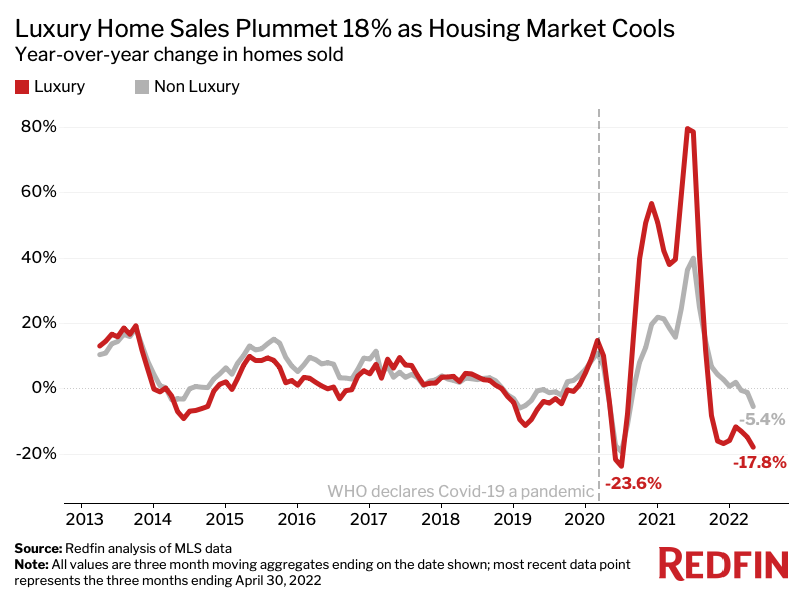 Housing Market Declines Not Limited to First-Time Buyers
This is the first report I've seen that quantifies the impact of the housing downturn on the luxury segment. However, I recently reported that an analysis of consumer confidence broken down by income segment documented a decided downturn in wealthy buyers' confidence in the economy. This report on the drop in luxury home sales is likely the natural consequence of that turn in sentiment with that market segment.
As the downturn in home sales began to take hold, many analysts felt that the impact would be limited to entry-level home shoppers – the so-called first-time buyer. Now, that thinking is changing.
Median Price of Luxury Home? $1.15 Million
Much like housing overall, the Redfin data shows that prices of luxury homes have continued to soar. But as inventory starts to rise, those price gains are likely to moderate. Right now, the median price of luxury homes in the U.S. is $1.15 million – 19.8% over the median price a year ago. However, this is down from the peak increase of 27.5% YoY recorded in the spring of 2021, according to Redfin.
The pool of people qualified to purchase luxury properties is shrinking because the stock market is falling and mortgage rates are rising. The good news for buyers is the market is becoming more balanced and competition is easing up.

Elena Fleck, Redfin real estate agent in West Palm Beach Florida
Interestingly, the situation appears to be slightly different in Nassau County. There, according to a local real estate agent, homeowners are reluctant to downsize because buying something else now would cause them to lose their current mortgage which is held at a lower rate than is now available. For this reason, inventory remains tight, but he acknowledges there are fewer buyers for each listing.
Learn more about Redfin by visiting: redfin.com.