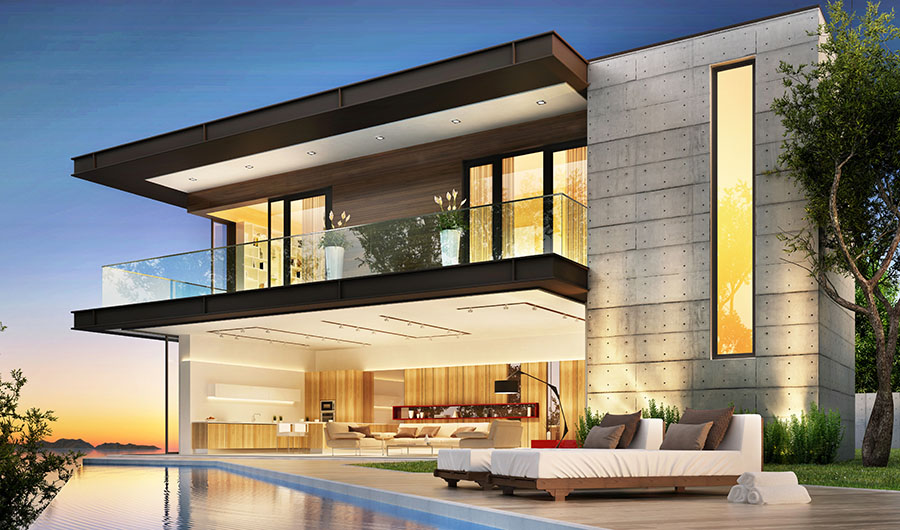 A new analysis that correlates consumer confidence by income level has produced a shocking red flag for any business that offers goods and services to the luxury customer – as do many custom integrators. Fire up your sensors and watch closely to see if clients in your market are subject to this alarming trend.
See more on a shift in the attitude of the luxury customer
Long time Strata-gee readers know that I follow pretty closely both of the major gauges of consumer sentiment, the Consumer Confidence Index (from The Conference Board) and the Index of Consumer Sentiment (from the University of Michigan). I follow these indexes closely because they monitor the general feelings of U.S. consumers, whose overall outlook guide their spending/saving ratio. And consumer spending represents about 70% of the nation's gross domestic product (GDP).
So these are really good gauges – leading indicators – of where the economy is heading…either up or down.
New Morning Consult/Axios Survey is Alarming
So it really caught my attention when Morning Consult – a very respected global decision intelligence company – in a survey conducted with Axios, put a totally new spin on consumer confidence by correlating it against consumer income level. What they discovered and announced, as reported by Axios, was alarming.
So before I tell you what Morning Consult discovered, let me add some context. I recently reported that the Index of Consumer Sentiment had dropped to a near 11-year low. This was a concerning development as clearly the consumer is beginning to feel stressed about the economy, especially as it relates to inflation, which is already hitting them in their pocketbook!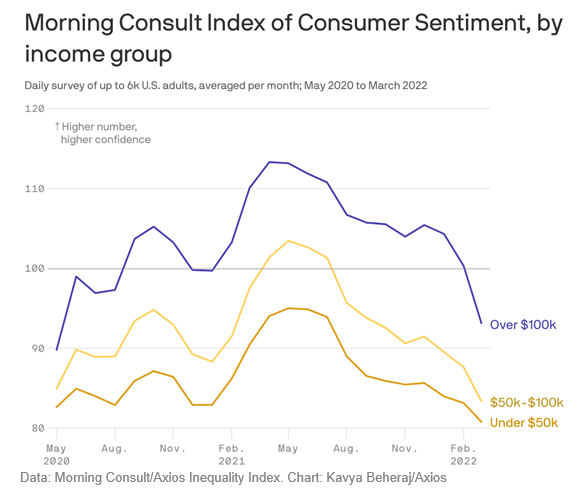 A Dramatic Drop in the Confidence of High-Earning Americans
This latest survey from Morning Consult/Axios revealed that for those consumers earning six figures and above, confidence levels dropped as well. In fact, high-earner confidence had dropped a dramatic 7.2% – a massive drop, and much greater than the decline for consumers earning under $50,000.
For comparison purposes, that consumer sentiment drop that took the Index of Consumer Sentiment to near an 11-year low? It was a drop of just 3.4%…less than half the 7.2% mentioned above.
Confidence Drops into Negative Territory
But wait! There's more! Not only did survey respondents earning over $100,000+ a year report a dramatic drop in their confidence, but for the first time in two years, this drop took their reading negative, or under the "100" reference level. In Wall Street terms, that means these respondents are feeling "bearish" and could decide to cut their spending.
In past times of economic upheaval, conventional wisdom has held that in good times and bad, the luxury customer always has money. It is the general consumer, earning something near the national average income, who is hit the hardest, the thinking goes, by economic declines.
Asset Values are Swinging Wildly
The fact is, even with this downturn, the upper-earners still feel a little bit better about the economy than the lower-earning ranges. But, as Axios points out, they do have more to lose. And with the confluence of multiple issues such as the war in Ukraine, rising inflation, and interest rate increases from the Fed… upper-income Americans have seen the value of their various financial assets – stocks and bonds, for example – swing wildly recently.
It remains to be seen whether this crisis of confidence has a big impact on consumers, causing them to cut back on spending – both among average Americans and high-earners. But there have already been signs of tapering off in demand in automobiles and home sales.
See more on this story on Axios….