Two well-known and established sales representative firms in the state of Michigan have merged their companies into one larger and better resourced entity. Both firms, Boyle Sales and TWC Michigan, have substantial dealer networks throughout the state and represent and support respected lines of top manufacturers in the consumer electronics industry. The new merged organization promises to be one of the top specialty electronics reps in the state.
See more details on this dramatic new development…
Perhaps a sign of the times, we are hearing more and more about representative firms around the country joining forces to share coverage responsibilities and offer dealers expanded assortments more powerful than either company possessed independently. This is perhaps a corresponding analog of what's happening at the manufacturer level where companies are rapidly merging into a mega-brand powerhouse, such as Nortek creating one entity – Core Brands – with ten merged brands.
In this case, both Boyle Sales and TWC Michigan were well-regarding representative firms in largely the specialty segment of the consumer electronics market. But fundamental market changes and industry manufacturer shifts provided the backdrop for Bob Boyle of Boyle Sales and Chet Davis  of TWC Michigan to begin talking about how they might work together to build an even bigger and better business.
1+1=3…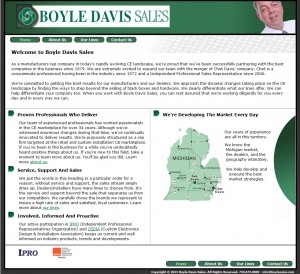 The result of these discussions is the newly merged company – now known as Boyle Davis Sales. According to principal Bob Boyle, it was a no-brainer – with almost no conflicts-of-interest between their respective brands…as well as a strong compatibility among the principal players.
"I can't imagine a more synergistic effort, Bob and I have been friends and competitors for over 30 years and I have always had the utmost respect for his professionalism, work-ethic and integrity," Chet Davis said in a prepared statement. "When we first started these discussions it became clear almost immediately that we were on the same frequency and just needed to talk through the details."
A stronger line card…
Boyle Davis Sales holds an impressive line card of brands including: Epson, Leon, Parasound, Runco, Planar, Sonos, Salamander, The DaVinci Group, URC, and more.
The company also has three full-time representative (including the principals) covering the state – which, as a former resident I can attest, is much larger geographically than many people realize. With two sales offices – one in the Detroit Metro area, and another in Lansing – the Boyle Davis sales team has all of the regions dealer network fully covered.
"We have always worked hard to provide great service to both our manufacturers and our dealers and as we have watched so many other mergers occur in our industry it seemed like a natural progression," Boyle Davis Sales President Bob Boyle said in a prepared statement. "We are confident that all parties involved will extend their heartiest congratulations, give us a pat on the back, and increase our quotas."
For more information on Boyle Davis, see: www.boylesales.com.