Thiel Audio announced this week that it will introduce a new loudspeaker system – the TT1 – at the upcoming Consumer Electronics Show (CES) in Las Vegas in January. Calling it an "ultimate performance three-way loudspeaker," the announcement is the first major launch since the current management team was put in place earlier this year.
But, the TTI was not a total surprise…
A large floorstanding model, Thiel says the TT1 will perform well in either a 2-channel music listening system – or a multi-channel, high-end home theater. It is the first model in a newly created series they call the 3rd Avenue Collection which the company says is an "iconic thoroughfare in Nashville" where the company was moved by the new owners this year after 38-years in Lexington, Kentucky.
The 3rd Avenue Collection will feature models that straddle two markets by offering speakers that perform in both a 2-channel music listening system and a home theater setup, like the TT1. Presumably, more models are planned and forthcoming in this new series.
A total makeover…
Interestingly, the company did not provide detailed specifications with this announcement. Perhaps they are saving that for the show. But we do have some initial information on this next step for a company in the midst of a total company – and product line – makeover.
The TT1 features a fairly flat dark-gray baffle with rounded outer edges (likely to minimize wave diffraction) mounted on a heavily braced MDF cabinet with attractive wood finish. The back cabinet is rounded – the company calls it elliptical – for a unique look and back wave control.
The all-new TT1…
There are four speaker drivers (1″ titanium dome tweeter, 4¼″ midrange w/fiberglass cone, and two 6½″ woofers w/aluminum cones & die-cast aluminum basket) and a multi-order crossover network…a dramatic departure from the Thiel of the past, but more on that later. The company says the TT1 features a "rigid baffle construction" and a "special midrange mounting architecture" that are designed to minimize back-wave distortion, flatten the response, and yield a speaker that is neutral sounding…adding no coloration to the performance.
The TT1 is available in rosewood and walnut wood veneers…and also in white or black gloss finishes. The system has an MSRP of $5798 per pair and will ship in the first quarter of 2015.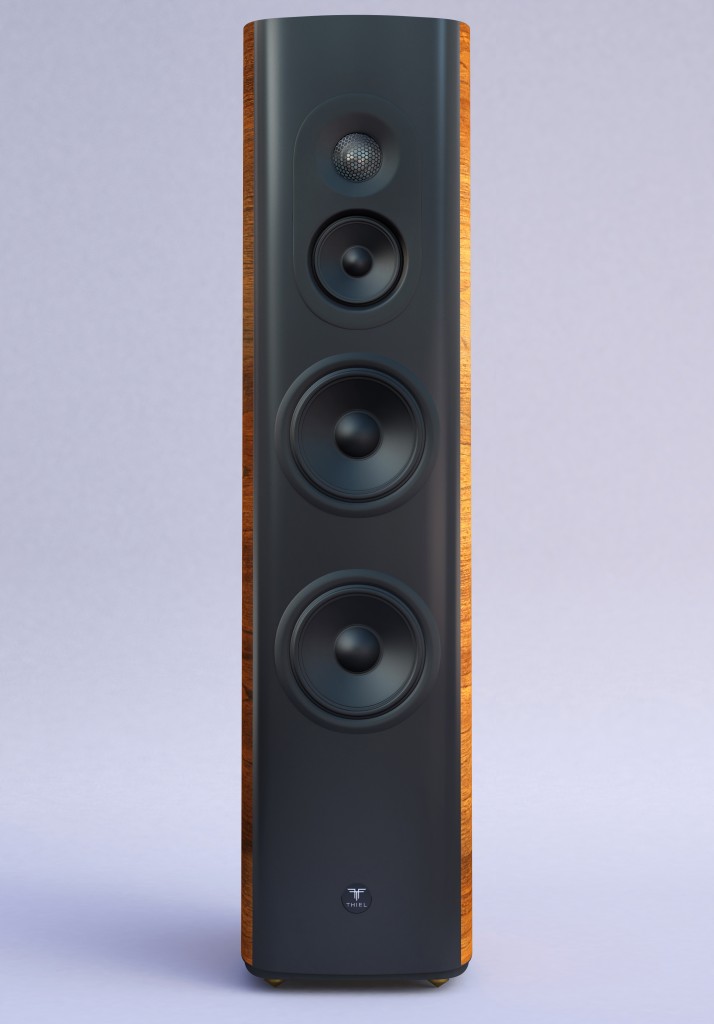 "Of course we are very excited to bring the TT1 to market – the first loudspeakers to be assembled in Thiel's new Nashville Operations Center," said Thiel CEO John Wittman in a prepared statement. "The TT1 represents the highest level of performance that enthusiasts have come to expect from Thiel, as well as an innovative approach to design and manufacturing that is in line with our long term vision for this iconic brand."
It's the first…but not really…
While this is the first major product launch for the new management team, it is the second model introduced since the mysterious and unnamed equity investors bought the company from Kathy Gornik back in 2013. The first model was the TM3, a smaller 2-way bookshelf speaker that received mixed reviews from some long-time Thiel aficionados.
As we've reported on before, the company has said it must move on from the iconic designs and technological theories of company founder Jim Thiel. Thiel had developed – and strongly promoted – a technology concept known as Coherent Source that relied upon, amongst other things, a first-order crossover design.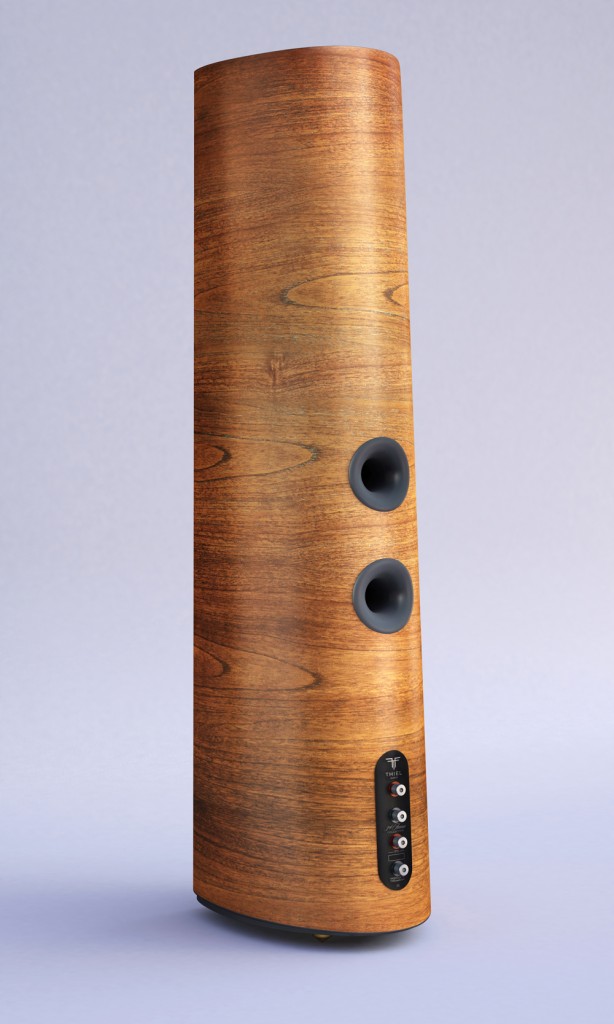 Uncommon and passionate…
Thiel speaker designs were dramatic, unique, beautiful and somewhat controversial – you either bought Jim's philosophies, or you didn't. But, no question about it, Thiel built a large group of devoted followers who believed he held the key to true audiophile loudspeaker performance. These followers included dealers, many of whom felt an uncommon and passionate connection to Thiel the man – and Thiel the company.
When the new owners launched the TM3, it wasn't just a little different from previous Thiel designs – it was almost the polar opposite. A very traditional looking design, the compact 2-ways seemed to offer a much more pedestrian technology. The company had hired Mark Mason (formerly with PSB and SVS) as its Director of Product Development, and the TM3 was his baby.
A product roadmap…
The TM3 was introduced at the 2014 CES and at the show, the company had created a Product Roadmap that was shown to select dealers and other key personalities. The TT1 was on that roadmap and we can see that there were some dramatic changes made to the design over the ensuing year.

For example, the TT1 on the 2014 roadmap was a 3-way, 3-driver layout, with a less dramatic enclosure design.That TT1 featured a 6½″ woofer, 3½″ midrange, and 1″ dome tweeter. The projected "premier" was 2014 CEDIA (didn't happen) and a projected MSRP of $4499 per pair.
Subject to modification…
Of course, this roadmap was tentative, and included wording on the first page in bright red letters that said: "Product Specifications, Projected Price Indications and Projected Market Delivery Dates are Subject to Modification."
Modified it apparently was, as this new TT1 version has an added 6½″ woofer and a slightly larger enclosure. But the biggest modification is the price, which increased from the initial planning by almost 30% or $1,300 from the planned $4499 to the final $5798 now. That's a pretty expensive added woofer.
A clue to what's coming…
So far, Thiel's new model introductions have been following this roadmap pretty closely. If that holds true going forward, there are two more models coming above the TT1 that are larger floorstanding units: the TT2 and the top-of-the-line TT3 with dual 8″ woofers and a $15,000 planned price tag. All of these new models continue the dramatic departure from the legacy Thiel models and exhibit the new industrial design and technology.
But will Thiel fans dub this new TT1 as "too conventional?" And has the company been able to hang on to enough of their Thiel dealer base to even promote it? And will those dealers be willing to support this new Thiel product line?
If Thiel can't win over former Thiel fans and dealers with this new design, then they'll have to attract a whole new audience. Are these new models strong enough to accomplish that and draw in a whole new customer?
Stay tuned…there's more to come.