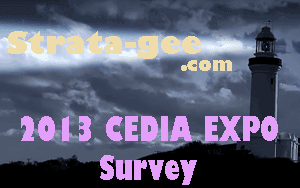 September is just days away and those of us in the custom integration channel knows what this fact means: it's time for the Custom Electronics Design and Installation Association's (CEDIA) Expo – this year being held in Denver, Colorado from September 26-28. As this annual trade show is such a key event – and given the fact that it provides a barometer on the overall health of the custom integration industry – for several years now, we've been conducting a survey to learn your thoughts about the event itself.
See what's new this year…
Whether you're planning on attending the Expo or not – we need your thoughts on this all-important industry event. Please take just a few minutes to click-through the multiple-choice answers and share your opinion with us.
More reasons why you should take our survey this year:
It's short – This year our survey is literally only five or six questions. You can finish it in just a few minutes.
You have a voice – Last year, top CEDIA executives – in an exclusive interview – answered issues raised by Strata-gee.com readers in the 2012 Expo Survey, which they all had read in detail. The fact that CEDIA itself follows our survey means you have a voice and an opportunity to influence this important industry trade association.
The more the merrier – It's simply a matter of statistics – the more participation we have, the more accurate the results. So even if the topic of Expo is one that you don't personally feel is a major issue, help us and your fellow colleagues out by helping make this survey more accurate by participating. Last year, participation almost doubled – we like to see it double again this year as well!
It's easier this year – We've actually changed a couple of questions to make it slightly easier to take this year, as compared to past years. Based on comments from readers last year, we've actually streamlined a couple of the questions to make them easier (and faster) to answer.
Like last year, we've included a couple of open-ended questions to offer you an opportunity to expand on your thoughts. We truly appreciate the extra effort many of you made to express your thoughts with depth and clarity.
Also, just about every question has a "Comments" box so you can refine your answer if our choices don't exactly fit your feelings.
So help us out…Please!…
So what do you say? Can you spare a few minutes and a few clicks to help us out?
Click the link below or the graphic at the top of the page to be taken to our survey… And THANK YOU for your participation!!