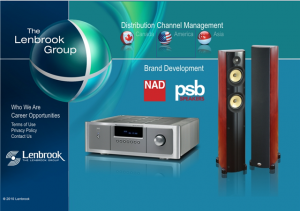 <April 25, 2012> Almost exactly one year ago, the specialty electronics world was stunned to learn that Lenbrook America, the company that distributes NAD and PSB in the United States and often looked upon as a paragon of the specialty A/V community, had decided to fire its sales manager, public relations company, and independent specialty sales representative sales force to go factory direct. While not the first company – nor likely the last – to make such a decision…the company's long time commitment to the specialty channel and abrupt announcement sent shock waves around the industry.
At the time, many spoke out against the decision…saying that it was likely the result of Lenbrook's recent hiring of new President Dean Miller whom some critics suggested was known to be anti-rep. The BEACON and the ALERT gave ample coverage to the decision by Lenbrook as well as the response by its new President. We also covered changing trends in the representative world.
Decision drama…
In a telephone interview with the Lenbrook America President, now a year into his tenure, we sought an update on the situation the company was now experiencing as a result of the dramatic decision made one year ago. Miller was gracious and open in responding to our questions.
"Last year, around May and June, we reached out to people we were interested in having join our company," Miller said. "We were fortunate as we were able to get some outstanding people, all industry vets with national sales experience."
In-market staff…
Lenbrook ultimately hired five regional salespeople whom, Miller noted, are "all based in-market." And Miller went on to note that they were also able to hire Jeff Talmadge from D&M, who is providing outstanding in-house sales support.
"It takes a while to put the foundation in place," Miller said. "They had to learn the product, take a lap to meet the dealers…but that's all under their belt now."
Complications…
Complicating matters somewhat, the company has rolled out something like two dozen new products and implemented a new i-Fi Zone specialty showroom strategy…throwing a lot of new information at their new sales force. Still, Miller sounded optimistic.
"We really started to turn a corner at the beginning of the year," Miller said. "Interest level in our brands appears to be increasing. All I can say is, so far – so good."
Cementing a foundation…
Remembering a year ago, Miller told us that his initial assessment of Lenbrook America's business was that the company did not have a solid foundation for its business. He told management that the company lacked solid support from its network and that it would take a year to restructure their approach to shore it up. This year was not about growth, Miller told us, it was about shoring up the foundation.
"We didn't have a lot of growth," Miller admitted about last year. "But now we have a solid foundation in place and we are better positioned for future growth. Overall, things went better than I expected."
For more information on Lenbrook, see: www.lenbrook.com.
RELATED STORIES
May11B – Lenbrook Lunacy? Or Crazy Like a Fox? Market Reacts to Recent Moves
Jun11B – Lenbrook President & CEO Miller, On A Mission?…Or Misunderstood?
May11AW3 – Have Tech Industry Trends Rendered Reps Irrelevant?
May11AW3 – IPRO Prez to the ALERT: Reps Reconceived Remain Really Relevant