Strata-gee EXCLUSIVE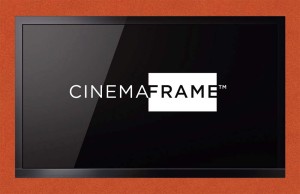 Well-respected custom integrator Richard Millson, founder of Vancouver, BC-based Millson Technologies, has some 25-years of experience in high-end residential AV and automation systems installation. Many of these installations were in luxury high-rise condominium developments, trendy boutique hotels, and high-end homes. After literally tens of thousands of installations, Millson knew well the gaping holes in the market that manufacturers simply weren't addressing.
So Richard created a new company, Millson Custom Solutions, to address these gaps. And the first product from MCS, four years in the making, is CinemaFrame – an amazing in-wall high-performance home theater solution.
See more on the remarkable CinemaFrame invisible home theater system…
Millson knew that there were many consumers who wanted a very clean, TV and home theater installation with invisible audio – but without giving up on a dramatic and exciting sonic performance. But as he scanned available solutions – integration-oriented manufacturers weren't really offering a form factor that worked.
So Millson did what many integrators dream of doing – he set his engineering team to work designing, engineering, and building the perfect solution…CinemaFrame. And once the product was perfected, he created a manufacturing and distribution company, Millson Custom Solutions, to build and sell it. Millson decided that he would pursue limited distribution – very limited distribution actually, with only one customer…Millson Technologies.
"What we wanted to do is provide a solution that architects and interior designers and homeowners all wanted – not because of the technical aspects, we were going to take care of that anyway – its a phenomenally high performance rugged, incredibly robust, beautifully built, does everything an integrator would want it to do," founder Richard Millson told us in a telephone interview. "That doesn't matter to an end-user…that's irrelevant. They want something clean, simple, beautiful. Apple has taught our culture that this is the sort of high watermark. So in our opinion that's what we wanted to do first – make is clean, simple, and beautiful. And then work on how to make it actually surprisingly high-performance and easy to use, and robust with a lot of longevity built into it."
Proof-of-Concept
Not only would this give him another solution to offer Vancouver customers – it afforded him the opportunity to conduct a proof-of-concept study…literally in his own backyard. With significant field testing of actual installations, Millson's team was able to make minor adjustments and modifications – further perfecting the design.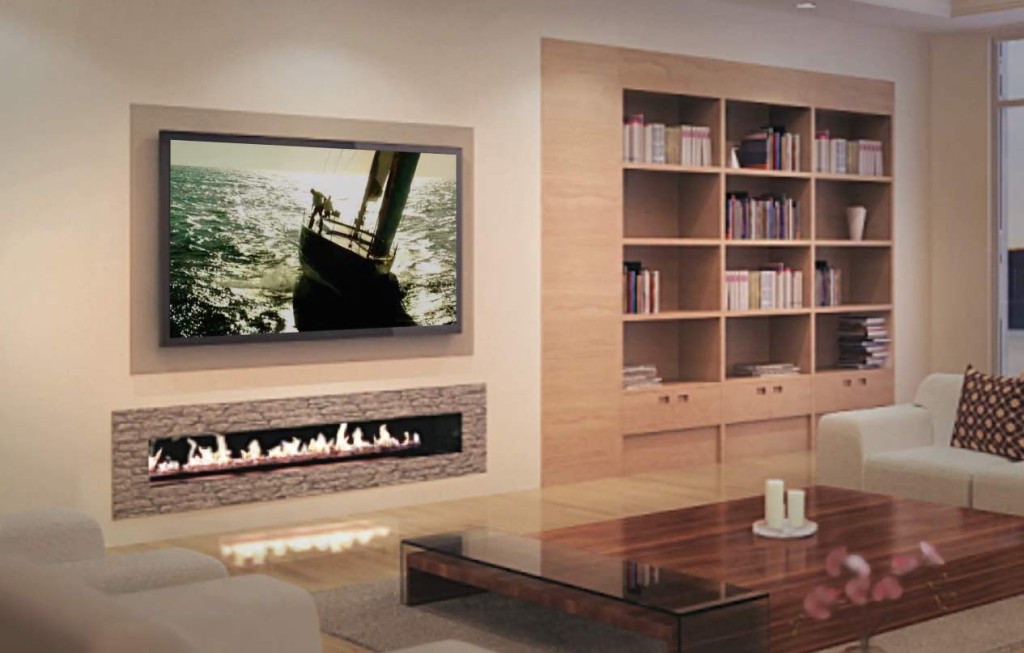 And now the fully ready-for-prime-time CinemaFrame will launch in the United States at CEDIA Expo. Millson has built a team to attack the U.S. market that is headed by well-known industry executive Bob Brown, former President of Lenbrook U.S.
Success in a Box
But first – let's meet CinemaFrame. Millson calls CinemaFrame "The world's first completely concealed high-performance entertainment system." It's an apt description. When you first see CinemaFrame it looks simply like a wall-mounted flat-panel TV with an attractive fabric frame surround. Interesting…but not revolutionary. Not revolutionary, that is…until you turn it on. That's when you realize that it's what you can't see that makes it revolutionary.
When you turn the system on, the company says, you will be blown away by the volume and quality of sound experience. That's because hidden in a box behind the TV, literally in the wall, is the heart of a powerful 7.2 ch. surround sound system with 12-channel power amplifier, audio processing, power distribution (and protection), a/v switching, left/center/right loudspeakers and dual subwoofers.
An Engineering Triumph
An amazing triumph of engineering – Millson claims thousands of hours of engineering time – from all we can determine, CinemaFrame is an unseen powerhouse, both as a product and as a company. And because it was designed by an integration company instead of a traditional manufacturer, CinemaFrame just oozes ingenuity – with dozens of incredibly smart, thoughtful design points.
No offense manufacturers, but most of you just don't "get" the field challenges that integrators face trying to install your products. Millson…really gets it.
"This is a product, in every sense, designed by integrators for integrators," Millson told us.
Looking Back to Think Ahead
Want an example? OK, CinemaFrame requires certain framing that is simple for construction framers to provide in new construction, or to reframe in a retrofit situations. A steel back box is installed, nicely nestled in a normal stud-depth wall. And then the rest of the CinemaFrame components are mounted in this box.
Wait a minute! If you're an integrator…probably the first question that jumps to your mind is, "What if I'm looking at a concrete or cinder block wall? Or my client is in a condo development and wants their TV mounted on a fire wall?"
I'm so glad you asked that question. Millson has developed a special Universal Wall Framing kit to handle just these situations. This is just one small example of how Millson thought of something that a traditional electronics manufacturer would likely have missed. There are dozens more examples as Millson clearly applied their hard-earned knowledge from Millson Technologies' tens of thousands of installations.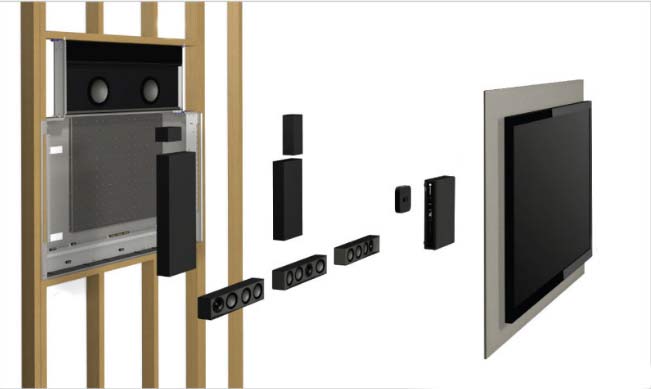 They Thought of Everything
Quite frankly, Millson seems to have thought of everything. For example, 3.1 channels are built-in, with handy outputs available for 4 channels of surround speakers (not included) and a line level subwoofer output to drive an external subwoofer (not included) for even more oomph in larger environments. The company offers a very logical installation process with a separate rough-in kit and trim-out package that integrators will find very familiar.
Once the back box and supportive frame are installed, all other components and modules are then mounted into it. Provisions are made for: high voltage connection, which then connects to the power distribution module with 6 individually controllable outlets; low voltage connectivity for any combination of connectors, including a provision to include pre-terminated HDMI connections; a completely self-contained module with dual 6½″ subwoofers and dual tuned ports; an audio/video processor with 6 HDMI inputs/1 HDMI output and a full range of digital/analog inputs/outputs and even a 6-port gigabit switch; 12-channel 135wpc power amplifier; 3-loudspeaker modules for l/c/r with three 3½″ midrange drivers and one 1″ silk dome tweeter in each that are bi-amplified; a display mounting bracket to mount the TV; and finally, one fabric trimmed bezel that attractively covers the speaker ports.
There is space within the back box to mount source items and the company provide mounting hardware for that purpose. There is also provision to connect externally located source items such as large format Blu-ray players or turntables. The impressive level of connectivity provided by CinemaFrame allows it to be used in a wide variety of installation situations.
Multiple Installation Options
Millson provides alternative modules for smaller-sized panel installations. And, true to their integrator roots, Millson also provides an impressive array of accessories and tools. Like we said, they thought of everything. That includes literally hundreds of options for the fabric frame surround to match virtually any environment.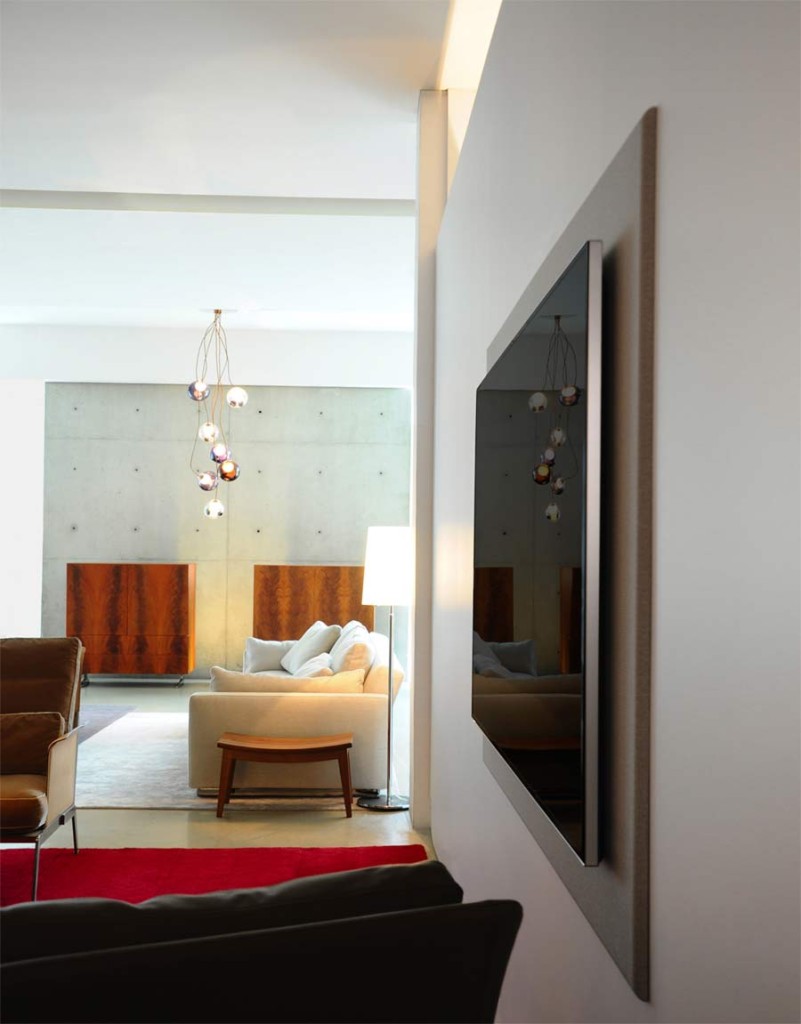 Strata-gee was afforded an opportunity to look at internal documents supporting CinemaFrame and quite frankly the documentation is the most impressive we've ever seen. Probably as a result of their integrator roots, Millson has meticulously documented every element of CinemaFrame and its components, with full specs and drawings. Including, we would add, some of the most coherent, best designed & written installation manuals we've ever seen. You could hand the installation manual to a newbie at your company, and you would get a perfect CinemaFrame installation every time.
The industry could learn something from Millson's amazing attention to detail.
Hiring Sales Reps, Looking for Integrators
MCS U.S. General Manager Bob Brown told us that he has begun the process of hiring sales representative firms in the United States with a handful on board now and more expected at or after the CEDIA Expo. The company has also begun to sign up integrators and are on the hunt for more.
Brown's enthusiasm for CinemaFrame is obvious. In one email communication with reps and shared with us, Brown said, "CinemaFrame is the most brilliantly engineered and most comprehensively documented product in my personal career experience."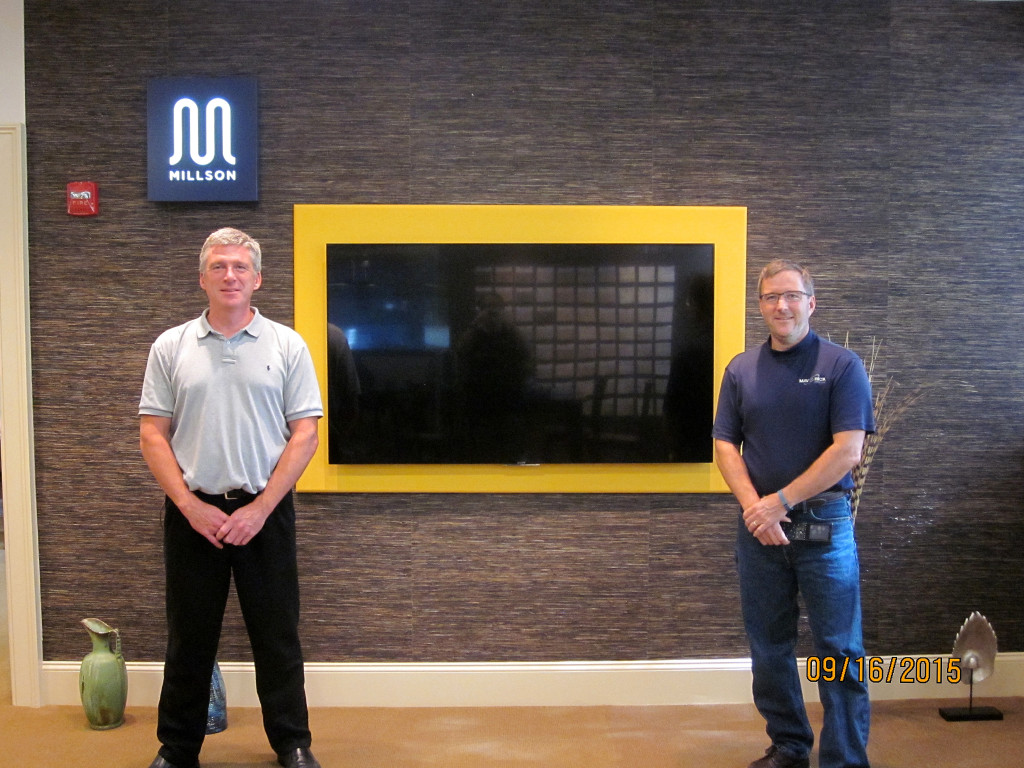 Max Performance, Zero Clutter
The company did not provide us with pricing information and they emphasized that each installation is customized for the client. However, it is clearly a custom solution targeted for a high net-worth luxury client who wants performance without clutter. For this client, price is not a primary factor.
"We will never publish a retail price," Millson emphasized. "And we will not sell directly to end users…and we only go through the integrators channel…and we have very high quality reps – Bob has set all that up for us and I trust him completely. Remember, I am an integrator, so I've been on the other side of all that for 25-years. Everything we did when we set this up was with the eye of, 'What would the integrator want? What would make it easier for them to install? What would make it easier for them to service? What would make it easier for them to program?'"
You can – and you should – see Millson Custom Solutions' remarkable CinemaFrame product when you're at the CEDIA Expo. The company will be showing CinemaFrame in the Omni Hotel in the High Performance Audio room #3 on Level 2 of the Omni Hotel.
Interested in representing or installing CinemaFrame? Sales reps and integrators should contact Bob Brown, General Manager of Millson Custom Solutions U.S. at: Bob.Brown@millsoncs.com.
To learn more about CinemaFrame, see: www.millsoncs.com.