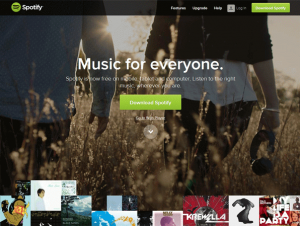 Just about every dealer and integrator (and manufacturer, for that matter) is acutely aware of how popular streaming music is with their clients/customers. Now, new industry statistics, reported on by market researcher eMarketer, provides a dramatic indicator of just how popular streaming music has become. And it is likely much more popular than you could imagine.
Just how popular are streaming music services? See below for some dramatic numbers…
The music industry has been very wary of digital music and streaming services – mainly because the perception was that these services undervalued music creators with what many felt were unreasonably low royalties. Nevertheless, argues digital music and streaming service providers, streaming services facilitates delivery of music content to consumers in an easy and convenient manner.
Research from the music industry's own Recording Industry Association of America (RIAA), and reported on by eMarketer, is beginning to more persuasively support the arguments of the digital music service providers as it shows dramatic growth in both the share of the overall music market…and in the growth of total revenues generated by these services.
The amazing growth in paid subscription streaming music services…
How much growth? Perhaps the most impressive figure to come out of the data is that subscription music streaming services – those that charge to stream music (as opposed to those who provide streams for free) has risen fully 57% in 2013 – in just one year over the 2012 figures. This eye-popping growth suggests that these services cannot be ignored.
I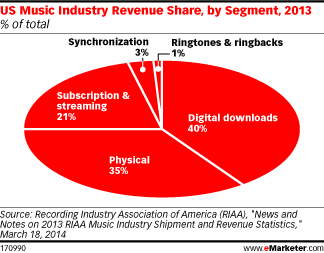 n fact, overall "subscriptions and streaming" music services, including free services (free to the consumer, still generates royalties to creators) grew to generate 21% of the overall music industry revenues of $7.0 billion. In 2012, streaming was 15% of overall revenues.
The industry research also recognizes the fact that streaming also has a positive influence on digital downloads of music and is credited with helping this category grow 7.7% to $4.4 billion or 40% of the overall industry revenues. Streaming is said to have contributed 31.8% of the digital download amount.
The reasons why – remain a bit of a mystery…
Like eMarketer, we found the growth in paid subscription services interesting. Many in the industry had anticipated that consumers would stick with free services, free services that are supported by advertisements, that is. Yet for reasons that were beyond the scope of the existing research reports, consumers seem to be choosing to pay for their streaming services.
The conjecture by eMarketer was that this willingness to use paid streaming services may be because consumers were tiring of the incessant advertising of the free services. On the other hand, it could be because some subscription services are offering other benefits for paid customers. Or…it could be both. Whatever the scenario, the 57% growth of paid subscription services is noteworthy.
To see more on this research, see the eMarketer article here…