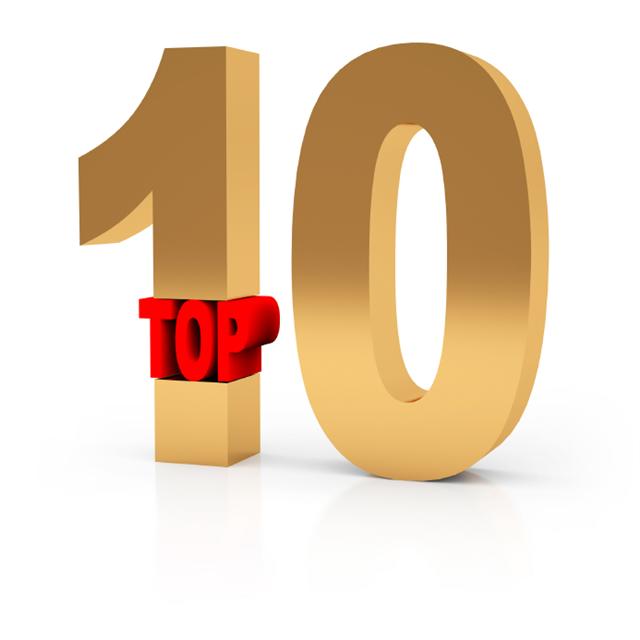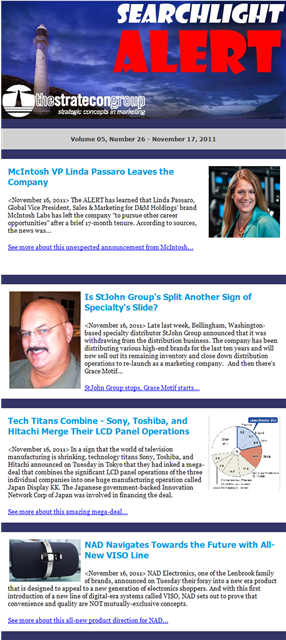 <January 4, 2012> With the close of 2011, it's time to look back on those stories that readers found most meaningful. Stratecon's newsletters had another record year and our website activity continues to reach ever increasing heights as more and more readers seek out ALERT and BEACON stories to get "the scoop" on what's happening in the technology business today.
Based on page views, we present here the top ten stories – or those stories most popular with readers. If you missed one of these, click the link and get caught up. And if you read it before, read it again and see if your opinion changes with the passage of a few weeks or months time.
#10 – Only 1 Year Later But It Feels Like a Golden Anniversary – link to story
One of the more interesting stories of the last year was the continued growth and success of GoldenEar Technology, Sandy Gross's new speaker company. At a time when conventional wisdom said that there were already too many loudspeaker brands, Gross successfully launched a new brand with all-new speaker design dramatically different than that from his competitors. This story talked about GoldenEar's new product introductions as the company sought to expand their offerings to solidify their position in the specialty channel. [See story here]
#9 – AVAD Reorganization – Laying Off HQ Staff & Moving Functions to DBL – link to story
In this ALERT exclusive scoop, Ingram Micro's AVAD division had a significant headquarters staff layoff as it sought to restructure its specialty distribution business by combining functions from its Southern California AVAD HQ to the headquarters of DBL Distributing, another Ingram Micro company. [See story here]
#8 – Losing Style to Gain Sales – Sony Stores Reconceived to Grow Share and Sales – link to story
This story is still continuing to draw strong monthly page views more than six months after it was originally posted. In this story, we explain how Sony began a plan to remodel their stores in an effort to increase sales. While some readers avoid Sony stories, this one tapped into a major retail trend and was viewed as doubly relevant as a retail and a branding story. [See story here]
#7 – Marantz Means Business for NY Metro Dealers – link to story
This story from April focused on a new Marantz product line presentation made at a NY area specialty representative's dealer show. The presentation by Marantz's Jim Ludoviconi covered a lot of technology…and a lot of dealer issues… [See story here]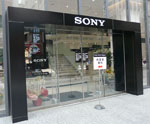 #6 – Tweeter Employees Win WARN Act Lawsuit over Tweeter & Schultze Asset Management – link to story
This July SpecialALERT told of the stunning win in a lawsuit brought on behalf of the employees of Tweeter who lost their jobs when the company decided to close its doors and liquidate its inventory. The company and Schultze Asset Management (SAM) did not give proper notice of the closure to the employees as per the WARN act, or so a Federal Judge found. SAM filed a notice of appeal the next day and the matter is still in litigation. [See story here]
#5 – Marantz Locks On Expo Themes of 'Streaming' & 'Networking' & Offers Fresh Air – link to story
This story is remarkably resilient. Originally published in the October 2010 BEACON, this story continues to pull strong page views to this day. Giving extensive details about Marantz's 2010 CEDIA product launch – the story delved especially into Marantz's inclusion of Apple's AirPlay technology-the first A/V manufacturer to do so. This product…and this story…remain relevant even today. [See story here]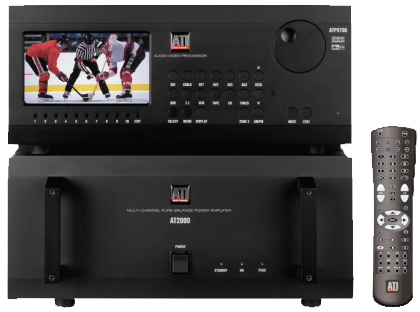 #4 – Electronics Manufacturer ATI to Acquire B&K Components from Bank – link to story
Like the Marantz story mentioned above, this story was also from October 2010. AND it was yet another exclusive scoop by the ALERT's alert editor. Popular when it originally ran, this story continues to pull a lot of eyeballs as multiple blogs from around the Internet have linked to this page on Stratecon's website. The story alerted the industry to B&K Components going out of business, and then the emergence of ATI, unknown by many in the industry, who went on to purchase the assets of B&K and ultimately reintroduce the brand. [See story here]
#3 – LG Says…Get Smart – link to story
This story is from last year's CES coverage. LG Electronics introduced a series of products both in the A/V space…and the appliance space…with the theme of "Smart" products. For reasons not entirely clear to me, the story remains an extremely strong one…perhaps due to the continuing rise of LG as a power in the marketplace. [See story here]
#2 – McIntosh Goes Back to Factory Direct Sales – Fires Independent Reps in Several Territories – link to story
This SpecialALERT from September 2011 was yet another exclusive scoop. The story discusses in detail the company's plans to fire most of its independent sales reps and hire a factory direct sales force. The plan, historically unique to the specialty side of the industry – became a bit of a theme as several other brands made a similar choice. [See story here]
#1 – McIntosh VP Linda Passaro Leaves the Company – link to story
This story, which ran only recently (November 17, 2011) was another ALERT exclusive scoop and quickly became our biggest story of the year. Passaro, the architect of McIntosh's marketing and sales channel restructuring left the company just as her initiatives were being launched. The story was surprisingly popular and still draws strong page views. [See story here]
So there you have it, the big stories that contributed to a big year for Stratecon's newsletters. Thanks to you, our loyal readers, Stratecon's impact is being felt throughout the industry. I can hardly wait to see what's next!!