Recently, we were publicly called out on Twitter with a somewhat snarky tweet about the Strata-gee "Comment Policy." Or rather, to be more precise, a tweet appeared that slyly inferred that our policy was toothless. This tweet was in response to a social media post we had made promoting our article titled What We've Discovered about CEDIA's Sale of the Show.
It wasn't the article that upset the Twitter poster, but rather, it was apparently a comment placed on that article that he appeared to feel violated our Comment Policy. So, let's talk about that…
Did a comment get published in violation of Strata-gee policy?…
Since we were called out publicly, we have decided – after much consideration – to respond publicly. Whether we agree with the poster's opinion or not, he raises a fair question that deserves a thoughtful response…and that's our goal in this post.
So let's get the details of the matter out of the way – up front. The comment in question was posted by well-known industry executive Tom Doherty on our article revealing the price Emerald Expositions paid for the CEDIA show. Mr. Doherty's comment made several surprising allegations about CEDIA. It's a little too long to reproduce here, but if you go to the article by clicking here and scroll to the bottom, you can read Mr. Doherty's comment in its entirety.
Let's Start at the Beginning
That original article was posted on September 14th, and later that same day, Mr. Doherty's comment appeared. On September 18th, we circulated a link to that story on social media, including Twitter. Some time after we posted that link, Hagai Feiner, CEO of Access Networks, posted a comment that you can see in the image below, an actual screen shot of our Twitter feed.

So is Mr. Feiner correct? Are we tacitly allowing a comment to be published in direct violation of our own policy?
For those of you who have never commented on our website, at the bottom of every page containing an article, there is a "Comments" section where you can post your thoughts about the article or about comments left by others.
At First the Only Rule was: There Are No Rules
Originally, when we first launched Comments on our website, we had no rules related to our Comments section…all comments were fair game. Later, for reasons we'll discuss in this post, we added a Comment Policy.
Strata-gee's Comment Policy:
We welcome your comments and encourage you to participate by offering your insights and thoughts on our posted stories. However, in some instances, your comment may be subject to editing or deletion if they violate one or more of the following points.

First, while we support vigorous debate and are generally quite tolerant of even controversial thoughts and ideas – we do not tolerate rudeness, profanity, or personal attacks.
Second, please stay on topic with your thoughts.
Third, while links to relevant content are OK, we do not allow self-promotion or SPAM.

The owner of this site reserves the right to edit or delete any comments submitted to this site without notice. This comment policy is subject to change at any time.
Again, you'll find this policy stated on the bottom of every page containing an article upon which you can freely comment. Note that, no matter who you are, on the occasion of your first submission of a comment to this website, it is not automatically posted. Rather, it is held by the site until an Editor manually approves it. Once you've had a couple of comments approved by us, after that you are able to have your comment immediately posted without further review by our system.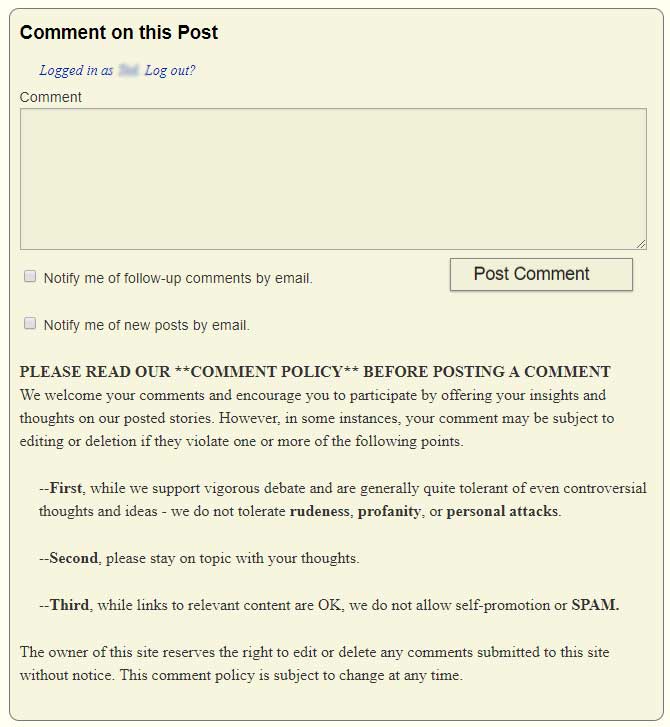 Why Did We Institute a Comment Policy in the First Place?
Let me unequivocally state that – first and foremost – we are big believers in the First Amendment – the right to free speech. It was our intention to never delete comments except in the most extreme instances.
Many people whose insight we sought when thinking about opening up our articles to comments, predicted doom and damnation. It is the Internet after all…home to all good people, and a world of trolls, petty tyrants, and flame wars. Many well-meaning friends predicted a disaster if we opened up our stories for comment.
But in fact, at first, there were no disasters Although initially comments were few and far between, they were for the most part, respectful and reasonable contributions. And some of our stories pulled amazing comments from industry experts that dramatically added value to our stories.
Literary Hand Grenades
But after a year or two, we began suffering through a series of anonymously placed comments – sort of literary hand grenades – in the vein of, "John Smith is an a*****e" (with letters instead of the asterisks). We saw that, almost immediately, comments like this would either 1) kill off the discussion – which was counter to the whole point of allowing comments in the first place; or 2) start a raging flame war…and an x-rated one at that.
It was at that time that we felt it necessary to implement a Comment Policy, putting all potential commenters on notice that we, in our sole judgment, reserved the right to edit or delete certain posts we deemed inappropriate. But even then, this was a power we hoped we would never have to use.
However, I can tell you that, unfortunately, we've had several instances where we had to make just such considerations. These are very painful for us, as we in general feel people should have a right to express their feelings openly.
On some of these judgment calls, we implement a multi-step review process – first step, editor Ted Green reviews the comment. In cases where it is deemed that further review is prudent, the comment is then reviewed by a partner in The Stratecon Group – Strata-gee.com's parent company. And, if even further review is necessary, an informal board of longtime readers is polled for their thoughts.
So What Happened in This Case?
Because he has commented before, Mr. Doherty's comment was automatically posted. When we became aware of it, it was reviewed by Editor Ted Green. For reasons enumerated below, Green deemed it worthwhile to keep the comment posted.
However, recognizing the controversial nature of the comment, Green invoked two more steps in the approval process as a backstop. There was universal agreement at each step, that the comment should stand.
The Factors We Considered in Publishing Mr. Doherty's Comment:
Commented Under Actual Identity: Unlike past offending comments done anonymously, Mr. Doherty posted under his true name and clearly owned his comments. Mr. Doherty was clearly standing up to be counted, and has even endured personal criticism from another poster as a result of his comment.
Career Stature & Reputation: Mr. Doherty's comment was very critical of CEDIA and some of the people involved in running it. Mr. Doherty is one of the original founders of the organization, and therefore, eminently qualified to have an opinion as to how it is being run. Mr. Doherty is also a widely known and well-respected industry executive by many involved inside and outside of CEDIA.
No Name Calling: Although the comment is clearly quite critical, Mr. Doherty's thoughts do not devolve into a simple "John Smith is an a*****e level of argument. Right or wrong, he articulates his thinking behind his opinions.
Major New Allegations: Mr. Doherty's comment actually interjects several new allegations into the conversation that, if proved true, are very germane to the issue of the management of CEDIA. We are actively investigating them.
Elected Officials: While Mr. Feiner does not say specifically which phrase of the Strata-gee Comment Policy he feels Mr. Doherty transgresses, we suspect it is the "personal attacks" clause. Given that the individuals named by Mr. Doherty are elected officials to the CEDIA Board of Directors, it seems to us that any elected official should fully anticipate criticism on controversial decisions they make. It is their actions as Board members that draws Mr. Doherty's comment.
Our Prerogative: At the end of the day, it is solely our prerogative as to whether a comment meets or violates our policy. In this case, we believe Mr. Doherty's comment is well within the guidelines.
We certainly respect the rights of others to come to a different judgement, potentially disagreeing with our position. We note that, in this case, Mr. Feiner is hardly a dispassionate observer – he is also a member of CEDIA's Board of Directors, working side-by-side with the individuals named in Mr. Doherty's comment. And that factor may cause him to come to a different conclusion.
Finally, we'd like our readers to know that we have directly contacted CEDIA to offer them the opportunity to officially respond to either our articles, or comments like Mr. Doherty's on the Strata-gee website. They have declined our offer.
Like on all of our articles, feel free to post your thoughts in the Comments section below…