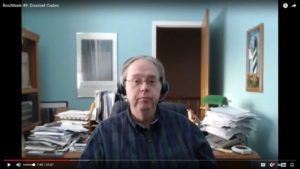 ResiWeek, a podcast from AVNation.tv focused on the residential audio/visual market, once again invited Strata-gee editor Ted Green to participate on this week's episode, recorded on Monday, January 9 and hosted this week by AVNation founder Tim Albright. The show, which has a strong bias towards the integration community, is known for its at-times vigorous and at-times humorous conversations with a rotating series of guests commenting on the topics of the day.
See what we talked about and view the episode below…
The ResiWeek episode this week discussed two topics: Sony's OLED announcement at CES, and the latest flagship THX-certified projector from JVC. In the case of the Sony segment, it was largely based on the Strata-gee article published just last week, and the panel discussed the matter from several perspectives, including that of another guest on the show, Steven Brawner of Pro Audio Georgia.
The episode is available both as a video and audio-only podcast. The video podcast of the episode is below. The audio podcast can be found either on iTunes, or at the link here…
>>Be sure to visit AVNation.tv, the creator of ResiWeek and several other interesting shows on the technology industry at: www.avnation.tv.