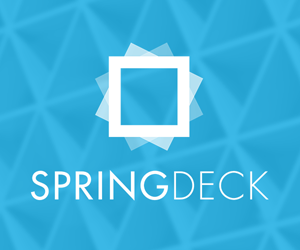 SpringDeck announced today that it has appointed Staub Electronics as its representative for the Canadian market. Staub is both a sales representative firm and a specialty distributor and covers the entirety of Canada in both the custom integration and mobile electronics markets.
Learn more about SpringDeck and Staub Electronics…
SpringDeck offers a cloud-based, multimedia sales presentation platform that allows dealers sales teams to always have the most up-to-date sales and marketing materials at their fingertips during client presentations. With SpringDeck's app on your tablet, you have all that you need to close the deal now, with advanced analytics to facilitate follow-up later.
Canada Covered
Staub Electronics was founded in 1981 with its corporate headquarters in Richmond, British Columbia. The company has grown into a major player in the custom integration and mobile electronics markets with multiple sales offices and a full support staff to serve the needs of all Canadian dealers. Staub currently represents 40 of the top brands in Canada…now including SpringDeck.
"We are excited about having the team at Staub Electronics represent SpringDeck," said Ryan Sullivan, CEO of SpringDeck. "We are excited about spreading the value of SpringDeck to Canada and beyond. With Staub's influence and understanding of their market, we are confident they will represent us with the same passion and excellence as we have for our own product."

Adds Staub Electronics President Scott Trotter: "As a value-add distributor we are always looking for products and solutions that can help our dealers be more efficient and profitable. When we first saw SpringDeck it was immediately apparent to us that our dealers could benefit in a big way from using the solution."
500 New Users & 7 New Vendors
In a separate announcement last week, SpringDeck said it has added 500 dealers to its user base during the month of June, as well as several new participating vendors. According to the company, the following vendors will make their sales materials available on the SpringDeck system: i2iSystems, Leon Speakers, Nexus 21, On-Controls, Salamander Designs, Sony, and SurgeX.
For more information on SpringDeck, see: www.springdeck.com.
Canadian dealers interested in learning more about SpringDeck should contact Staub Electronics at www.staub.ca/.