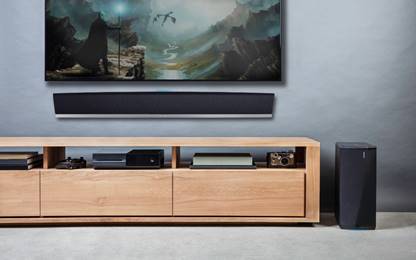 The assimilation of the custom integration industry by the once-reviled, now embraced soundbar is almost complete. And on the advent of another CEDIA Expo, yet another round of announcements of new soundbar products came rolling out. While this fact is now an accepted reality, what is remarkable is that some of these new soundbars are from companies that no reasonable person would have predicted would enter the category just a few short years ago.
See some new soundbars being launched at CEDIA Expo 2019…
When first introduced, soundbars were scoffed at by most integrators who viewed it as solely a mass-market, everyman's cheap home theater-in-a-box. But slowly over time, the product category has found wider consumer acceptance. The fact is, as most integrators now admit, there are certain installation situations where a soundbar is not only usable…it's virtually the perfect solution.
This increased consumer acceptance has caused the CI industry to recalibrate their attitude about soundbars, with most now embracing the category. And we have found this new found enthusiasm for the category all the way up to the high-performance brands.
For example, not long ago I toured James Loudspeaker's new factory and saw many, many soundbars being assembled. It is, CEO Mark Schafle told me, a significant percentage of the company's revenues now. While there, Chief Technical Officer Mike Park showed me an all-new powered soundbar he was working on that – when coupled with a subwoofer – just about blew us away in a large room big enough to house three executives offices.
So now, a few of the new soundbars being launched at CEDIA Expo 2019…
DENON
Already in the soundbar business, Denon is launching two new premium solutions – the DHT-S516H and the DHT-S716H. These soundbars feature 4K HDMI inputs with ARC, DSP processing, built-in Class D amplification and Hi-Res capabilities. Both units ship with the latest version of HEOS' built-in music streaming and voice control capability (user must provide an Amazon Echo or Google Home speaker).
The DHT-S716H pairs with the Denon DSW-1H subwoofer (sold separately), while the DHT-S516H ships with a wireless subwoofer. Both units support DSD (2.8 & 5.6 MHz), FLAC, WAV, ALAC (192/24), MP3, WMA and AAC (USB & network) enabling a wide assortment of source material.
With HEOS built-in, Denon notes that users can include these soundbars in an entire whole house wireless multiroom music system solution. The soundbars integrate with other HEOS products to enable tremendous flexibility in music listening – the same music throughout a home, or different music in different rooms – whatever the client desires. HEOS built-in also enables a world of source material from popular streaming services, such as Amazon Music, Spotify, Pandora, TIDAL, TuneIN and more.
The DHT-S516H sells for $599 MSRP, while the DHT-S716H is offered at $899 MSRP. The optional DSW-1H sells for $599 MSRP. All are available now.
DALI
High-end speaker maker Dali is taking advantage of the Expo to launch its KATCH ONE soundbar being marketed in the U.S. by Lenbrook America. While not the most expensive soundbar on the market, at $1,000 retail, it certainly addresses the high-end of the market for those clients who appreciate better design and higher performance. A relatively compact design, the KATCH ONE is not to be underestimated, the company suggests. With ten drivers and 200 watts of power, this is a soundbar that can truly fill a room. Those ten drivers have "ample moving surface area" and that 200 watts "has the power to deliver impressive sound pressure and a memorable performance" the company's announcement says.
Dali believes in "reproducing the audio just as the creator intended," and in order to accomplish that, the KATCH ONE has two different sound modes based on the source material. "Focus" mode is designed with a flat or linear sound that is optimal for news or documentary reproduction the company says. But "Wide" mode offers wide and dynamic reproduction which is said to be perfect for movies and concerts.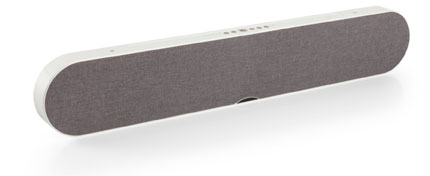 The ten drivers encompass both six active and four passive drivers, with two 21mm soft-dome tweeters for upper-midrange -to- high frequency reproduction. Need even more bass? The KATCH ONE includes an LFE output to facilitate connecting a separate subwoofer.
Inputs include HDMI, 2- optical, analog, and Bluetooth (AAC and aptX) all of which combine to offer tremendous flexibility in hooking up the KATCH ONE to any TV or music system. There is an included remote control handset that the company says can operate every aspect of the KATCH ONE. The HDMI features (CEC) which enables connection to a TV where the TV's remote can control the volume of the unit as well.
The DALI KATCH ONE is offered in three colors: Iron Black, Ivory White and Mountain White. It sells for $999 MSRP and is expected to be available in October.
Visiting CEDIA Expo? You can see the DALI KATCH ONE soundbar in the Lenbrook booth #2520 in the Colorado Convention Center. Lenbrook will also be showing their NAD, PSB, and Bluesound lines as well.