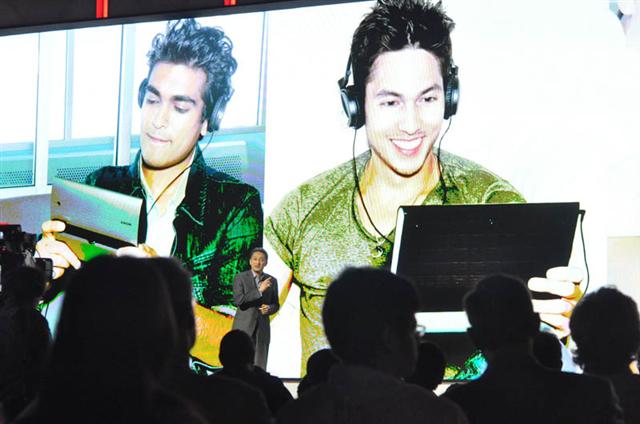 >> See our full slideshow of photos from the Sony Press Conference at CES <<

<February 1, 2012> In typical fashion, Sony Corporation at CES delivered a long and at times rambling press conference covering their large range of products. And while presenters tried to sound enthusiastic about their many innovations, much of this year's presentation mimicked last year's…and even those of its competitors.
There were, however, some new shadings. Yes, once again, Sony said it intends to be a leader in 3D – but in a clear nod to LG's success, Sony pitched their new lighter active shutter glasses which, at 1.2 ounces, weigh about half of last year's models. Whether or not this will counter the growth of LG's passive 3D technology TVs with its light passive glasses remains to be seen. LG says its market share has passed by Sony's and they are now targeting kingpin Samsung.
Cloudy vision…
But Sony's big story appears to be its online cloud services which will allow users to share their content across all of their devices. Saying that there are already 900 million Sony devices in consumer homes, and over the next three years another 300 million more will be added…Sony says that consumers want to Play, Watch, Listen, and Share.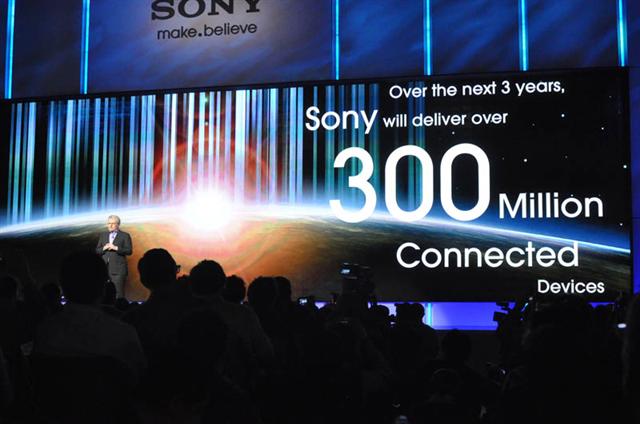 With Sony's SEN – Sony Entertainment Network, these devices will all be able to share content through one network with one common ID…oh, and don't forget – one digital "wallet." According to Sony presenters, there are 12 million songs and 7,000 movies available for easy viewing on any Sony device.
Ill-timed hack…
The Sony Entertainment Network is the network that grew out of the PlayStation network which was so famously hacked last year at great embarrassment to Sony. Hopefully, they got their security issues resolved so that no customers will risk losing their personal and private information in the future on Sony's network.
Multiple presenters at the press conference reinforced the concept that Sony is focused on Electronics, Content, and Network Services with each of these elements equally important. In fact, Kaz Harai, the new President at Sony replacing Sir Howard Stringer, conducted much of the press conference. And Hirai's background includes experience in the PlayStation business including their network services division.
New user experience…
Harai spoke about SEN and how it creates a "new user experience." Not only will the network make music and movies available, but users will be able to upload and store their privately created content for access across their other Sony devices.
Harai also announced that SEN will also make "PlayStation certified" content available on other devices. PlayStation certified content is content that is available outside of the Sony PlayStation hardware environment.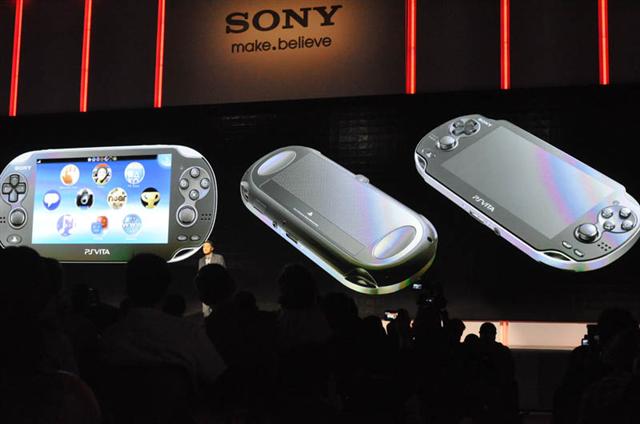 VITAmeatavegamin…
Harai also announced with great pride that the new PlayStation VITA, their new portable PlayStation gaming device that was launched just a few days before CES in Japan, will be available in the United States on February 22nd with no fewer than 24 games available at launch.
But not only games, Harai also announced that the VITA will come with Netflix available at launch "from Day 1." While Sony claimed PlayStation VITA was a big hit in Japan, the buzz has been a little more mixed here in the U.S.
Entertaining smartphones…
Turning to the smartphone market, Harai announced that the acquisition of the remainder of Ericsson's share of Sony Ericsson is now complete and the company will be re-branded as Sony Mobile Communications. Sony believes that with their new level of control, the smartphone business – including their Xperia smartphone, will now become part of the overall Sony ecosystem. Sony says that Xperia is "the most entertaining smartphone."
After a discussion of Bravia televisions, which Harai told us is a product in which Sony strives to have "the best picture…ever," we heard again about their new light active shutter glasses "made out of titanium." Harai also did a quick overview of the VAIO computer products.
Ground covering…
Then the program was turned over to Phil Molyneux, President and COO of Sony Electronics, Inc. here in the United States. Molyneux had a lot of ground to cover and quickly went through cameras, camcorders (saying customers told them they wanted a projector built-in to the camcorder), the new Bloggie (HD with built-in WiFi for video streaming), and tablets.
While Sony made a big deal about their Sony S and new Sony P tablet, most industry observers feel Sony was both a day late and a dollar short in the tablet category and unlikely to make much of a dent in Apple's iPad business – the 800-pound gorilla of the tablet game.
Disposal…
Molyneux then went on to discuss some audio products in rote, workmanlike manner. Once the pride of the company, Sony's audio offerings were not dwelled upon and were disposed of in just a few short sentences.
Molyneux then discussed the newly re-launched Walkman product. Called the Z-1000 Walkman Mobile Entertainment Player, Sony says it is the "ultimate mobile entertainment experience." With a 4.3-inch multi-touch LCD touch screen, the Z-1000 is based on Android 2.3 and has Wi-Fi built-in which allows users to access Android Marketplace, browse the Internet, check e-mail, and enjoy music content from Sony Entertainment Network's selection. Offered in 8/16/32GB versions for $249.99/$279.99/$329.99, the Z-1000 will be available this Spring.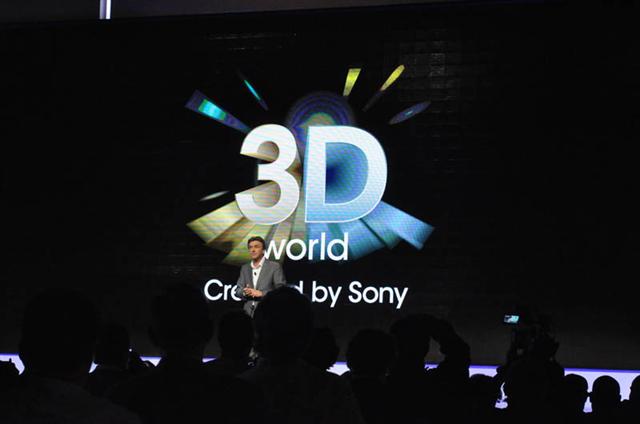 3D's a 'platform'…
After a mention about their previously announced 4K home projector, Molyneux launched into a discussion about 3D.
"And speaking of great entertainment, 3D continues to evolve as one of the next great entertainment platforms," Molyneux said to a very quiet reception by the press. "And while some of you may be skeptical and wonder about the future of 3D, I think the numbers speak for themselves."
Molyneux then referred to statistics about 3D theatrical movie releases which he said have generated $6 billion in revenues at movie theaters…and this number is growing according to Molyneux. The crowd was dead quiet throughout almost the entire presentation…but especially during the discussion of 3D by Molyneux and Stringer.
MIB 3…
After Molyneux left the stage late in the presentation, Stringer returned to introduce Men In Black III, a Sony movie that was shot and will be projected in 3D. Star of the movie Will Smith and director Barry Sonnenfeld came on to the stage for some moderately witty banter with Sir Howard…and then Stringer poured on the 3D propaganda.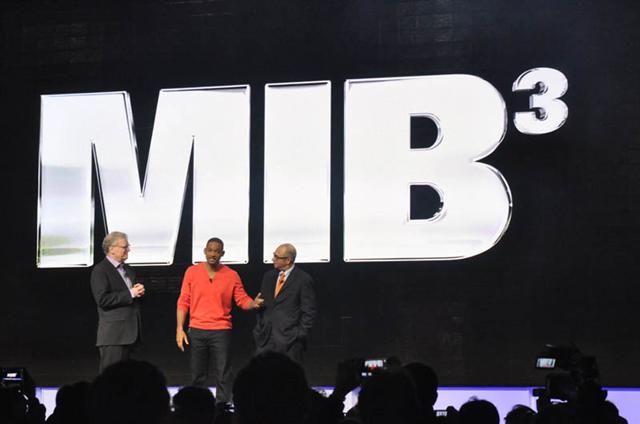 The press was shown an exciting video with thumping soundtrack of various sporting events such as XGames, tennis, skateboarding, skiing, soccer and more…all in 3D, of course. The video ended to an almost silent audience with just a very light smattering of individuals applauding somewhat tentatively.
Oh come on!…
Stringer walked back on the stage apparently annoyed at the lack of response. "Oh come on!" Stringer said in an irritated tone, trying to milk more applause (with very little success).
"Nobody covers the 3D ecosystem like Sony does," Stringer told the skeptical group of reporters. "That's what we believe," Stringer added in a rising tone as though he was trying to convince the media.
"Sony is also the leader in new 3D technologies, our new 3D head mounted display equipped with high definition OLED panels is resting on and turning heads worldwide," Stringer said. "My favorite product," he added softly in an aside.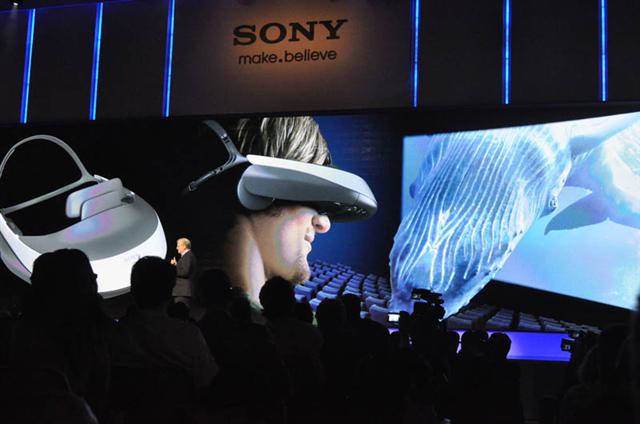 3D school…
Further trying to convince the audience that Sony is the leader in 3D from content creation to network delivery to end-user entertainment, Stringer told the group that it has established three 3D technology centers around the world (United States, United Kingdom, India)  to try to help content creators including "thousands of television and film professionals" make better quality 3D.
Stringer, as he did last year, also mentioned Sony's involvement in the all 3D content channel 3net which the company is producing in connection with Discovery and IMAX. Also, the Sony executive mentioned ESPN 3D as yet another example of the growing availability or compelling 3D content for consumers.
Crystal LED…
Finally, Stringer finished his presentation announcing that Sony will be showing a new video technology – a 55-inch flat panel TV that they call Crystal LED display. The Crystal LED display is not a real product yet, simply a prototype to show the technology.
Stringer told reporters that Crystal LED  is based on a "self-emitting" technology and features "super contrast" and a "super wide color gamut." According to materials given to the press, the Crystal LED display mounts "ultrafine LEDs in each of the Red-Green-Blue (RGB) colors, equivalent to the number of pixels (approximately six-million LEDs for Full HD)."
The LED light source is placed in front of the display for greater efficiency in the use of the light. Sony says that the resulting display offers 3.5 times the contrast, 1.4 times wider color gamut, and 10 times faster video image response time as compared with typical LED designs.
In summing up, Stringer tells reporters that he wants them to report, "I have seen the future and it's a Sony."
See more about Sony products at www.sony.com.
>> See our full slideshow of photos from the Sony Press Conference at CES <<