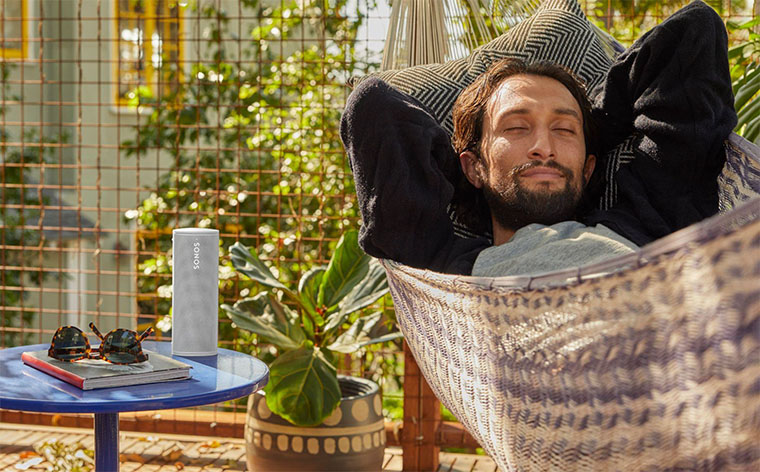 Raises Guidance for FY2021; Issues Strongest Warning Yet of Supply Chain Issues
After the close of market on Wednesday, Sonos, Inc. (NASDAQ: SONO) reported their fiscal 2021, second quarter results which were very strong. On Wall Street they like to call that an "earnings surprise" and they really, really like it when it is a positive surprise. Sonos did not disappoint them.
See the Sonos 2nd quarter results
"We are thrilled to once again report a record quarter for Sonos," said Sonos CEO Patrick Spence as he kicked off a conference call with analysts to discuss the company's fiscal 2021 second quarter results. Always upbeat, Spence confidently ticked off a long list of dramatically positive results for the company.
Much like the rest of Tech, Sonos continues to benefit from the strong tailwinds of the COVID pandemic, which has the global population largely stuck at home and in serious need of entertainment. Sonos products, with their easy-to-setup, app operated, and overall easy-to-use convenience were a prime beneficiary.
Sonos 2nd Quarter – What a Difference a Year Makes
In the case of the second quarter this year, they had the added advantage of the year-ago quarter being heavily impacted by an initial vacuum of business in the onset of COVID, with the company's retail partners forced into a shutdown and the consumer not yet in full time-to-buy-a-new-system mode. Also at that time, the company had not yet fully provisioned their online store to more effectively convert retail shoppers into online buyers. This year, of course, their online direct-to-consumer (DTC) operations were in full swing.
Revenues this year increased a substantial 90%, coming it at $332.9 million, well over the $175.1 million in the same quarter last year. And net income finished at a reading of $17.2 million which is orders of magnitude better than the loss of -$52.3 million in the quarter in 2020.

The company attributes the surprising revenue growth to "strong demand, continued success of new product intros, annualizing the Y/Y declines in Q2 20 (partner inventory rebalancing/start of COVID-19 pandemic LY), and strong DTC growth."
Here is What is Driving Profitability Growth
Helping drive the profitability was a +810 basis point increase in the gross margin. Sonos booked a gross margin 49.8% in the quarter versus 41.7% last year. Lots of factors contributed to this robust increase, including: lower promotional discounts this year (LY had an expensive "At Home with Sonos" campaign), a reduction in tariff costs (thanks to a favorable ruling by the government), a shift in the mix to higher margin products and channels, and better "leverage" on their fixed overhead with larger sales.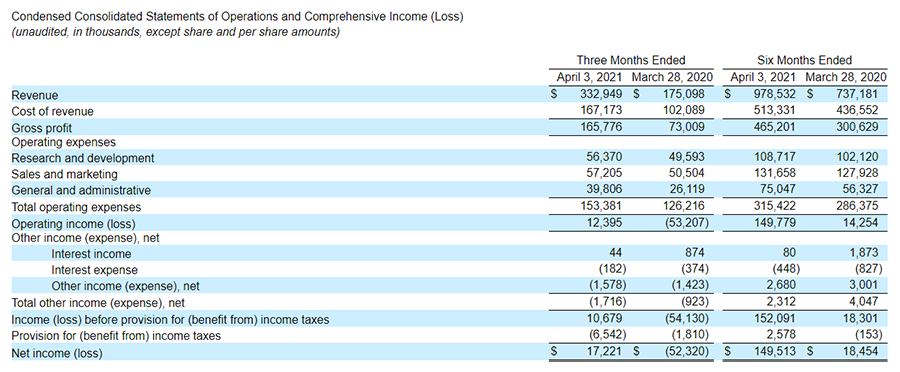 The company released some financial data to analysts to really hammer home this concept of increased leverage driving dramatic margin improvements. For example, this year the company invested $56.4 million in Research and Development as compared to $49.6 million in the quarter last year. With the strong revenue growth the company experienced, this $56.4 million works out to 16.9% of revenue, while last year the $49.6 million represented 28.3% of revenue. That huge difference means more dollars go into Sonos' bank account.
Legal Costs are Problematical
The same concept held for sales and marketing expenses as well. But, on a GAAP (generally accepted accounting principles) basis, general and administrative expenses did not follow this improvement in leverage. Why? Because in this expense category the company accounts for their legal expenses, and Sonos saw legal fees come in at $11 million in the quarter – about 6½ times the $1.7 million spent in the same quarter in 2020. This is a huge increase in legal costs.
Perhaps for this reason, the company again had their Chief Legal Officer Eddie Lazarus provide investors with a reassuring overview of their progress in the legal battle against Google. After mentioning how many patents they believe that Google is infringing, they noted that after a trial at the International Trade Commission a few weeks back, "We remain strong in our confidence of our case," Lazarus said. Originally, they had expected a decision from the ITC judge on May 11th, but he delayed his ruling until August due to the court's expanded case load.
However, the CLO did have some good news about a court win, this one in Germany.

One Win at Least, in a German Court
"We are today reporting that a court in Germany has just granted a preliminary injunction against a Google affiliate for infringing a Sonos patent… The order prohibits the offer for sale in Germany of Google's Cast technology, some aspects of which are implicated in the Sonos patent at issue – and encompasses such products as the Pixel 8 smartphone, Nest audio speaker, and the YouTube music app.

"We see the ruling as a powerful demonstration of the strength of Sonos' patent portfolio and our conviction that Google is a widespread infringer of our IP."

Eddie Lazarus, Sonos Chief Legal Officer
The matter he is discussing here are two cases Sonos filed in the same court in Germany – one against Google Germany, and another against Google Ireland. As they do in almost all of their filings, Sonos asked for an injunction to block the sale of infringing products in their initial filings. The court in Germany denied their request for an injunction against Google Germany, but they did issue a preliminary injunction in Ireland.
So is it game over for Google in its battle with Sonos? Keep in mind that the result that Lazarus is referring to is a preliminary injunction, which the judge can rescind at any time as that case progresses. And also, the law in Europe does not always directly correlate into law here in the U.S.
Still, this ruling undoubtedly sent a shiver down Google's spine.
Last Year Stumbles Helped Results This Year, But Sonos has a Convincing Rebound vs 2020
The results in the Sonos Q2 report were almost universally good and represent a convincing case of a dramatic turnaround from their disappointing results last year. Take sales, for instance. Sonos reported that sales in all three of their major product categories booked increases.
Sonos speakers

– $267.5 million this year versus $116.4 million last year…a 130% increase

Sonos system products

– $52.1 million this year versus $47.2 million last year…a 10% increase

Partner products and other revenue

– $13.4 million this year versus $11.5 million last year…a 16% increase
Note, however, that the percentage increases were pretty modest in the Sonos system products and Partner products categories. And Partner products, the segment that includes the custom installation speakers made by Sonance, is still down for the first half of the year by fully 26%.
Sales reported on a geographic breakdown all showed solid growth gains as well.
Americas

– $194 million this year versus $102 million last year…a 90.2% increase

Europe, Middle East and Africa (EMEA)

– $114.3 million this year versus $57.3 million last year…a 99.7% increase

Asia Pacific (APAC)

– $24.7 million this year versus $15.9 million last year…a 55.6% increase
Beyond these positive overall breakdowns, Spence noted that their newest product, the Roam has received rave reviews from industry media (Rolling Stone called it "the new standard for portable smart speakers") and the company saw demand (from both new and existing customers) exceed their initial sales estimates for the model by more than 150%. In addition to product sales, the company is also experiencing strong success with their new services strategy – Sonos Radio and Sonos Radio HD. Sonos Radio is the third most listened-to streaming service on their system and Spence says that they are well on their way to achieving 500,000 paid subscribers to their Sonos HD channel.
The One Dark Cloud Hanging Over the Future
It wasn't all wine and roses, however. Company CFO Brittany Bagley addressed a topic that is becoming more and more visible and which Strata-gee has been warning about since this post back in November 2020 – a pernicious supply chain shortage. As Bagley gave some more perspective on their successful performance, she had to note that the company was out of stock on several of their popular models. While she said this was an indicator of how demand outstripped their projections, she also noted that supply chain challenges are an issue to be dealt with going forward.
I'm sure you're largely aware that the global supply situation has only gotten more challenging as we look towards the second half of the year. We – and others across the industry – are seeing significant increases in constraints on a variety of components. Our team continues to work tirelessly to mitigate, as much as we can, to deliver on the incredible demand we see. We appreciate that our customers have proven that they will wait for a product, which is continuing to help us navigate through this challenge and deliver tremendous results."

Brittany Bagley, Sonos Chief Financial Officer
Interestingly, Sonos factors in the supply chain issue not only in terms of component shortages, but also in terms of price inflation, which they believe will have a slight depressive impact on their go-forward margins. Also, the company has sought to mitigate the impact on sales by air-freighting in finished goods to fulfill existing orders that are getting long in the tooth.
Bullish for the Year, Sonos Raises Guidance
Supply chain issues aside, Sonos clearly feels quite bullish about the rest of the year as they continue to see positive momentum on their major initiatives and product launches. Accordingly, they raised their forward-looking guidance for expected year-end results.
Sonos now expects their revenues for fiscal 2021 to come in between $1.625 billion to $1.675 billion for a growth of between 23%-to-26% year over year. Previously, they had estimated 2021's revenues at between $1.525 billion to $1.575 billion for a 15%-to-19% growth over 2020.
As far as their profit estimate, the company's guidance is in the form of a forecasted "adjusted EBITDA" (earnings before interest, tax, depreciation and amortization) which is a non-GAAP number derived from a management-created formula. Their forecasted adjusted EBITDA for fiscal 2021 is revised upward to a range between $225 million to $250 million. This represents a growth in earnings of between 107%-to-130%. Previously, their forecast was for an adjusted EBITDA of $195 million to $225 million.
Learn more about Sonos by visiting: sonos.com.