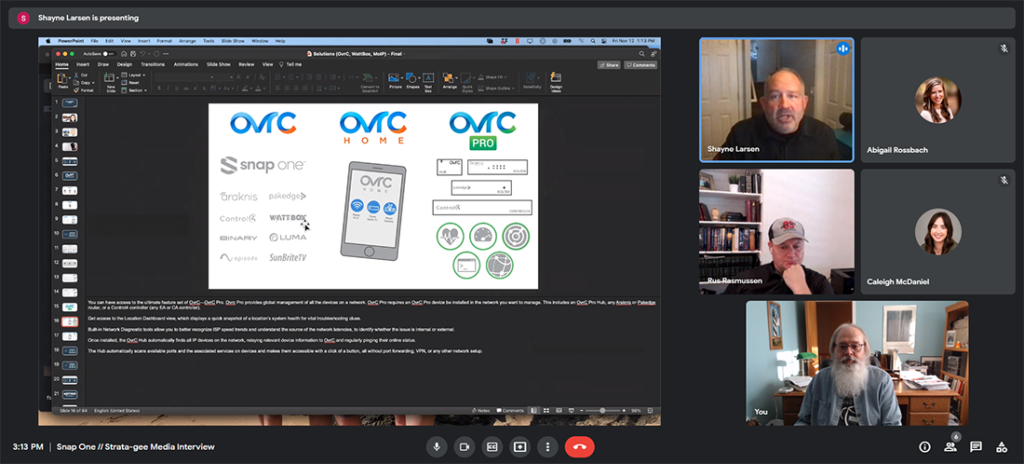 A Strata-gee

Exclusive

Report
In a special presentation to Strata-gee, Snap One educators Rus Rassmussen and Shayne Larsen shared with me the company's latest revamped educational initiative designed to better educate integrators by improving comprehension and retention. This program, created and designed by the company's education team, is now beginning to roll out and is impressive in scope, style, and design – it just may be Snap One's greatest invention yet.
See all the details on this impressive education initiative from Snap One…
Way back at the 2017 CEDIA Expo, I reported on an exciting new network certification program launched by Control4 and its Pakedge brand. This was a smart program designed to more easily transcend human learning barriers to improve learning and retention, and even provide an added incentive for participants to get certified. Known as PCNA – for Pakedge Certified Network Administrator – this program pushed well beyond the boundaries of what typically is known as manufacturer supplied "training," into a much more comprehensive and potentially impactful education and certification program.
Now, four years later, Snap One executives shared with me their vision for an entirely new, multi-dimensional education and certification program that takes all of what they learned from their years with PCNA, and expands it across product groups and integrator knowledge levels. It is a massive effort with lofty goals and will take months to be fully engaged here in the U.S. The goal is to provide better education on more sophisticated technical concepts that integrators will better digest and retain as they improve their professionalism in integration.
Tech Ops – Bringing Educators and Equipment for Local Hands-On Training
I spoke via Google Meet with Snap One's Rus Rasmussen, Senior Director, Worldwide Education; and Shayne Larsen, Senior Manager, Instructor Team. I had met Rus Rasmussen previously, as he was involved in developing materials for the PCNA program. As I noted at that time, a key component of PCNA is that participants actually learned by working hands-on with Pakedge gear provided to them at their company (or even at their home). That hands-on component has only been amplified in this new version, as the company is convinced one hands-on session has much more impact than multiple PowerPoint-only classes.
There are two main programs that we discussed. The first was what they refer to as Tech Ops training. A targeted program that brings educators and products out into the field to the integrators, the company has designed this program to reinforce learning and retention of targeted technical topics, geared specifically for the needs of each group they visit.
A Tech Ops session is typically set up when a member of the Snap One sales team identifies a group of integrators who require more in-depth education on specific technologies – for example, system design, configuration, and operation of OvrC, Wattbox, & MoIP (media over IP) gear. Sessions will often be conducted at one of Snap One's local warehouse locations in an appropriately sized conference room or perhaps in a nearby hotel banquet room, with the specific condition of it being a small group size of no more than 15-20 participants.
Small Group Size for Greater COVID Safety and Better Group Discussions
The small group size is designed to be both COVID-smart with a reduced risk (as opposed to large groups of people in an enclosed space), but also it better facilitates group discussion and meaningful interactions amongst the participants. Each of the participating integrators is provided with the gear they will be learning about – and each student must connect up their own setup to the network to begin the session.
Larson says that the educators will still use PowerPoint, but: "…we follow very strict instructional design philosophy in our training materials. For example, you won't see a lot of text. That's how you PowerPoint someone to death."
The slides have a lot of graphics, pictures, diagrams, and the like. But what the PowerPoint slides don't have is a lot of text. Communication will be guided by the educator and via interaction with the students – not by the PowerPoint slides.
We're going to teach you some things, but not until you demo, until you practice on the gear, until you touch it all hands-on. All the research shows that hands-on student participation increases retention of the material exponentially."

Shayne Larsen, Senior Manager, Instructor Team
This unique combination of careful educational material design, small class size, hands-on for each student with actual products, and well-trained educators – all coming to integrators in their local markets – has turned out to be very popular with Snap One dealers, the executives tell me. The key factor is the participants' ability to be hands-on with the gear, coupled with activity-based instruction where students learn and then actually put into practice the concepts they are taught.
Larsen tells me that after-session surveys with attendees give the program an NPS (net promoter score) of greater than 90.
Hey! Wait a Minute! We Do Training Like That Too!
So after reading the above, did you jump up and yell at your screen, "Wait a minute! My company does local trainings with small groups like that too!" Perhaps you do. But there are a couple of differences with Snap One's Tech Ops sessions as compared to most other manufacturer's training sessions.
First, the content is developed by educators in accordance with "strict instructional design philosophy." Compare that to typical training sessions which are largely droning PowerPoint presentations designed to make sure the presenter doesn't forget the many points he needs to spew out.
Second, gear is provided to each "student" so that they get the actual experience of connecting, configuring, operating it themselves. Instead of someone simply telling them what to do…they actually do it. That helps their internal programming (in their brains) such that they are more likely to retain the knowledge gleaned from the class. As Larsen put it to me, "… activity-based instruction is what avoids death by PowerPoint."
The Other Program? An Impressively Comprehensive Apprentice-to-Professional-to-Expert Program
The second program that Snap One is in the process of building is an ambitious project, to say the least. Based on their experience with the original and successful PCNA program, the company is taking its training initiative to the next level.
PCNA incorporated elements of self-paced online learning, along with live instructor interaction opportunities, and hands-on interface with actual Pakedge gear at your location – all leading to a very legitimate proctored certification exam in a physical location (at least in the pre-COVID days). If you passed the test, you were certified as a Pakedge Certified Network Administrator. The goal was to have a challenging but achievable program and a certification that represented a greater level of proficiency as compared to the typical integrator.
Multiply That Program by a Factor of Ten
Take the PCNA program and multiply it by a factor of ten, and you get a sense of the lofty goals for this new, more comprehensive program. According to the Snap One educators, the challenges in education for the integration business are large and vexing. To explain, Rus Rasmussen told me that he has a wide breadth of experience doing instructional design for other industries, such as the software industry, medical products industry, and now, of course, as a hardware manufacturer of products for custom integration.
The one thing that has always amazed him, Rasmussen explained, is that in most of those other industries, you only need to master one "domain of knowledge" to be a success in that business.
However, to be successful in the integration business, "we've got at least 14 domains of knowledge that somebody has to be proficient in order to be successful," Rasmussen told me. "And it's honestly kind of unbelievable…the scope of what we expect individuals to be able to do."
A Need for Knowledge and a Need for More to See the Career Possibilities
Another industry challenge that Rasmussen pointed to is the desperate need to attract more individuals into entering the custom integration business. We have a manpower shortage throughout the industry in integration, and yet there is really no effective outreach – and, just as importantly, no effective onboarding training.
For this reason, Snap One is developing a comprehensive educational program that will be multi-level, starting with what both Rasmussen and Larsen called the Apprentice [entry] level, through to the Professional level, and on to the Expert level. This program, as of now, does not have an official name, but Rasmussen told me they are kicking around ideas such as "Path-to-Pro" or "Couch-to-Career."
It's Elementary, My Dear Watson
Elemental to this program are the educators themselves. As Rasmussen and Larsen pointed out, most companies use a trainer recruiting practice they believe is backwards.
Usually, it's a matter of, 'Let's just find a kick-butt technician who happens to have some talent for speaking in public, and make that person our trainer.' We've decided to flip that by finding professional educators, people with advanced degrees in instructional design, people that have been teaching out there – working with adults. We are followers of andragogy (an-druh-goh-jee), which is the study of adult learning – how people assimilate new information and retain it. So instead of hiring great techs and teaching them to teach, we've been in the process of hiring world class educators who have an interest in and a knack for tech, and then teaching them the ins and outs of the technology."

Larsen
Larsen says this "flipped" process – turning educators into technical trainers as opposed to turning technicians into educators – has been working out great for them. "It's been wildly successful for us," Larsen told me.
Setting a New Standard in Industry Education
So this new program sounds really interesting to me. The thought of educators developing a better way to educate technicians on technical systems and developments makes sense. Here is a breakdown of what I learned about the program so far.
"Path-to-Pro/Couch-to-Career" Certification Program – A multi-level, blended learning program designed to raise the level of professionalism of the participant, no matter what stage of their career they are at. Whether just starting out as an apprentice, or an experienced technician seeking to acheive greater expertise, this program will teach/train/and certify for each level.
Program Availability – The first portion of this program, tentatively known as the Apprentice level, is expected to be available by the end of the first quarter of 2022.
Multi-Layered 'Blended Learning' – Courses for certification will be multi-layered and activity-oriented. Students will have self-paced online segments, direct interaction with educators via "office hours," and lots of hands-on activities…including working directly with gear.
Professional Educators – The program will be written by educators with advanced degrees in instructional design. Students will be mentored and their experience augmented with direct interaction during "office hours" with professional educators.
Certifications Widely Recognized as Credible – Rusmussen told me, "We spend a lot of sweat equity in terms of the reliability and the validity of the certification testing." One of the key takeaways from the PCNA program is that certification standards need to be high but achievable, testing needs to be honest and challenging, and students must truly meet the standards for a meaningful certification rating. All program levels require certification from apprentice to expert.
A Very Layered Approach to Integrator Education
Beyond this sophisticated certification program currently under development, the company is also continuing to offer the now third-generation PCNA network training. Eventually, PCNA will get folded into the Professional level of the Path to Pro program. But it remains available now as a free-standing program.
The company is also continuing to offer 4-day deep-dive programs at its educational centers around the country. Right now, there are two classrooms in Salt Lake City, a newly expanded center in Chicago (with an additional trainer hired there), and soon a newly expanded center in Charlotte, NC. Mostly, these centers are used for deep-dive training on Control4 programming.
Add to this the Tech Ops sessions described at the top of this post, and the fact that the company is conducting ongoing targeted training in all of their facilities on an ongoing basis – and Snap One may be one of the most prodigious educational institutions in our industry.
For many manufacturers, integrator training is an after-thought, often not much more than a typical PowerPoint exercise. But at Snap One, integrator education is a fore-thought and integral in everything that they do.
And that, I think, is a highly inventive approach.
For more information on Snap One, visit: snapone.com.