3rd Party Testing & Techs Can Earn Their Own Pakedge Gear
Control4 announced today a smart new training program that it hopes will create an army of Pakedge Certified Network Administrators (PCNA) throughout the custom integration industry. The company noted, correctly we think, that "Practical, hands-on training for networking has been lacking throughout the…custom install industry," Control4 has designed an exceedingly clever learning program with a strong participation motivator – techs can earn Pakedge gear for their own systems.
See more on this smart training program from Control4/Pakedge…
First previewed to Strata-gee at the recent CEDIA 2017 show, the all-new PCNA program is designed for newer techs who have, for the most part, had to resort to self-teaching through trial-and-error to learn the ins-and-outs of effective wired and wireless IP network design and setup. With this Pakedge Certified Network Administrator program, techs will get a professionally created but practical, real-world educational program on the fundamentals of system architecture and emerge as true professionals with deep knowledge of best practices for "bullet-proof" reliable network system performance.
Brad Hintze, Control4 Senior Director of Product Marketing, told Strata-gee at CEDIA that the PCNA program will offer a deep level of digestible training "on all of the fundamental components of a professionally designed system, including routers, WAPs, switches, remote network management, system design, and much more."
Skin in the Game
Techs, Hintze told us, will have "skin in the game," as they (or more likely their companies) will pay to take the training and to earn their certification. After registering and paying their fee, a box is delivered to the participating tech filled with Pakedge equipment to be used as part of the training. In that box is a RK-1 Router with BakPak, an SX-8P Managed PoE Switch, a WK-1 802.11ac WAP with 2×2 MIMO array and 1.3Gbps aggregate throughput, a P2 Power Distribution Unit, and all necessary cables.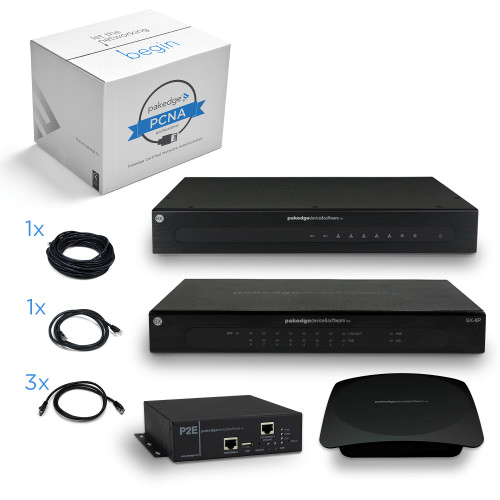 The curriculum is delivered via online interactive coursework, which the tech can take at their own pace – they have a total of 60 days to complete the program. Combining the professionally created online educational content with the gear at hand offers techs an unparalleled learning opportunity.
Predictable & Reliable Performance
Following carefully crafted online guided tutorials, utilizing the real networking gear in front of them, techs will learn the fundamentals of TCP/IP, experience the differences between the different types of category cable, and learn configuration options of network routers, switches, wireless access points and more. They will also learn how to design and install networks offering predictable and reliable performance.
"Reliable and consistent network design is foundational to a responsive and stable connected home, and it's pivotal to our dealers' success and their customers' satisfaction. Yet today, over 30 percent of support calls we receive from our dealers are tied to network connectivity issues and not equipment failures," Martin Plaehn, Control4 CEO said in a prepared statement. "In our commitment to deliver fantastic connected home experiences via all of our dealers, we are strategically investing to foster a community of skilled network technicians by providing them with a best-in-class network training and certification program."

This display introducing the PCNA program was in the Control4 booth at CEDIA 2017
The PCNA program consists of six courses:
Course 1: Networking Essentials – available starting today
Course 2: Switches – available starting today
Course 3: Routers – available starting September 26, 2017
Course 4: Wireless Access Points – available starting October 3, 2017
Course 5: Remote Monitoring & Management – available starting October 10, 2017
Course 6: Network Planning – available starting October 17, 2017
After completing the courses, the techs will take the PCNA exam in a controlled location, monitored by third-party proctors. Those who achieve a passing score within the alloted sixty-day time period will receive a certificate of their achievement.
Program Costs and The Best Part
The cost of the training, including the Pakedge gear, has a retail value of $2,300. Control4 and Pakedge dealers will pay $1,250 up front – and upon the successful achievement of certification, will earn a $600 credit, making the final cost $650. And the best part? Their techs get to keep the gear.
This is a true win – win – win for the tech, the dealer, and their clients.
Control4 dealers can sign up for the program here:
https://dealer.control4.com/Login?ReturnUrl=%2fdealer%2ftraining%2fpcna
Pakedge dealers can sign up here:
www.pakedge.com/pcna